I'm working with 3M today, to showcase some of the fun you can have with their super sticky Post-it Notes. Here's some hands-on math games you can try, exploring shape, size, patterns and scale, with some art and imaginary play thrown in for good measure too!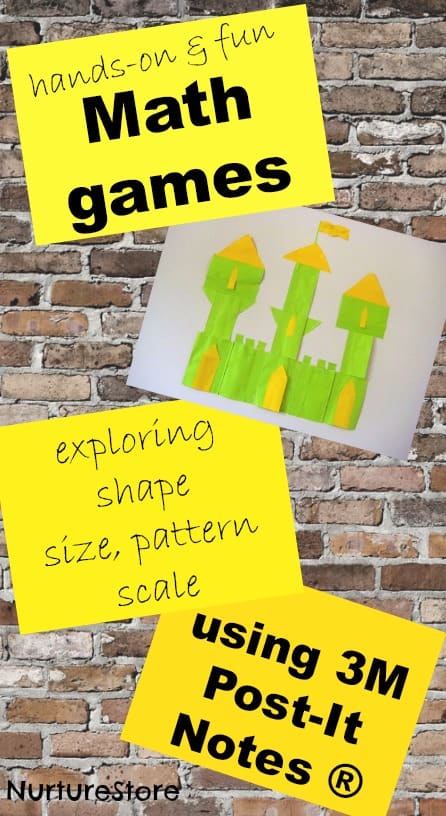 Math games with Post-it Notes
---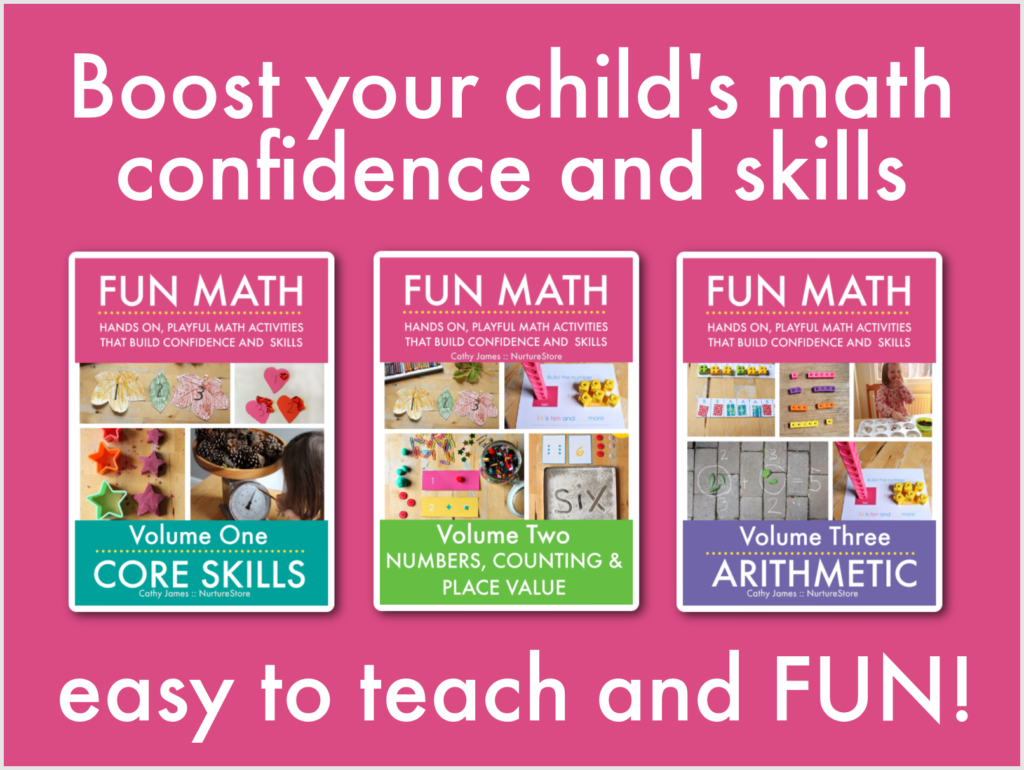 Magic Fun Math lessons!
Fun Math is an easy to teach, highly effective math curriculum based on play and hands-on learning.
All the lessons are designed to be fun and memorable, so children enjoy their lessons and feel confident.
The lessons are easy for teachers and parents to use, in class or at home.
These are the magic lessons where children really see, understand, and can apply math concepts. They are especially suited to children who don't like math, lack confidence, don't understand math the way they are currently being taught, or just want to play.
SEE MORE AND TRANSFORM YOUR MATH TEACHING HERE.
---
My children seem to have inherited my love of new stationery, as they couldn't wait to get their hands on the brightly-coloured Post-it notes that 3M sent us.
3M also sent us a challenge, to see if we could use the Post-it Notes to make some fabulous window art. They said that 3M Post-it Super Sticky Notes have an enhanced adhesive, which holds stronger and longer to a multitude of surfaces – and they're right! It's been disappointing in the past when we've used other sticky notes in games and crafts, because they always fall off half-way through. These 3M Post-it Notes have been fab though – holding in place on the window, wall and fridge door for days and days of play, and not leaving behind any marks either.
We love combining all sorts of hands-on learning, so I decided to set the girls a few extra challenges, to bring in some math games too.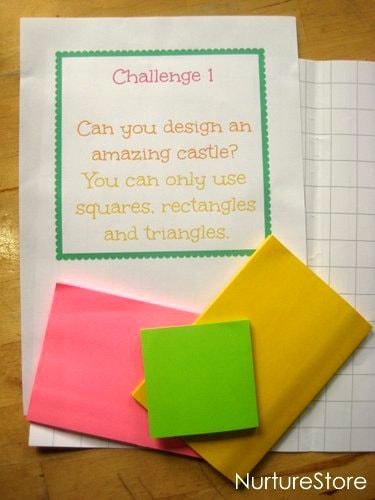 Challenge #1: can you draw an amazing castle?
I set out the 3M Post-it Notes with some challenge cards and some squared paper. The first challenge was to draw out a fabulous castle on the squared paper, using only the shapes of the Post-it Notes: squares, rectangles and (folded) triangles.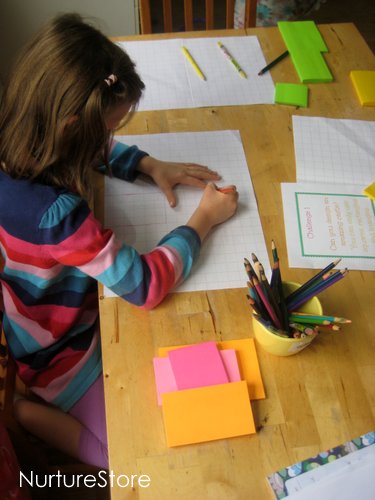 Challenge #2: can you build your castle on the window using Post-it notes?
With their dream castles drawn, challenge two was to transfer their design onto the window, using the Post-it Notes. This is a great exercise in:
following a 'blueprint'
matching shapes, colours, patterns and sizes
working with differences in scale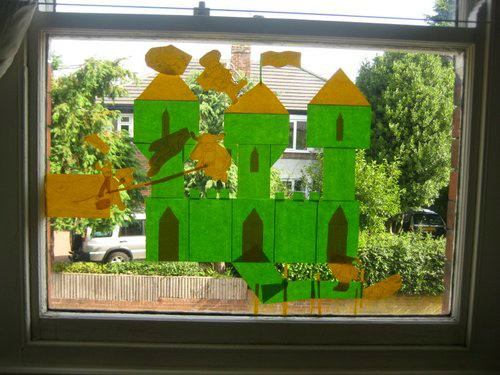 It's also lots of fun to do this on a window – different and more fun than only using paper, especially when passers-by stop and look up at your design as they walk down the street!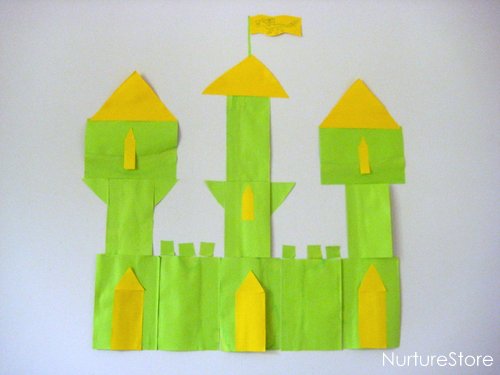 Challenge #3: can you draw someone who lives in your castle?
And why stop at math games, when you can bring in art, storytelling and imaginary play too? As the 3M Post-it Notes peeled-off and re-stuck themselves so well, they were perfect to use to create some extra characters to live in the castle.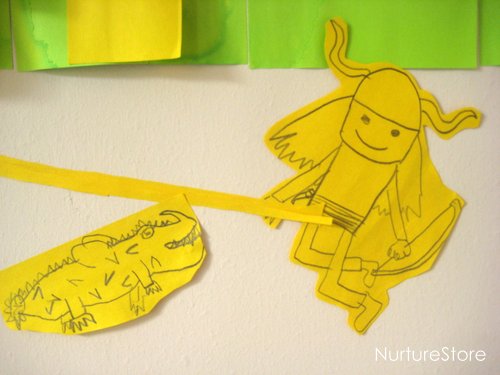 You can move the characters and keep re-positioning them around the castle – giving us a fab window display with lots of added imaginary play.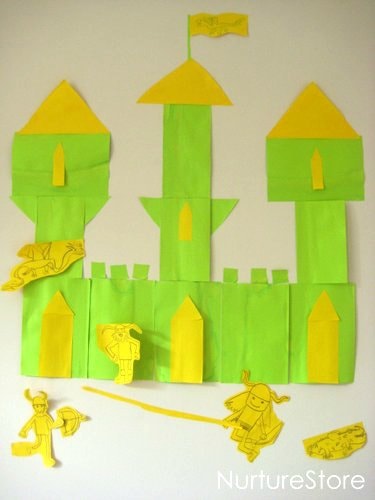 ---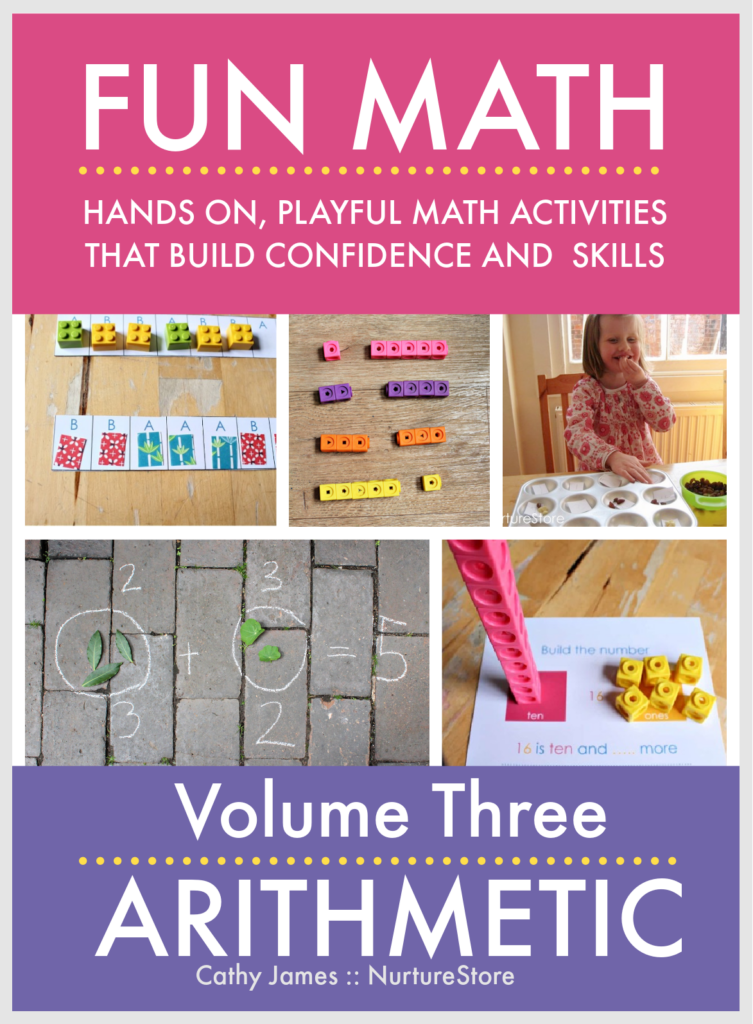 Transform your teaching with Fun Math
The Fun Math series gives you a math curriculum that is easy to teach and highly effective.
Children love these lessons because they are engaging and fun.
You'll have a clear set of ready-made math lessons and activities that are simple to lead using our step-by-step lesson guides, and which children really understand.
Be the best math teacher and boost your children's confidence and skills with Fun Math.
See more and transform your teaching here.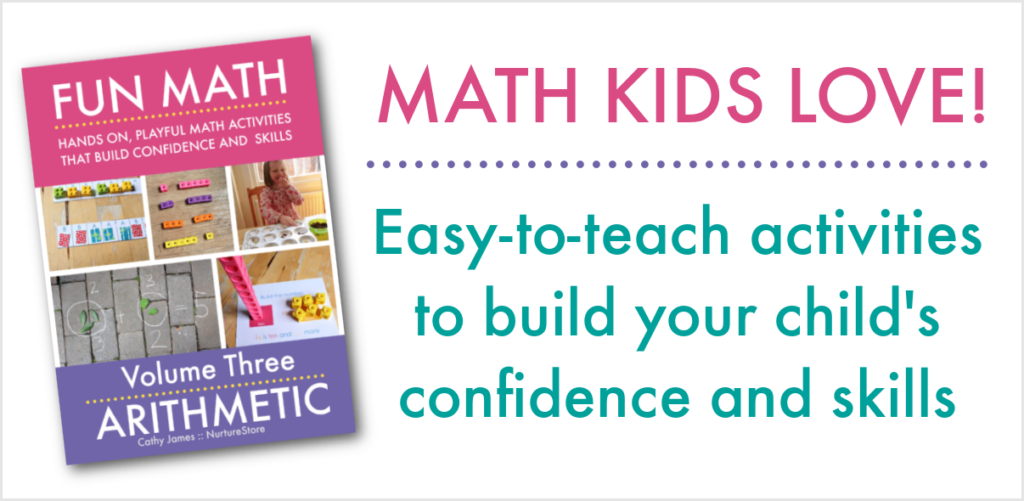 ---