The highlight of Little's week was a ride on a double decker bus. We had to sit on top and right at the front of course- something I remember always wanting to do when I was a child. When we got home she wanted to make a double decker of her own.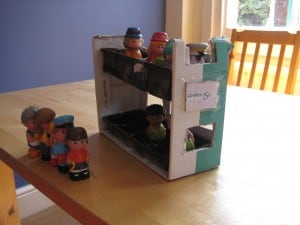 We used a shoe box for the bus and found two biscuit containers which we stuck in place with sticky tape to make the decks. I used a craft knife to make the bus open-top and to add in some windows.
It's always good to add in some letters and numbers, so we made a sign for our bus too.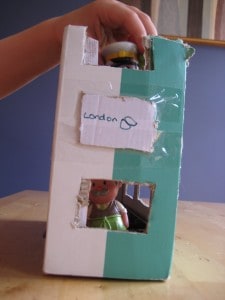 This kind of small world play lets children try out situations they come across in real life. By testing out scenarios they can gain confidence for their own encounters in the big world. It also lets them use lots of language and if you play along with them you can add in some new vocabulary. There's usually a song you include too – The Wheels on the Bus would be perfect here.
We have more transport theme activities you might like too.
And you can find lots more play ideas at the Childhood 101 We Play link up