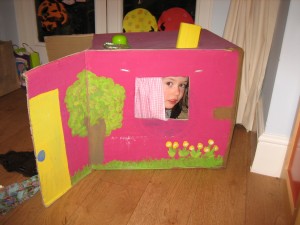 One of the favourite things we've ever done is to make our own cardboard box house. We had a box left over from a house move but any will do as long as it's sturdy. Even better if your child can fit in it, but you can make teddy a home if yours is smaller.
Assuming your box is the type with four flaps at each end which fold over to close: Fasten up one end using glue or sticky tape. At the other end, cut off two of the flaps (top and bottom) leaving two (right and left) to be your front door. Cut out a letter box – so your child can deliver letters to the house – and two windows. You can cut a small square out of the roof and use a folded up strip from the discarded flap to make a chinmey – very important, as my daughter pointed out, so Father Christmas can get in! Paint the walls and roof in your favourite colours (we used a few coats of poster paint) and add some pictures such as a climbing rose or a cat sat by the door. Put your house number on the front. You can make a simple curtain by hemming a piece of fabric and threading a piece of elastic through the hem. Make two holes either side of the top of the window and thread the elastic through – knot it to hold in place.
A unique toy with hours of play – home sweet home!
Happily shared with Today's Creative Blog.