Use this Keith Haring art lesson with your children as a Pride art lesson, graffiti art lesson, pop art lesson, and to explore how art can be activism. It's a quick and easy art lesson that only needs marker pens, making it accessible to everyone.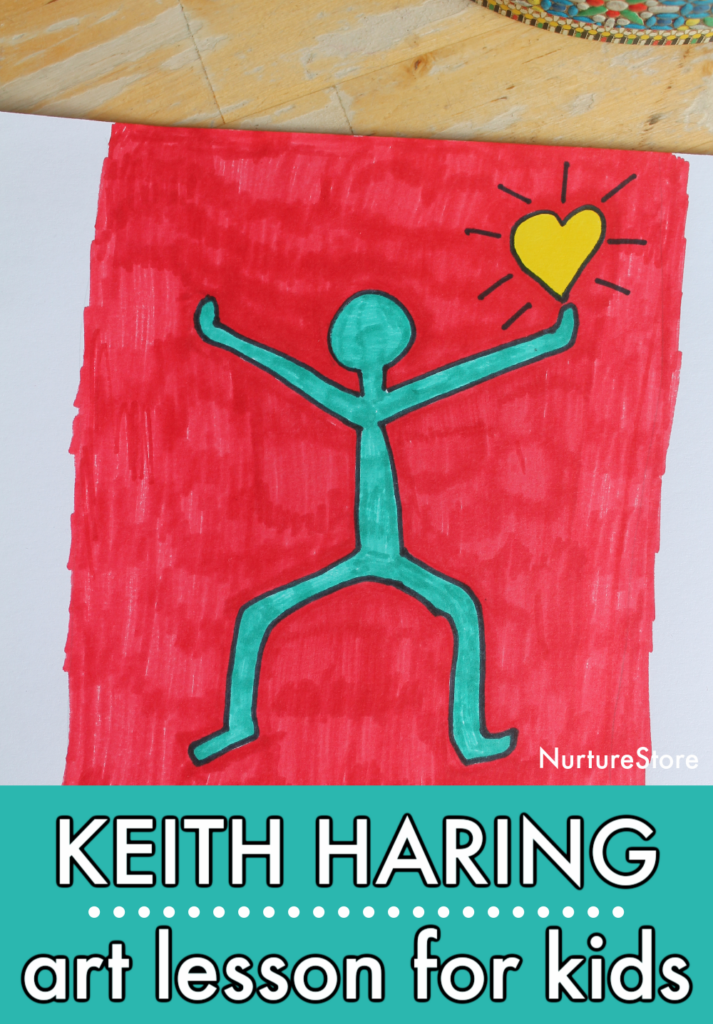 Learn about famous artist Keith Haring
Let's learn about the famous American artist Keith Haring and create our own art inspired by his style.
In this lesson children can:
:: learn about American artist Keith Haring and study examples of his work
:: practice art criticism and develop visual critical thinking skills
:: use marker pens to create their own Keith Haring-style drawings
:: explore graffiti art
:: talk about art being used as activism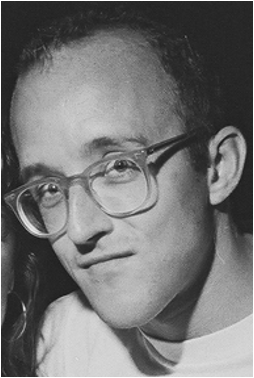 Meet famous artist Keith Haring
Keith Haring was a gay American artist and activist. He was born in 1958 and died in 1990. He lived in New York and created pop art style artworks using pens, paint and chalk.
He is especially known for his bold outline drawings of people and animals, and for the graffiti art he created on buildings and subways.
He began drawing in childhood and believed everyone should enjoy art. He took his art on to the streets and encouraged children and teenagers to join him creating murals.
Haring used his art as activism to celebrate the LGBTQ+ community. His art shares messages about how to stay healthy, particularly educating about the dangers of taking drugs and of the HIV/AIDS disease. After his death his foundation continues to support health care and education around the world.
Click through on these links to see examples of his work.
As you look at the artworks, answer these questions:
:: What can you see?
:: What words would you use to describe the artwork?
:: What message do you think Haring is sharing in the artwork?
Untitled (Palladium Backdrop) 1985
Now let's try out our own art project inspired by Keith Haring.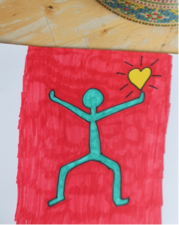 Materials needed
:: paper
:: pencil
:: marker pens in bold colours and black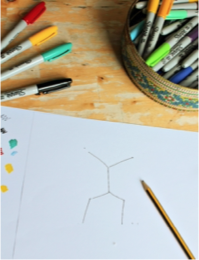 Choose one of the people from Keith Haring's art.
Use a black marker pen to draw a similar character on your page. You might like to first use a pencil to draw a stick figure as a guide, with head and simple arms and legs.
Then use a black marker pen to draw the outside 'bubble' of your person.
Decide if you want to have one person in your art or add more people or animals, again using a black marker.
Do you want to add colour? You could colour in your characters or your background using blocks of bold colour.
Then use your marker pens to add other marks to your art: 'action' lines around your person, marks, patterns and other details. What message will your art share?
To finish you might like to draw a clear, simple frame around your art.

Download your complete ready-made Pride Unit
Keith Haring is a great subject for a Pride month art lesson. For more age-appropriate Pride lessons for children, download our ready-made Pride thematic unit from the Play Academy and you'll be all set to teach a complete unit of Pride lessons.
In our Pride Unit lesson plans your children can:
:: learn about Pride, how it started and why it is important, and make a mini book
:: take part in a Raise Your Hand pride celebration
:: learn about artist Gilbert Baker and the Pride flags, and make their own identity flag
:: add rainbows everywhere to build skills in math and literacy centres
:: learn about artist Keith Haring and create art inspired by him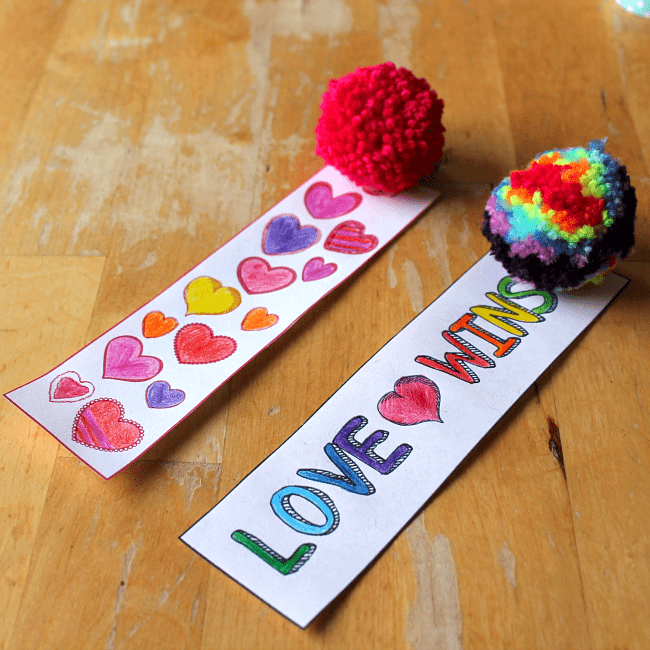 Bonus Pride thematic unit printables
The Play Academy's thematic units come with practical printables that make the lessons more engaging for your children and easier for you to teach.
No need to go searching for printables to accompany your lessons, they're all included when you download your chosen unit.
In this Pride Unit you'll receive these bonus printables:
:: a Pride mini book
:: a Flag template
:: Rainbow wheels for math activities
:: Rainbow number fish for math activities
:: Rainbow heart alphabet for literacy activities
:: Rainbow words sheet for spelling practice
:: Rainbow sensory writing tray insert for mark making and writing
:: Rainbow alphabet matching cards for literacy activities
:: Colour-in bookmarks to share with family, friends and in your community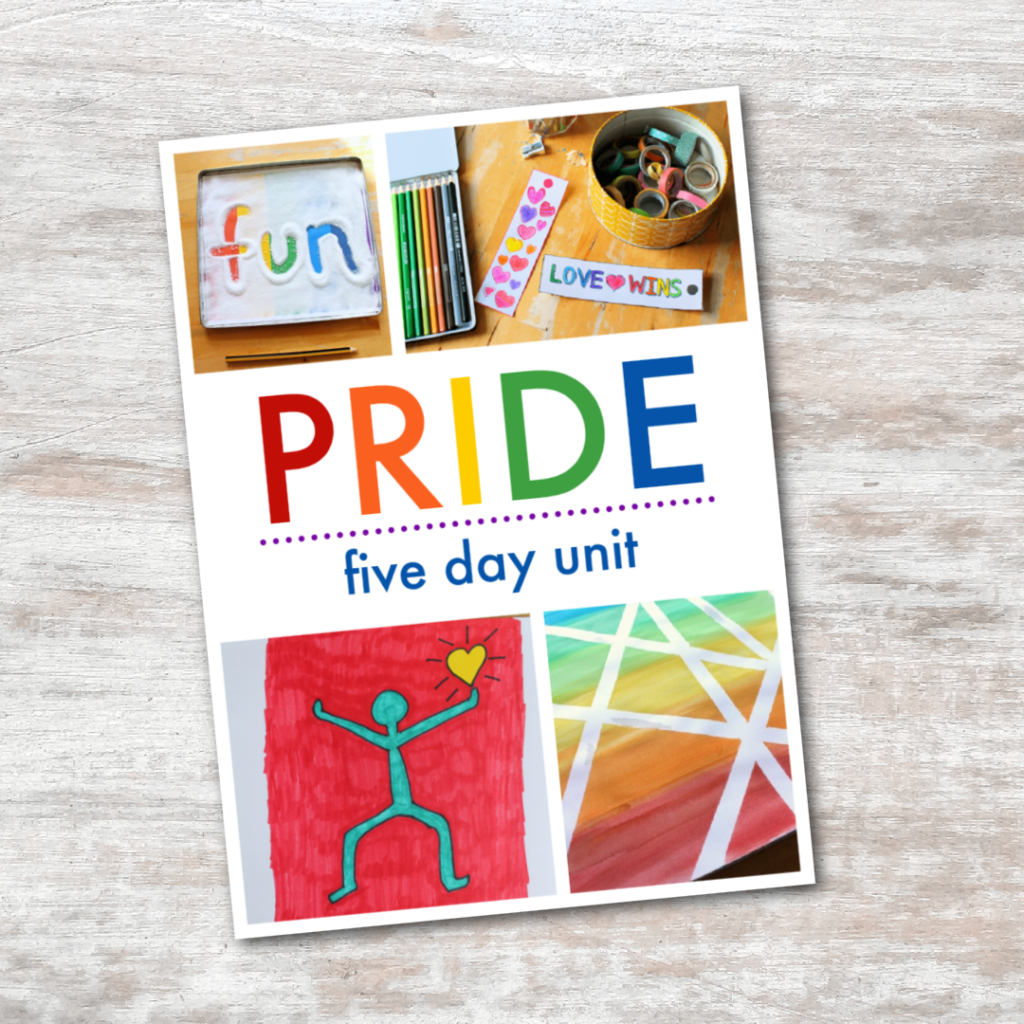 How to download this Pride thematic unit
You can download this unit along with over 50 more from NurtureStore's Play Academy.
If you are already of the Play Academy, you can download this unit straight away from our Library here.
If you are not yet a member, find out more and choose your first unit here. Your teaching is about to get a whole lot easier!