Welcome to the first in our new series of posts showcasing great playful sites around the web. Starting us off is Jen, who blogs over at The Madhouse, where she writes about raising two boys in a playful, crafty, baking household.
I am Jen or MummyMad and I blog at www.muminthemadhouse.com.  I have two very energetic boys Maxi and Mini aged 4 and 5, who keep me on my toes and who awakened my love of art and crafts.  I adore crafting with the boys, I love the fact that they are so open and creative in the way that they look at things – they teach me something new everyday.
What's your play philosophy?
I am a great believer in the fact that you do not need to always have an end goal with play or that is should be structured.  When I craft with the boys I make sure that I do not go into it with preconceived ideas or a set end product, so that they can dictate the pace and put their own style on the projects.
I have always believed that behavior breeds behavior and this has only been confirmed as even more important to me as the boys have gotten older.  I made sure that we had miniature versions of things for the boys.  They had cleaning supplies, a play kitchen and other small world toys and they learned by copying what I did, which has always meant for a harmonious home.

Inspire us!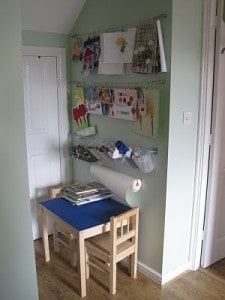 Jen created an
art corner
in her kitchen: a perfect space for getting crafty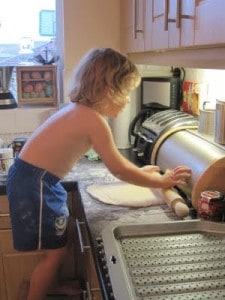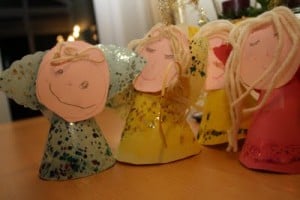 And her Children's Craft Showcase is full of great ideas you can use at home with your own children. These
Christmas angels
are lovely!
Pop over to
The Madhouse
to read more of Jen's inspiring ideas.
Are you passionate about children's play and crafts? Would you like to have your blog or website featured here? E-mail me to say hi and tell me about your site: Cathy (at) nurturestore (dot) co (dot) uk for more details