This edition of the Go Play! showcase features the fabulously crafty Red Ted Art. It's a blog which is full of creative ideas you can use with children of all ages and is run by Maggy. I'll let her introduce herself.
Tell us about yourself
My name is Maggy Woodley and I run a book  and craft website called Red Ted Art. I am Austrian but grew up in the UK and am a mum of two – Red Ted (boy, 3yrs) and Pip Squeak (girl, 1yr). Red Ted Art came about as a creative outlet, as well as a way to promote my passion for books.  I am passionate about creating and believe it is an important part of our well-being and development – and would love for others to Get Crafty, have a go and have fun. I often combine my son's crafting session with books we are currently reading, which really helps us get creative whilst giving us the opportunity to read a lovely book together or to reinforce a current theme or issue we are "discussing".
What's your play philosophy?
I am a big advocate of "everyone can", just give it a go. When you do craft together, work out what works best for you and your child. There is no "right approach" just find a way to craft that works for you and keep trying. Parents need to lead by example. Your child will LOVE anything you draw or make for them, so take a positive "I can" attitude to all new things you try with your children. And if it doesn't work out the way you expected, see the positive side and emphasise that to your children!
Inspire us!
Red Ted Art is full of great ideas and the Kids Get Crafty carnival each Wednesday brings together wonderful ideas from around the web. Here are three of Maggy's  creative ideas: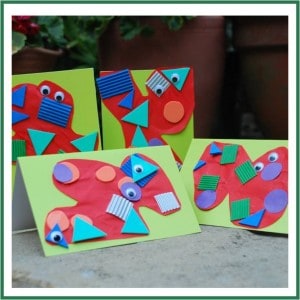 These Monster Cards are easy to do and help you explore shapes and colours.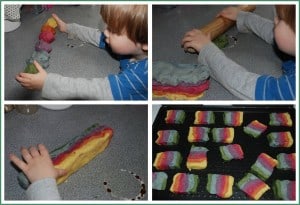 These Rainbow Cookies are fun to make an a great sensory play idea.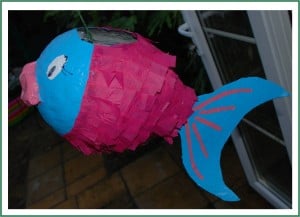 Add some crafty wow-factor to your party with this Paper Mache Fish Pinata.
Pop over to Red Ted Art to read more of Maggy's inspiring ideas.
Are you passionate about children's play and crafts? Would you like to have your blog or website featured here? E-mail me to say hi and tell me about your site: Cathy (at) nurturestore (dot) co (dot) uk for more details