This week's Go Play! Showcase features Ready for Ten, a site which brings together articles and ideas from a group of parents and writers (including me) on a host of topics especially relevant if you have children around the ages of six to nine. Here's the editor Linda Jones to tell you more.
Tell us about yourself
Ready for Ten is a website packed with ideas and inspiration for parents raising active, adventurous, happy kids. I'm privileged and proud to be working with a team of fabulous writers including NurtureStore's very own Cathy who regularly contribute on their experiences with recommendations and advice about activities or on a given theme. This month's is community and we have articles all about pets, street parties, volunteering and more. Our site, which is published by Britvic, is mainly aimed at children aged six to nine, but some of our readers also have a younger or older family.
What's your play philosophy?
We love outdoor and indoor play and include a section on
children's skills
including:
Balloon animals
Diabolo
Origami
Yo-yo
Kite-flying
Beat boxing
Cup stacking
Hula hooping
Juggling
Snooker
These activities have videos from Fruit Shoot showing how different children have mastered elements and can dazzle us with their skills as well as passing on easy to follow tips for anyone to give them a go.
.
We also have a
UK map of great places to play
and parent-powered information on which sorts of activity are best suited to the different locations. We nearly have 1,000 entries on this map, which we call the Skillscape and these have come from our contributors and readers across the UK. We'd love some more recommendations to help other families find more hidden gems. The Skillscape covers everything from a local park to massive themed attractions.
.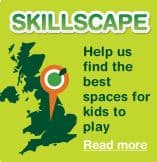 Ready for Ten Skillscape
Inspire us!
********************************
Are you passionate about children's play and crafts? Would you like to have your blog or website featured here? E-mail me to say hi and tell me about your site: Cathy (at) nurturestore (dot) co (dot) uk for more details