This Star Alphabet printable is great for letter games, learning the alphabet, and spelling out words. Download the stars printable and try out these space-themed literacy activities.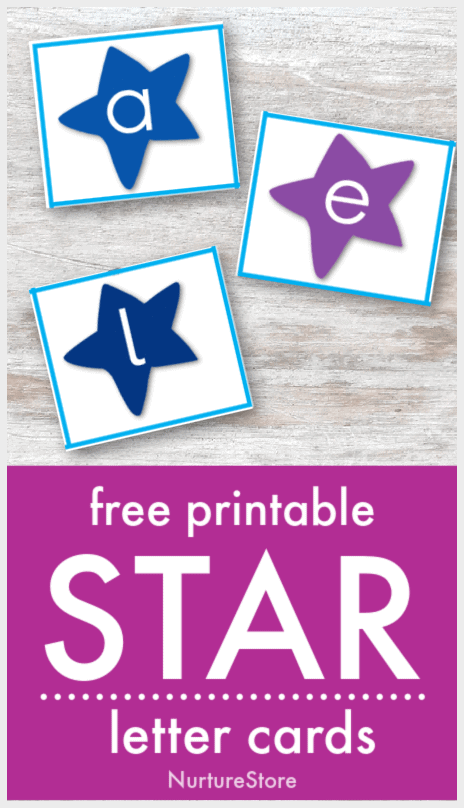 Free printable star alphabet cards
It's fun to base our literacy lessons around our learning themes so to go with our Space Unit, use this free Star Alphabet printable to turn your literacy centers space-themed!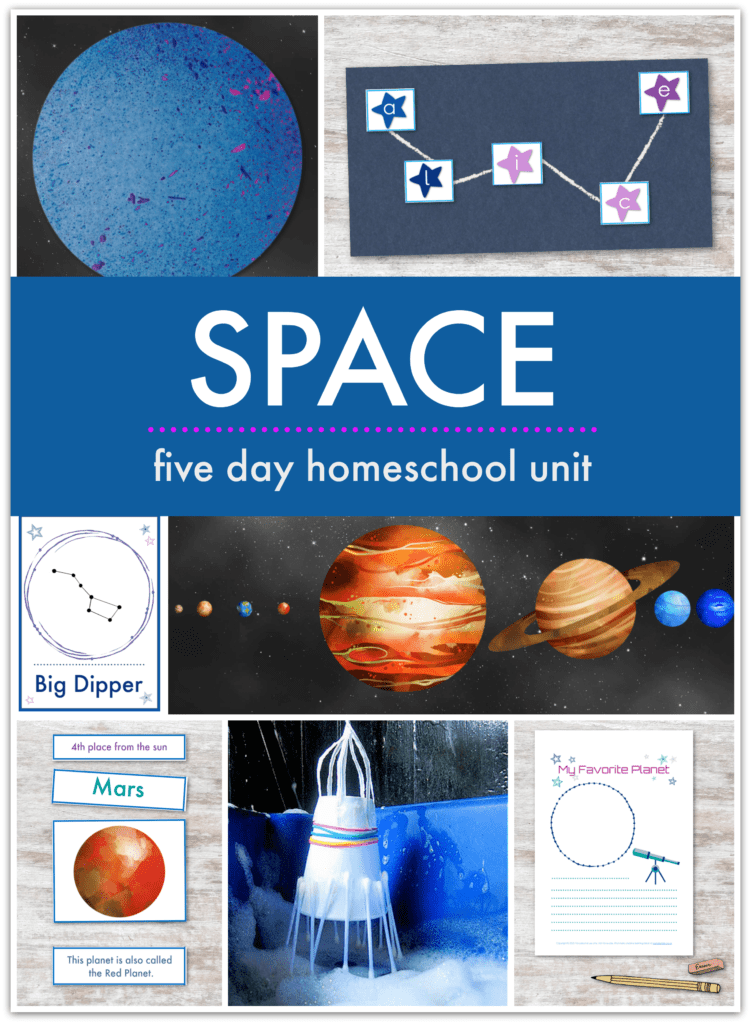 Download our ready-made Space Unit and printables
Our Play Academy Space Unit gives you a ready-made programme of lessons to learn about planets, stars, our solar system and our galaxy with your children.
In these space-themed lessons plans your children can :
:: learn about the planets in our solar system
:: make planet paintings
:: learn about stars and constellations and go star gazing
:: learn about space exploration and make junk model rockets
:: create an outer space small world to stretch their imagination and consolidate their learning
In this Space Unit you'll receive these bonus printables:
:: four-part Planet Fact Cards for knowledge learning, re-capping and game playing
:: a My Favourite/Favorite Planet Journal Page with fun prompts to write and draw your favourite
:: Star Alphabet Cards for literacy activities
:: Constellation Cards for knowledge learning, star gazing and game playing
:: Rocket Number Cards for math activities
See more and download your copy of our ready-made Space thematic unit here.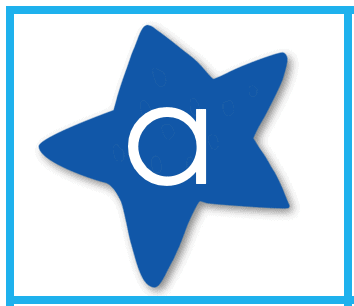 How to use the star alphabet
Print the Stars Alphabet Cards printable and cut out the individual star letter cards.
You might like to laminate the stars for extra durability – use biodegradable laminating pouches to protect the environment.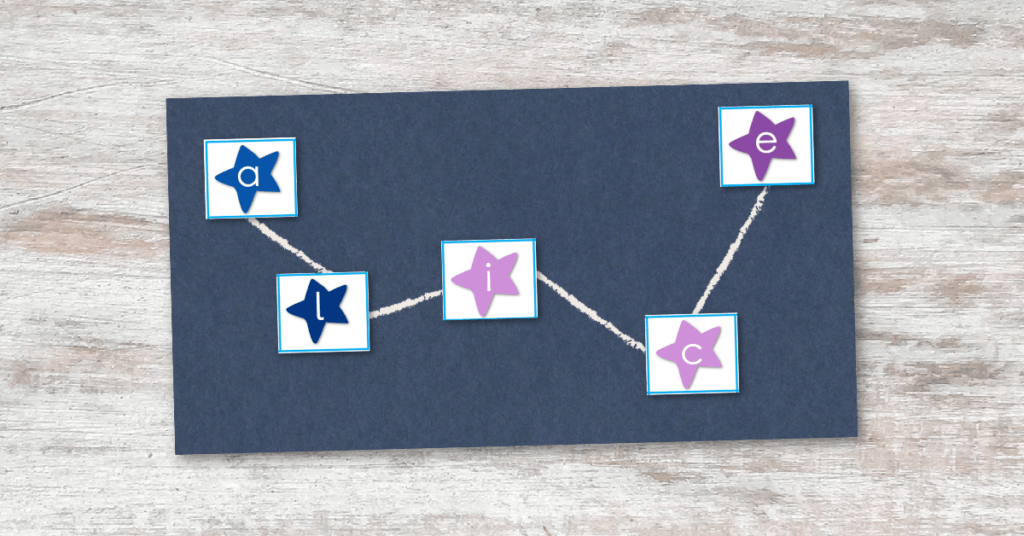 Star letter activities
There are many ways you can use this versatile star printable in your lessons.
:: Use them to make the alphabet. Peg up the stars on a washing line, in alphabetical order.
:: Use the letter stars to play matching games. Print two sets and see if you can match up the pairs of letters.
:: Place two sets of the letter stars face down and use them to play Memory.
:: Hide the letter stars around the house or garden and see if your children can run around and find them all.
:: use the star letters alongside galaxy playdough and make playdough letters and words
:: make a space sensory writing tray by adding black food colouring to salt. Once dry, set out the black salt in a shallow tray and use your finger or a pencil to write letters and words in the tray. Use the Star Alphabet to spell out words and then copy them in writing in the sensory tray.
:: make a constellation of your name. On a black piece of card, stick down the letters from the Star Alphabet that spell your name. Join them up to with a pencil line to create your own constellation.
Download your ready-made Space Unit
Don't forget to download your copy of the Play Academy's ready-made Space Unit. With this grab-and-go Space Unit, you'll be ready to lead a week of learning about space, planets, stars and space travel.
Get your complete Space Unit here.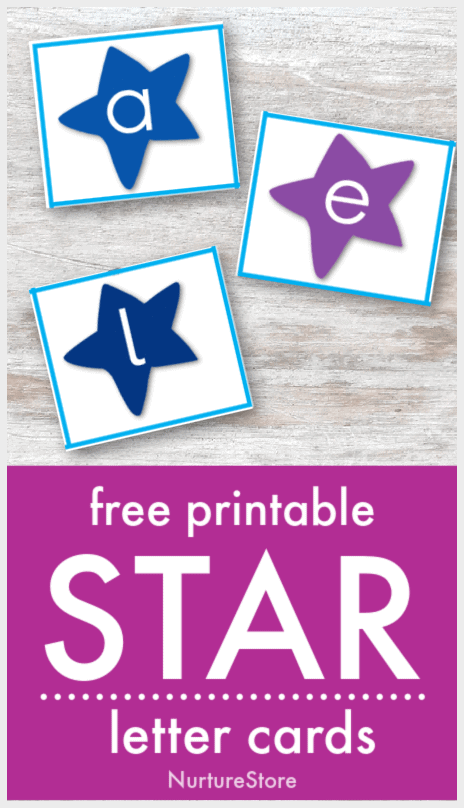 How to get our free printables
To download my free printables, you'll need to visit the NurtureStore Printables Library, which is available to all subscribers to my email list, and of course to Play Academy members.
Pop your email address in the form below and you'll get access to all my free printables, lesson plans, activity ideas, weekly newsletter, and a whole lot more!
After subscribing, be sure to check for the confirmation email. After you confirm your email subscription, we'll send you a welcome email which includes instructions for downloading our free printables.
If you're already subscribed to our email newsletter: check your email for the latest edition of the newsletter where you'll find a link to access our free printables library - the link is usually at the bottom of the email.
For help accessing our printables, click here.
---
By subscribing, you consent to our use of your personal data as per our Privacy Policy, which includes agreeing to receiving interest-based email from us.
---