Five ideas for Christmas sensory play activities with play dough, for lots of hands-on, creative fun.
Christmas sensory play activities with play dough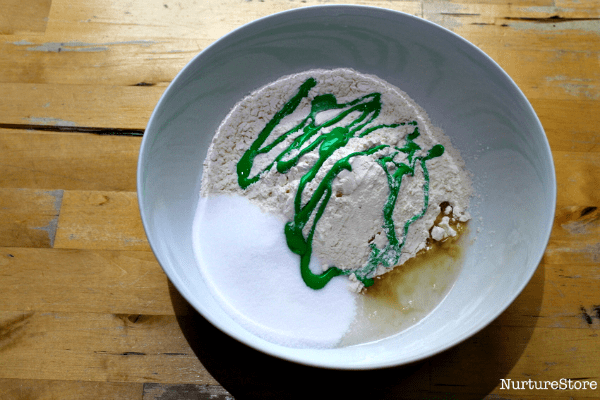 Let the children give the ingredients a good stir to bring them all together to form a dough. Give it a knead for a couple of minutes and you're ready to play.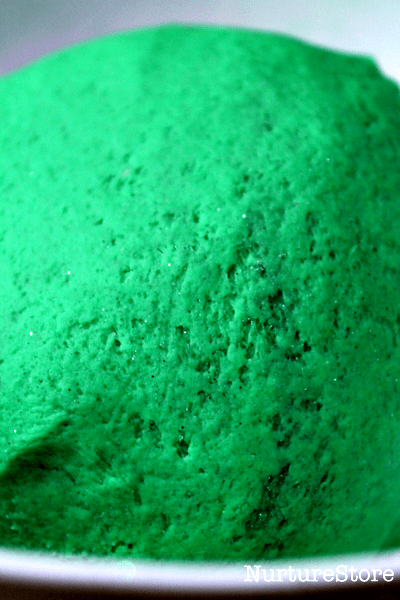 I set out the play dough with some cookie cutters, and the 'decorations' you can see in the first photograph: bits and bobs from our craft supplies like pompoms, sequins, small pieces of ribbon, rikrak and pipe cleaners. If your children love to snip you could give them big lengths and scissors, so they can cut their own decorations.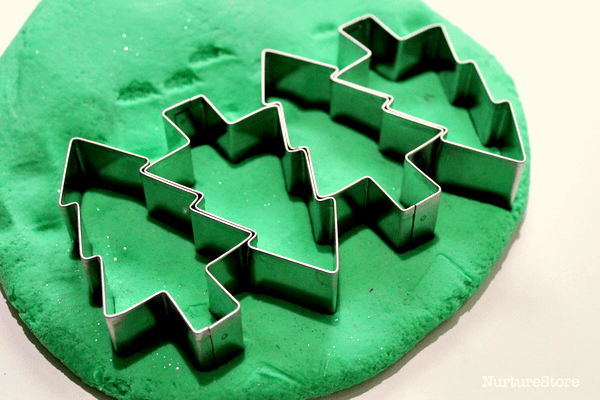 We used this Christmas tree shaped cookie cutter, which my daughter thinks is cool with all the trees fitted together. If you don't have a tree cookie cutter, your children can of course mould their own trees free-hand, cut out triangles with a knife, or mould up a 3D tree tree shape. That's the beauty of play dough – so malleable.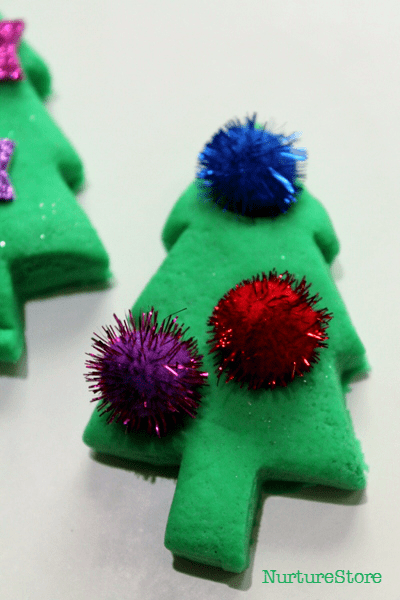 And then everyone can explore the sensory materials and decorate their trees. Offer a good selection of craft supplies so there are lots of colours, shapes and textures to explore. Chat while you are all playing and talk about the materials. Are they shiny, soft, spiky, twinkling, bright, glittery, bumpy, flat…?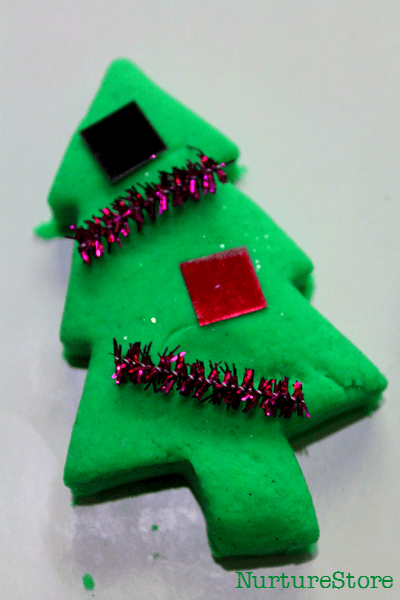 And of course, you don't have to make Christmas trees. Enjoy exploring the dough and the materials, and make any shapes, patterns and sculptures your children like. Although it's fun to take something the children are experiencing in real life – at this time of year that's Christmas trees and decorations – and use it as a spring board into play and learning, there is immense value in letting children lead the activity. Let them choose what shapes to make with the dough, and how to arrange the decorations. It doesn't matter if the finished product looks nothing like your idea of a Christmas tree. Encourage and value your children's own expression of their creativity.