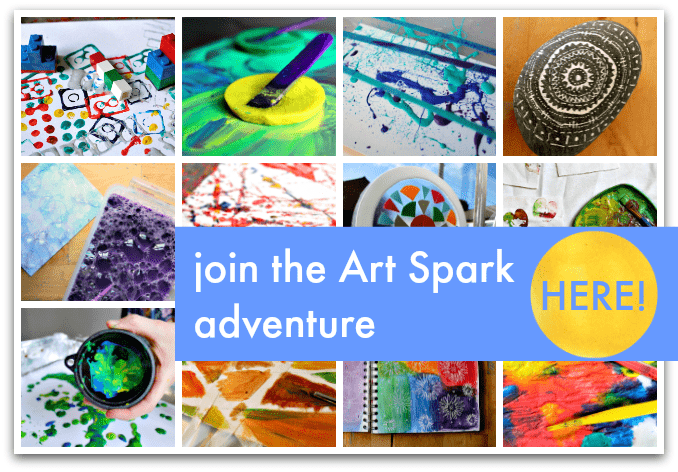 I'll guide you through four weeks of beautiful and fun art projects that you can enjoy with your children. At home or at school, these process art projects will give you an interesting framework of activities that you can weave into your weeks, so your children are engaged, creating and enjoying themselves all through art. See more details of Art Spark here.
---
In this extract from my new book Nurture Art we're looking at how to set up the best art materials for children, to encourage passion, playfulness and creativity. There are tips for great art materials on a budget, and a free printable poster of the A to Z of unusual things to make art with.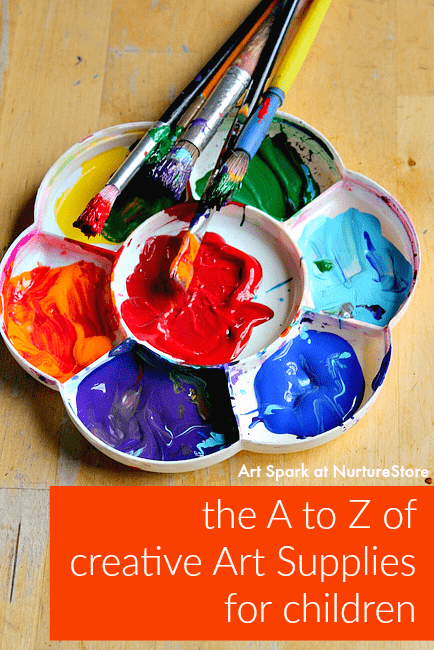 The best art materials for children
The most important thing to know about art supplies is that the materials you have are all you need to get started. Although we would all love to have unlimited access to the contents of the art store, having just a few, affordable art supplies is no barrier to getting started.
Start with what you have. Later, in the A-Z of art supplies, you'll find a big list of materials that can be used for art – many of which are natural materials you can gather freely or everyday items you can re-purpose for your art.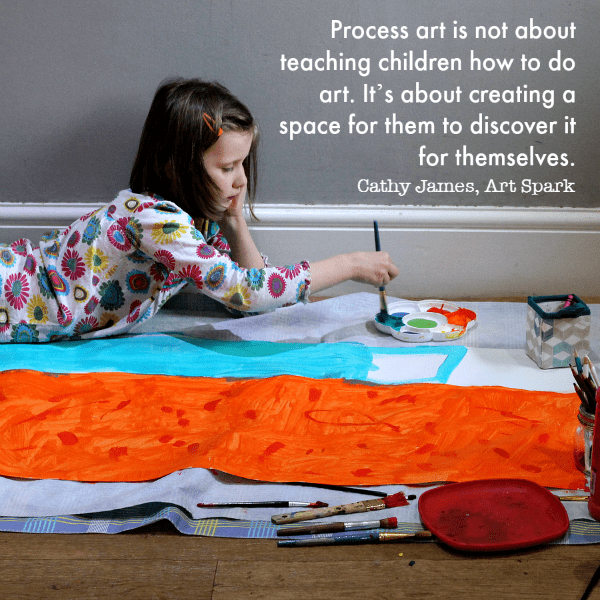 There are a few key things you should aim for if you're setting up a basic art kit.
Paper
You'll want something to create your art on, and paper is the usual go-to option here. It's good to have a selection of different sizes and colors, but you don't need every kind of paper possible. Aim for a few choices – picking from stacks of loose printer paper, big rolls of paper, sketch books, perhaps watercolor paper, and some thick card stock. I store most of our papers in a accordion file, with the papers arranged in the order of the rainbow. It stays permanently open so it's easy for everyone to pull out the colors they want.
Paint
Watercolor paints are our favorite, tempera/poster paints are good for general projects, and acrylic paint gives a bolder effect and is good for better coverage.
Markers
A selection of pens and pencils is so inviting and is a good mess-free option that can be kept readily available for independent projects. A choice from colored pencils, wax crayons, oil pastels, (permanent) marker pens, sketching pencils, chalk, charcoal, fine-tipped black and white pens, or watercolor pencils is a great place to start.
Cutters and fasteners
Child-sized scissors, stronger adult-sized scissors for cutting thicker paper and card, and craft knives are useful. Glue sticks are great for very young children and relatively mess-free. White craft glue is good for sticking paper together, and for some of the process art techniques featured in my Art Spark book.
A glue gun is effective if you need a stronger hold, and it's a good piece of equipment for children to learn to use safely under your supervision. Glitter glue is a fun way to add extra sparkle to your creations.
Often my children like to use tape for their projects, as it gives a quick fix with no waiting for glue to dry. Sticky tape in a weighted dispenser is easy to use. Paper tape such as decorators' tape and washi tape is easy to tear, so no scissors are needed. These low-tack tapes are also useful for tape-resist art projects, as the tape can easily be removed from your art work.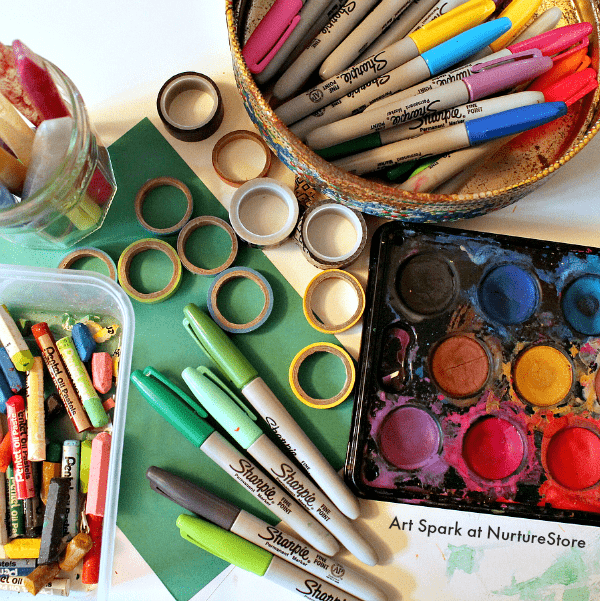 Added Extras
Here you can go to town, gathering all sorts of materials to add color, texture, and interest to your art projects. Take a look at the A-Z of art supplies list for ideas – you can print it at the bottom of this article. My girls' favorites are always stickers and glitter glue.
Think about how you can add interest and new direction to your supplies by considering color, texture, tools, media, and shapes.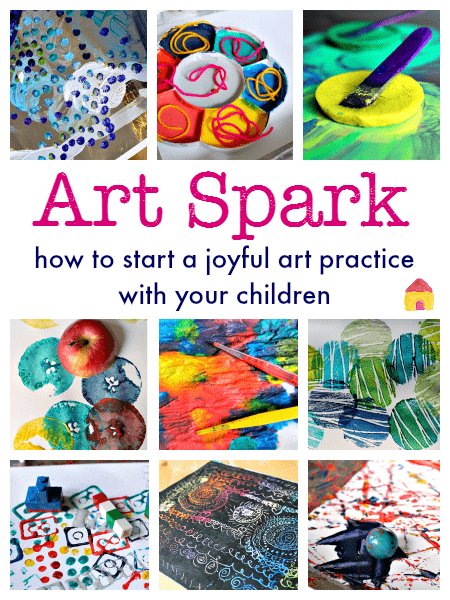 Download the Art Spark Resources
The Art Spark resources bring you 30 art projects that make it easy for you to explore creative techniques with your children and give them benefits of process art . There are lots of ideas that are very easy to set up, so whenever you want to do some art you're all ready to go.
The projects including watercolours, mono printing, marbling, scrape painting, drip painting, frozen art, scratch art, printing techniques, yarn art, and ideas to explore shape, color, gravity and movement.
Also included are links to famous artists, well-known works, and art around the world, so you can go deeper into arts education including: Henri Matisse; Rex Ray; Pablo Picasso; Janet Sobel; Georgia O'Keefe; Paul Cezanne; Yves Klein; Guiseppe Arcimboldo; Jackson Pollock; Cy Twombly; Alberto Giacometti; Harry Bartoia; Lescaux, Altamira, and Ubirr cave and rock paintings; Japanese suminagashi; and Mexican Huichol art.
Click here to see the online art resources.
How to use this poster
Here's a free printable poster with an A to Z of art materials for children. (With thanks to the NurtureStore community for the q, u, v and x ideas!) Click that link and you can print it off and use it:
:: to go in your art journal as a reminder of all the different things you can use for your art explorations
:: as a poster to put on display in your art studio, classroom, kitchen or playroom
:: as a discussion prompt with your children. Which of the materials do they thing would be fun to try?
:: as a hand-out to give to the parents of the children you work with, to encourage them to think about trying art at home, using some of these affordable, creative materials.
Click through here to download all the Art Spark resources to use with your children.