In this easy lesson about adjectives children can use a free adjectives book printable to describe their favourite animal.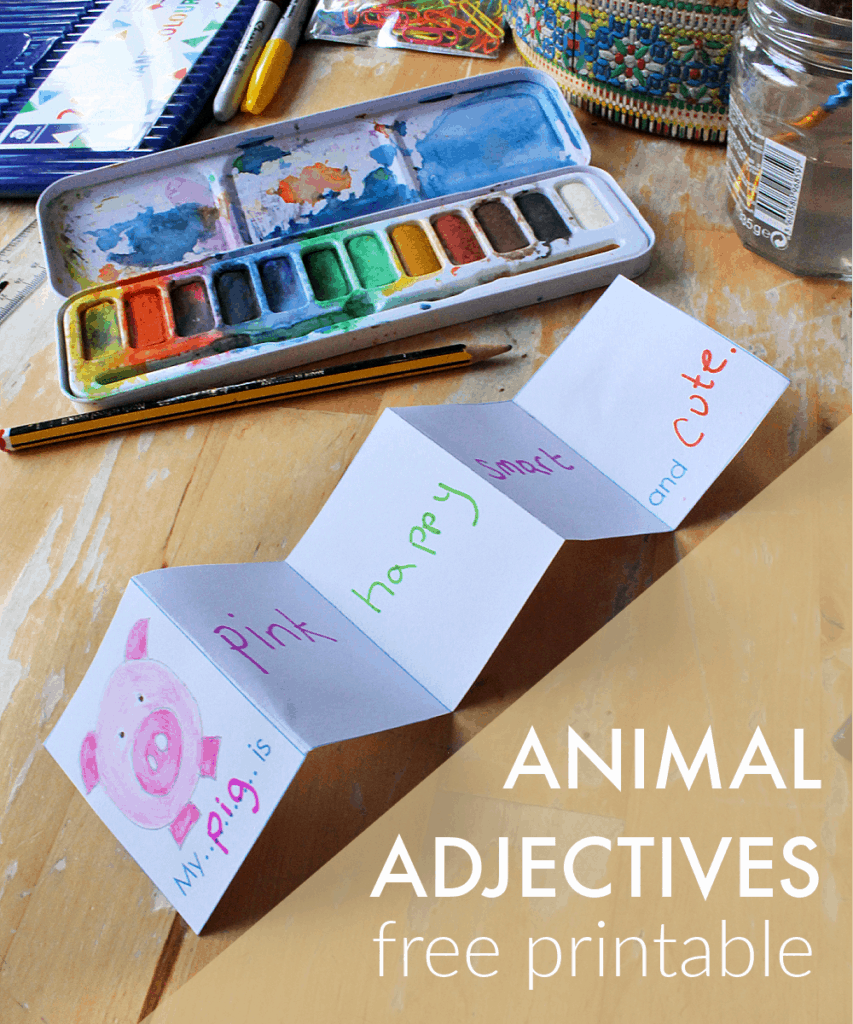 Fun activity to teach adjectives
In this easy and fun adjectives lesson children can:
:: learn that we use adjectives to describe things
:: think up lots of adjectives
:: describe their favourite animal
:: use a free adjectives printable to make an animal book, using writing and illustration
:: practice reading their book and others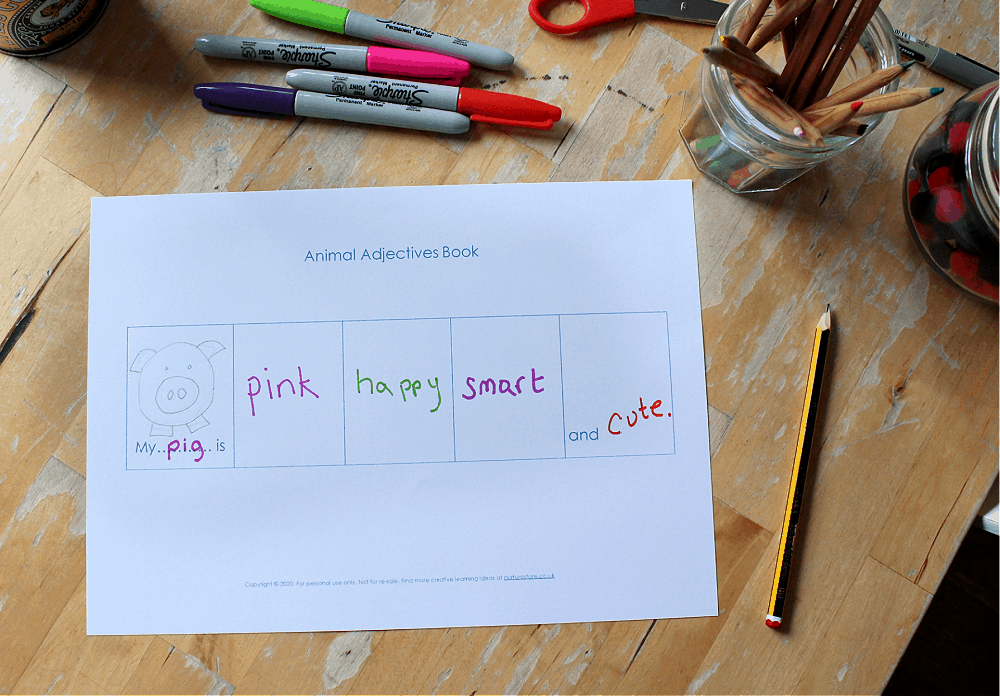 Materials needed
:: free Animal Adjectives book printable – one for each child (see below for details on how to print this book from the Literacy Printables section of NurtureStore's Free Printables Library)
:: scissors
:: colours pens or pencils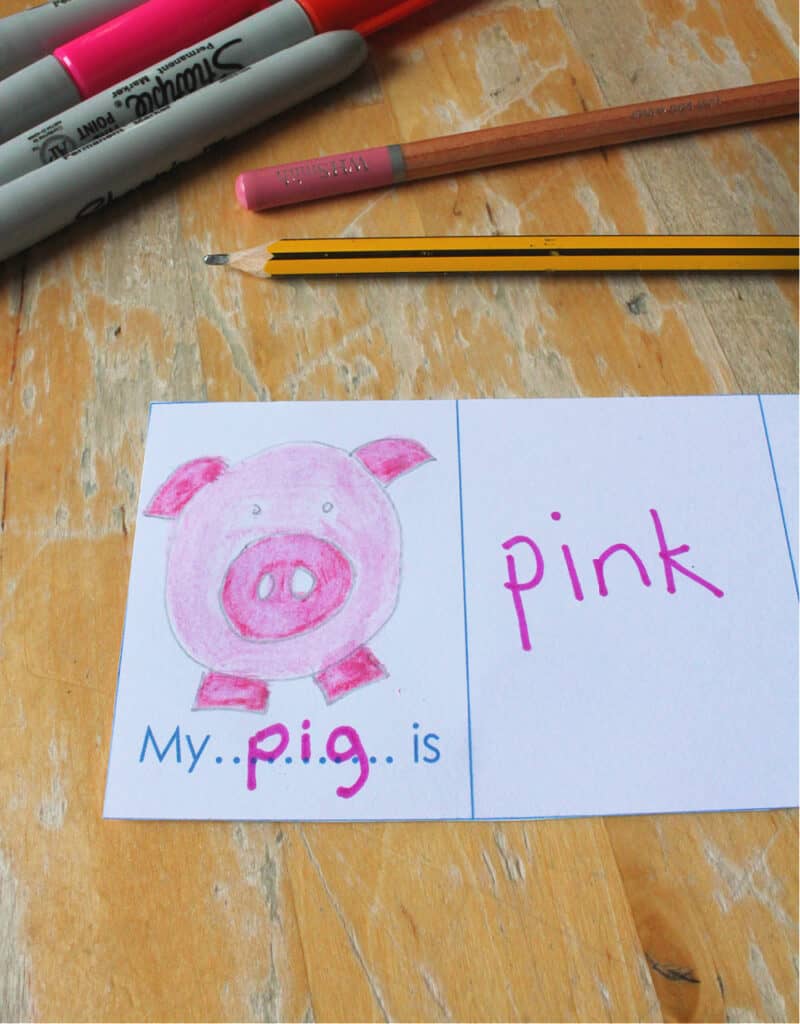 Introducing adjectives
Introduce the idea of adjectives by telling your children that we have special words in a sentence that we use to describe things. We might say a cake is delicious, a tree is tall, and a feather is soft. Delicious, tall and soft are all describing words that tell us something about the cake, the tree and the feather. These describing words are all adjectives.
Draw or show your children a picture of a giraffe. What words can they think of to describe this giraffe? Maybe it's yellow, brown, tall, spotty, and cute.
Now invite them to think about their favourite animal. Maybe their pet or an animal they've seen in a forest, a farm or in a zoo. Have them close their eyes for a moment and imagine what that animal looks like.
Ask them to use their senses to think about their animal.
:: how does it look?
:: how does it smell?
:: what does it sound like?
:: what does it feel like?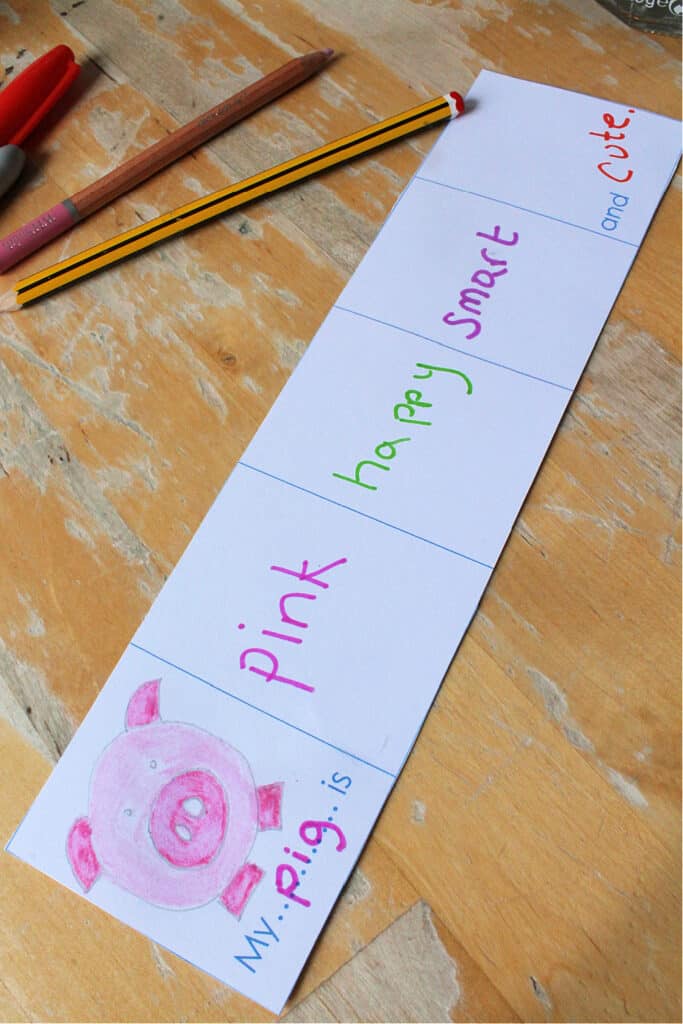 Making an Animal Adjectives book
Now use the Animal Adjectives printable so each child can make a book about their favourite animal.
Draw the animal on the front cover and write in the name of the animal they have chosen.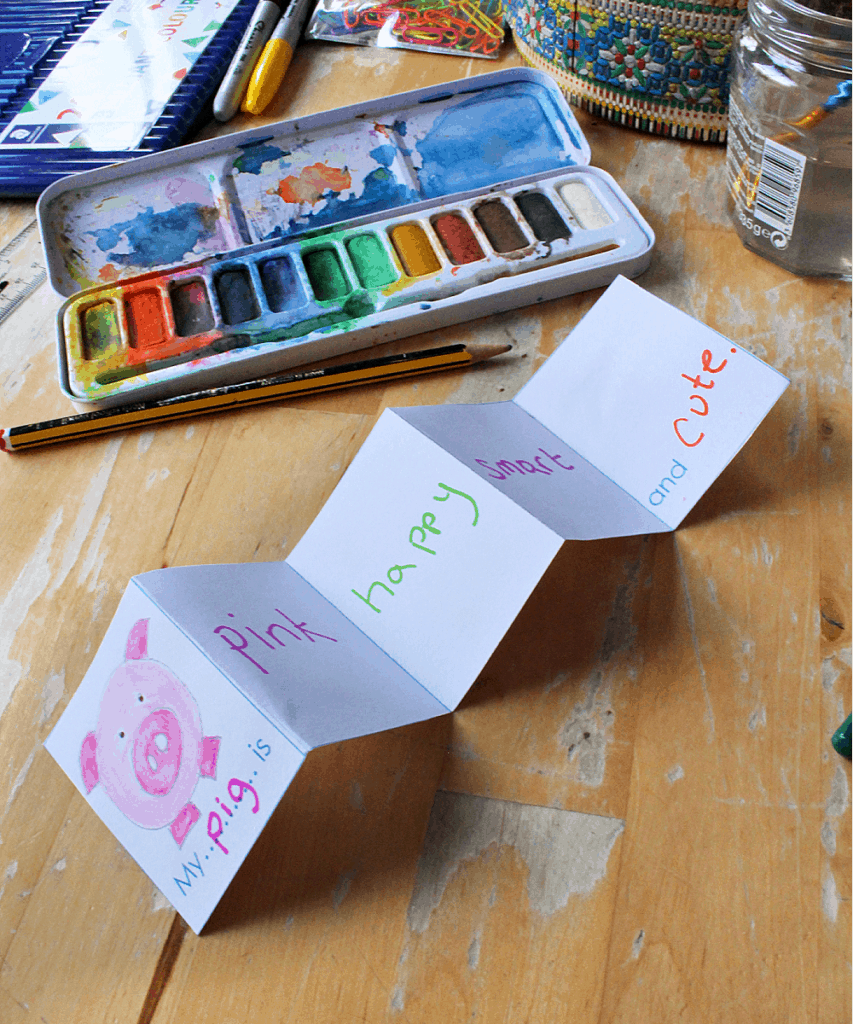 On each page of their book, have them write an adjective to describe their animal.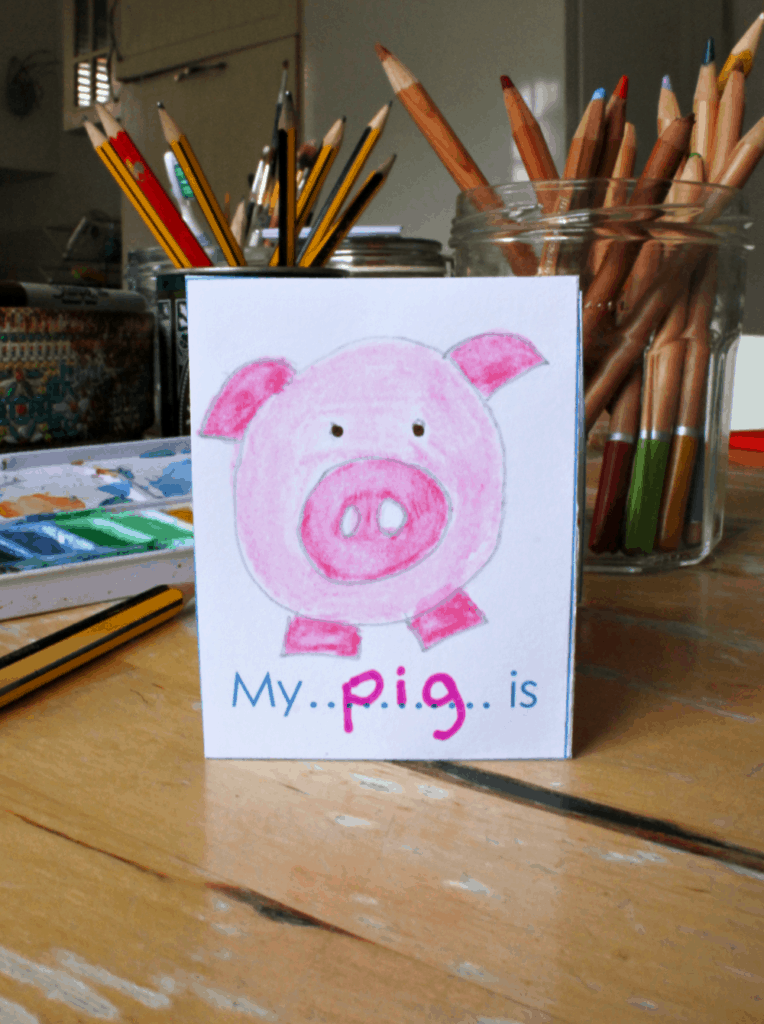 Cut out the book and fold it up in a zigzag shape to create a mini book.
For a grand finale, turn over the back page of the book and draw the behind view of their animal – the end!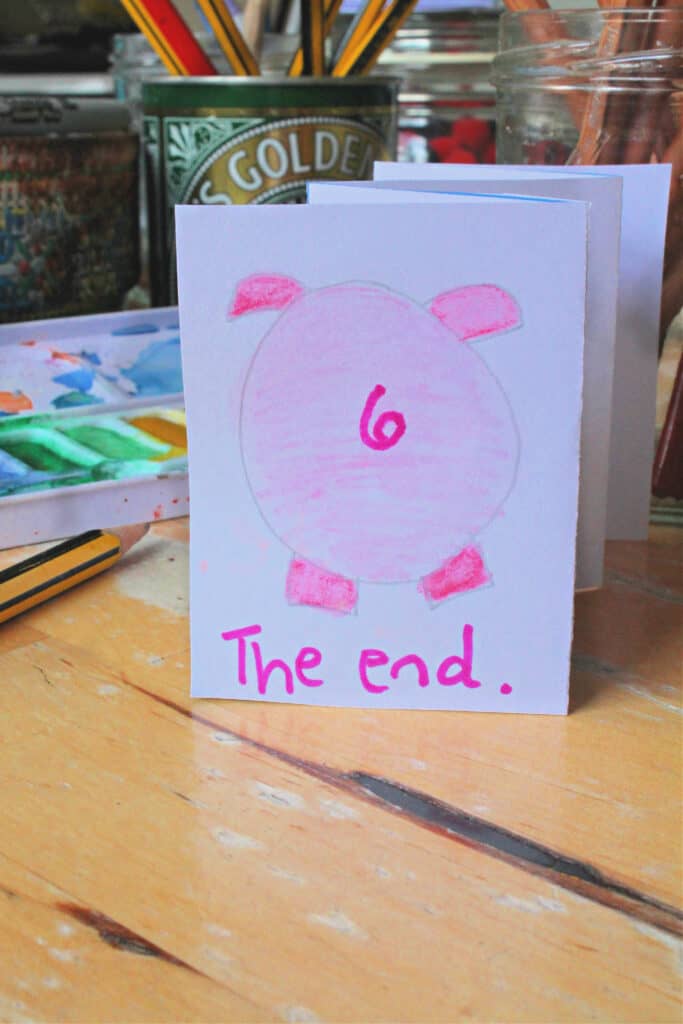 Extension activities
To extend the learning from this adjectives activity, your children could:
:: make another book, featuring a different animal
:: read their book aloud to a partner or to the class
:: swap books and read another child's
:: read out the description of the animal, without showing any of the pictures, to see if anyone can guess which animal they are describing
:: you can also explore adjectives using our Skin Colour activity.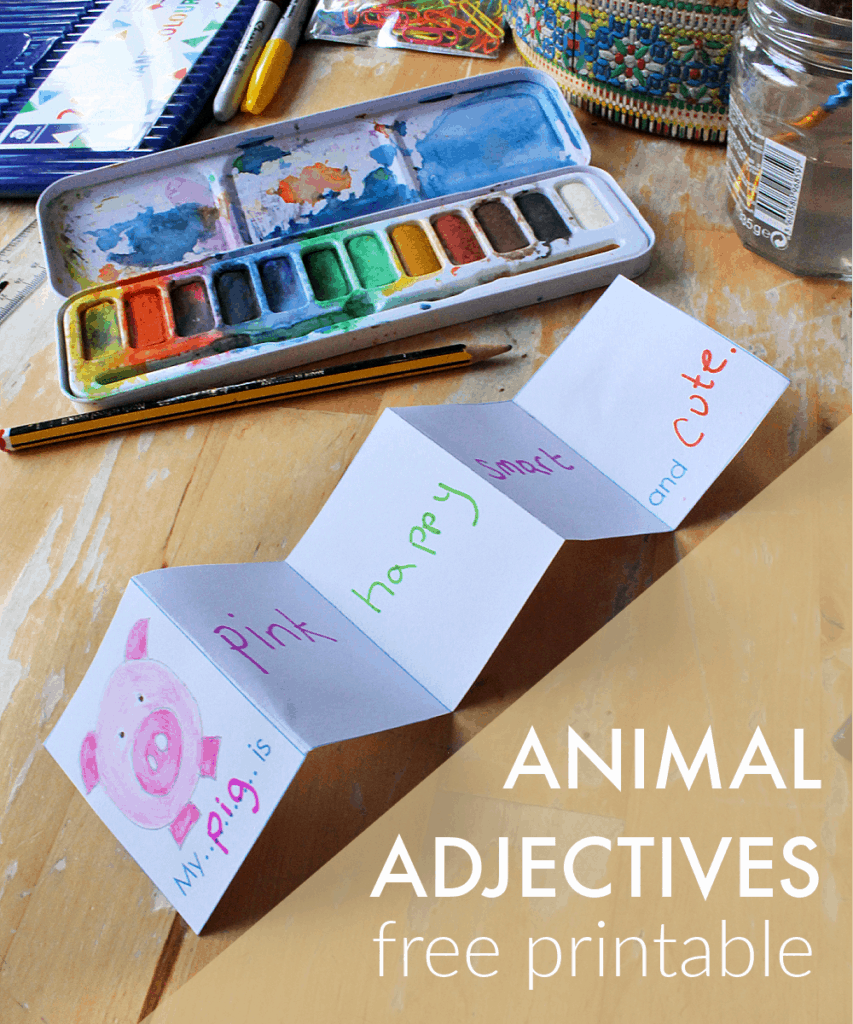 How to get our free printables
To download my free printables, you'll need to visit the NurtureStore Printables Library, which is available to all subscribers to my email list, and of course to Play Academy members.
Pop your email address in the form below and you'll get access to all my free printables, lesson plans, activity ideas, weekly newsletter, and a whole lot more!
After subscribing, be sure to check for the confirmation email. After you confirm your email subscription, we'll send you a welcome email which includes instructions for downloading our free printables.
If you're already subscribed to our email newsletter: check your email for the latest edition of the newsletter where you'll find a link to access our free printables library - the link is usually at the bottom of the email.
For help accessing our printables, click here.
---
By subscribing, you consent to our use of your personal data as per our Privacy Policy, which includes agreeing to receiving interest-based email from us.
---