Here are five relaxing lavender sensory play activities which are easy to set up and just the thing when children – or parents – need a little ahhhhhhh.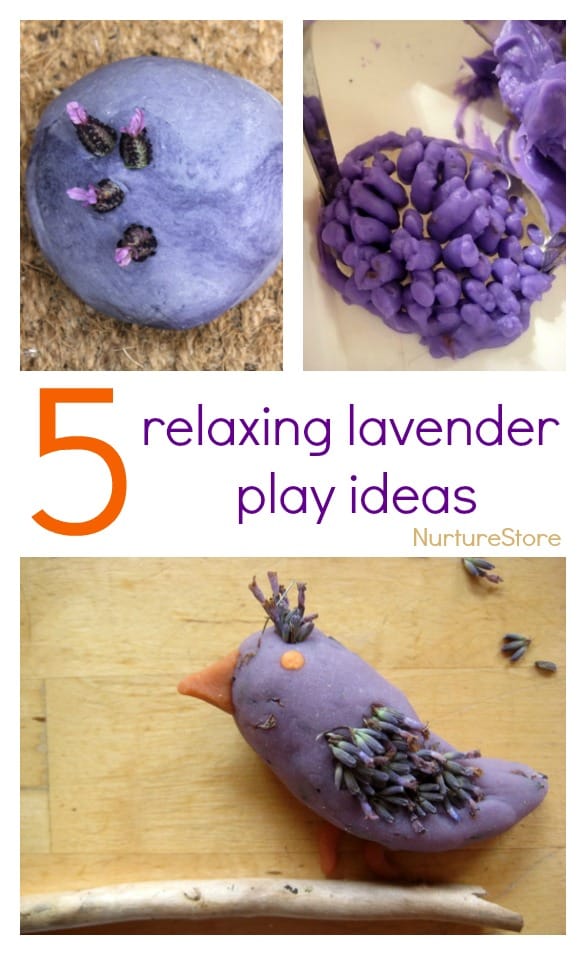 5 relaxing lavender sensory play activities
Lavender is a wonderful sensory material. It's easy to grow in a sunny spot in the garden, and a pot of it makes a great addition to an outdoor mud pie kitchen, giving your children something fragrant to snip and add to the pretend baking. Lavender is said to have calming properties, and we often use it in our sensory play.
Play dough, finger painting and sensory tubs are all great activities when you are hoping to relax children, sooth grumps or transition from one part of the day to another, especially at bedtime.
Here are five ways we love to use lavender in play.
Homemade lavender play dough – a favourite no cook play dough recipe that you can make in minutes.
Lavender dyed rice – perfect for a calming sensory tub
Homemade lavender finger paint – great for even very young children and super in combination with a potato masher!
Classic craft: lavender wand – a nice work out for fine motor skills, and a gentle craft to make as a keepsake or a gift.
Petal perfume – just right for sprinkling on your pillow for a good night's sleep.
The ultimate guide to sensory play!
If your child loves sensory play, you need a copy of this!  Super Sensory Invitations to Play is a delightful resource that encourages your children to explore the five senses through the year, using a wide variety of sensory materials. It includes 52 invitations to play, linked to the festivals and seasons of the year, and including water, ice, dough, rice, paints, sand, sensory tubs, and more.
They are easy, simple, and fun ideas that you can use right now to give a multi-sensory boost to your play and learning. It comes with a printable recipe book featuring all our favourite recipes for play. Get yours here!