Here's a fantastic collection of fun water play ideas for babies and toddlers – mess free and super fun sensory play!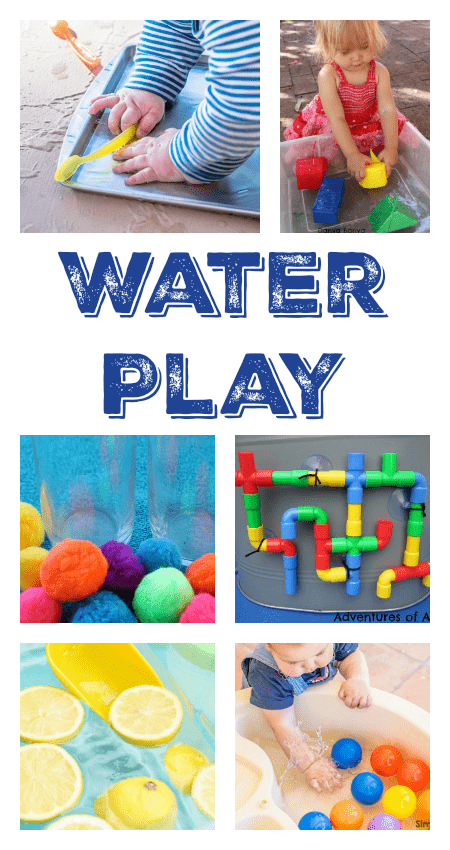 22 fun water play ideas for babies and toddlers
I'd vote water play into my (imaginary) Childhood Hall of Fame as the best sensory play activity there is for babies and toddlers. It's perfect for young children because…
It's super sensory play – lots to see and feel, and all that splashing makes a great sound
It's free, and readily available – which means it's great for rainy days, grouchy days, or feeling a bit bored days
It's easy to set up – whether you're using a bucket, the kitchen sink, or the bath tub
It's easy to clean up too – if you're playing outside it's self-cleaning, and indoors you can just pull the plug
And it's so versatile – with so many different ways to play with water, you can easily offer your children lots of interesting variety.
Have a look at the ideas in this slideshow and you'll find lots of fun water play ideas for babies, toddlers and preschoolers.
Water play ideas for sensory play
:: Try this simple set up for baby's first water play adventure
:: Add in some homemade toy boats
:: or pipettes and basters for fine motor squirting
:: See what sinks and what floats
:: Soothe your baby with a lavender sensory tub
:: Set up a pouring station
:: Or some pom pom squeezing play
:: Make some water tubes
:: or a water bottle play wall
:: Go fishing
:: Enjoy a scented lemon water tub
:: Explore how funnels work
:: Try some water painting
:: Play follow the leader water footprints
:: Enjoy a flower sensory tub
:: Make a baby-sized water blob
:: Try some colour sorting
:: Go bobbing for apples
:: or explore the wonder of water beads
Get free resources for your children!
Did you know you can receive free weekly activity ideas, seasonal resources, free printables and extra bonuses from Nurturestore? You'll have creative learning ides for your children all year round!
Sign up in the box below and we'll send you your freebies!
---
* By subscribing, you consent to our use of your personal data as per our Privacy Policy, which includes agreeing to receiving interest-based email from us.
---