For our ABCs and 123s letter and number activities series today we're joined by Jen from The Mad House. She's sharing a free printable number wheel, with lots of ideas for how to use it for number recognition and learning number bonds.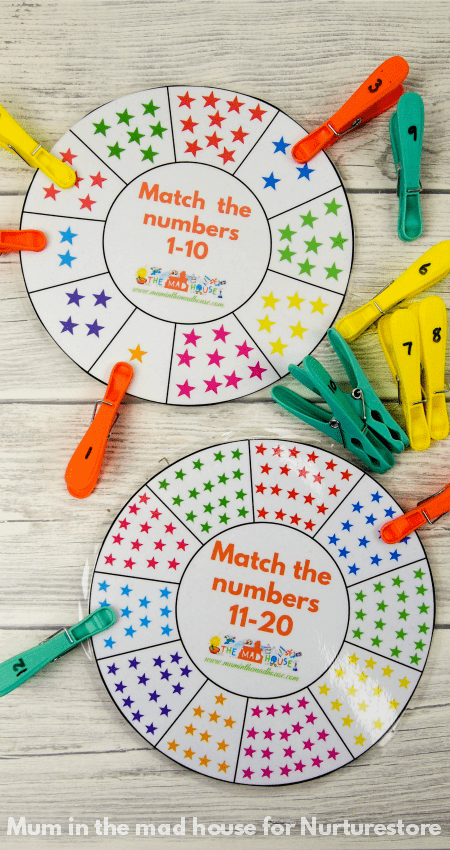 Free printable number wheel for number bonds activities
I have two boys who love numbers and were obsessed with them from a very early age. Number recognition is the building block to counting, and this match the numbers game is a great busy bag activity and great for reinforcing number bonds up to 20.
My boys loved this activity as it teaches counting rather than just reciting numbers. When children are reciting they are basically just repeating a memorised sequence, whereas counting is a cognitive activity. With this match the numbers activity, kids are watching the stars with a number to represent the quantity.
Add the clothes pegs into the game and you have a great fine motor pinching activity, making this a great all round activity.
Materials
Clothes pegs
Laminator (optional)
Permanent marker
Print your number wheels from the links in the materials list above. Laminating the number wheels means that they will last much longer and make them much more durable.
Mark your numbers 1 to 20 on the pegs, using a permanent marker.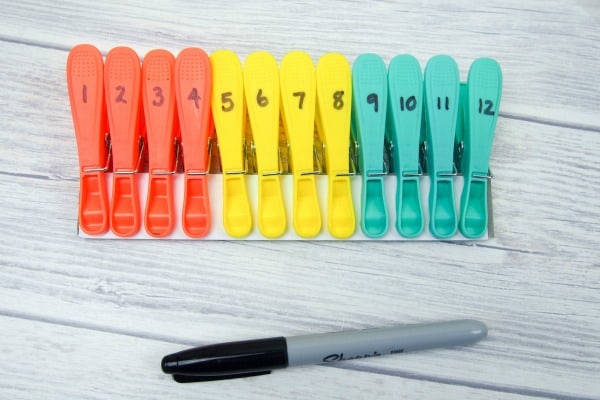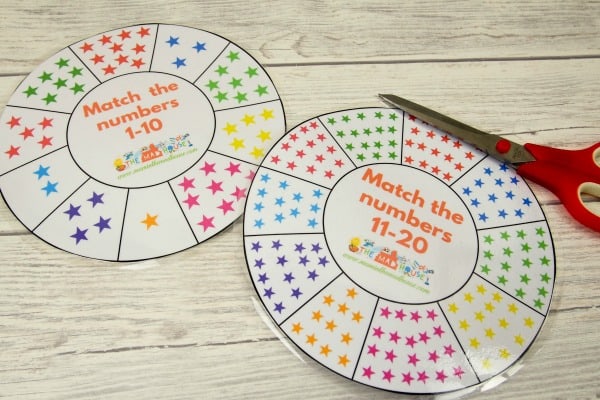 How to play:
I love these number wheels as children often find different ways to use them in addition to just counting the stars and clipping on the relevant peg.
You can count the stars and have the children find the matching clothes peg.
See if you can look at the stars on the 1 – 10 wheel and recognise how many stars there are without counting them. This is called subitising: it's the ability to instantaneously recognise the number of objects in a small group without the need to count them.
You could play a more than / less than game. Pick a clothes peg, look at its number, and see if you can find the stars that are one more than that number, or one less than the number.
You can use the wheels for number bonds too. Use the 1 – 10 number wheel, and count the stars in one of the sections. How many more do you need to add to make ten (or twenty)? Find that number peg and match them up. Knowing your number bonds is an important aid to addition and subtraction, and a great help when you're answering mental math problems.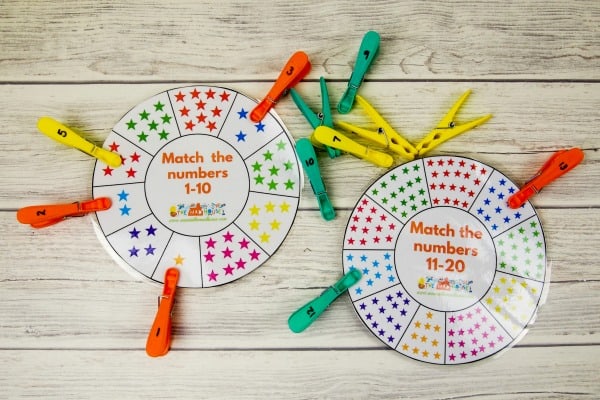 You can use the number wheel as an independent or  quiet time activity, but it is also great to use with your child. In a classroom, pairs of children can work together to match the stars and numbers.
If you liked this post, you might really like these from my blog:
DIY maths game for kids – Out of this world maths
Maths and Art Collide = Parabolic curves
Jen Walshaw is passionate about crafting and cooking, and can often be found in the kitchen teaching her boys (aged 9 and 10) to make pizza dough, or making homemade gifts for family and friends. When not up to her eyes in flour or paint, She can be found writing about living a creative family life at www.muminthemadhouse.com. Why not catch up with her at The Mad House Facebook page or follow her on Instagram for a glimpse in to family life in The Mad House.