Fairy tales are such an important part of childhood, helping children explore emotions, and think about experiences in the big wide world from the safe and secure environment of home. Make a set of DIY fairy tale fridge magnets for some fun storytelling of your own.
DIY fairy tale fridge magnets
Getting the children to do the storytelling themselves is a great way for them to practise their language and use their creativity, as they adapt the story and give it their own personal twists. Using traditional characters is a good way to hook them into the story telling – but soon you'll find them making up adventures of their own.
We went with The Gingerbread Man today, but as the magnets are very easy to make you can put together several sets so you can play with them time and time again.
All you need is: some card, some small magnets (we bought ours from eBay), pens and pencils, scissors and some strong glue.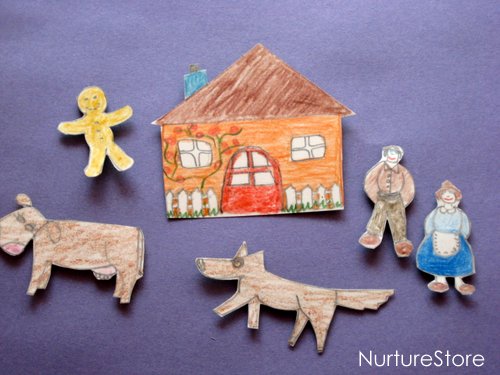 Draw your your characters, cut them out and pop a magnet on the back. Easy-peasy!
As soon as the glue is dry you can put them on the fridge and start telling your stories.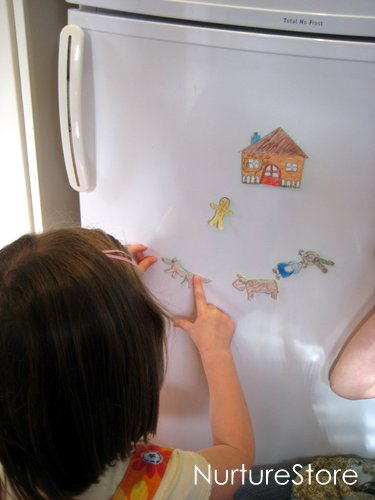 It's a great way to keep them entertained while you're getting dinner ready.
More storytelling activities
For more fairy tale and storytelling ideas, take a look at…
The Very Hungry Caterpillar activities
Learning how to read with speech bubbles

Nurture art with the Art Spark resources!
My Art Spark resources will give you everything you need to start a joyful art practice with your children. There are two new ebooks and an online art course for your family or class. Use them and you'll be bursting with enthusiasm and ideas that will help you make art happen. Click here to see more.