As part of our Kids Art Explorers project the girls have been playing and creating with yarn. We're saving L's creation for something special but I thought today I'd show you B's latest creation with the yarn, showcase some of the projects our other Art Explorers have been working on and invite you to link up your own projects.
Kids Art Explorers: yarn art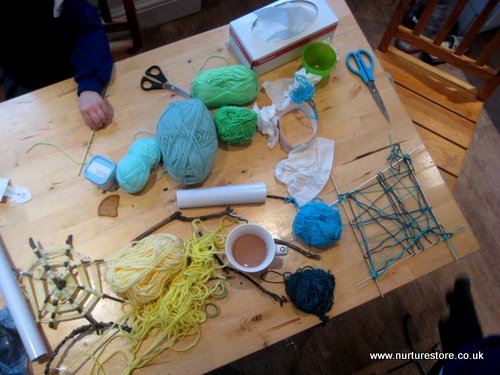 The children have had no direction from me as to what they might like to do with the yarn – just a big bag full of different colours of it and access to all the craft materials we keep on hand.


Here's B's creation, which she describes as like a spider's web and a dream catcher. The frame is made from four wooden kebab skewers, which are one of B's most often used art materials. She began her project by making her square and fastening the corners together with some of the yarn.


Then she set about wrapping and winding the yarn around the frame. She seemed to do this very thoughtfully and deliberately, as she unwound and replaced the position of the yarn several times. She's still fond of what she calls 'mermaid colours'. I love the layering of the yarn as it crosses over and the mix of smoother and bumpier threads.
Join the Kids Art Explorers
Have you been creating with yarn? Please add your project to the linky here or share a photo on our Facebook page.
If you're inspired to give it a try, take a look at some of the projects listed here or have a look at our Kids Art Explorers pinterest board for ideas from other families.
The next Kids Art Explorers project will be announced very soon – follow us on Facebook so you don't miss the launch!
happily shared with craft schooling sunday