Why is play important for children's development? So many reasons! You can use this free printable poster as a reminder of all the benefits of play.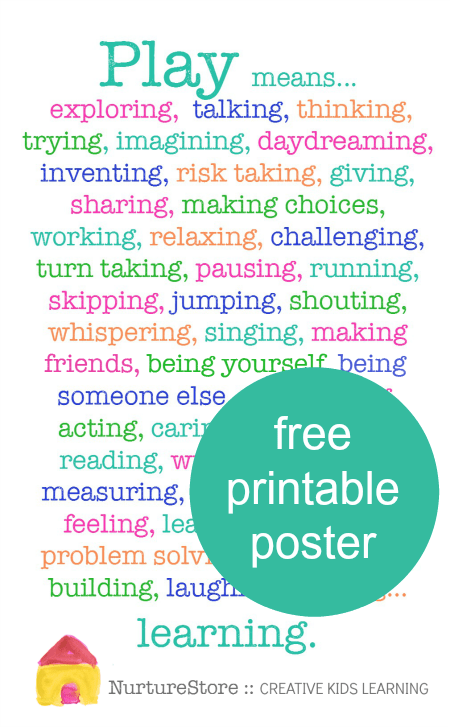 Why is play important?
Play means…
exploring, talking, thinking, trying, imagining, daydreaming,
inventing, risk taking, giving, sharing, making choices, working,
relaxing, challenging, taking turns, pausing, running, skipping,
jumping, shouting, whispering, singing, making friends,
being yourself, being someone else, role playing, acting,
caring, negotiating, reading, writing, counting, measuring,
trying things out, feeling, leading, following, problem solving,
storytelling, building, laughing, smiling…..
learning.
Let's prioritise play and value its central importance to childhood.
How to download the printable
Get access to ALL my free printables by subscribing to my email list.
To download my free printables, you'll need to visit the NurtureStore Printables Library, which is available to all subscribers to my email list, and of course to Play Academy members.
Pop your email address in the form below and you'll get access to all my free printables, lesson plans, activity ideas, weekly newsletter, and a whole lot more!
After subscribing, be sure to check for the confirmation email. After you confirm your email subscription, we'll send you a welcome email which includes instructions for downloading our free printables.
If you're already subscribed to our email newsletter: check your email for the latest edition of the newsletter where you'll find a link to access our free printables library - the link is usually at the bottom of the email.
For help accessing our printables, click here.
---
By subscribing, you consent to our use of your personal data as per our Privacy Policy, which includes agreeing to receiving interest-based email from us.
---