Why is play important for children's development? So many reasons! You can use this free printable poster as a reminder of all the benefits of play.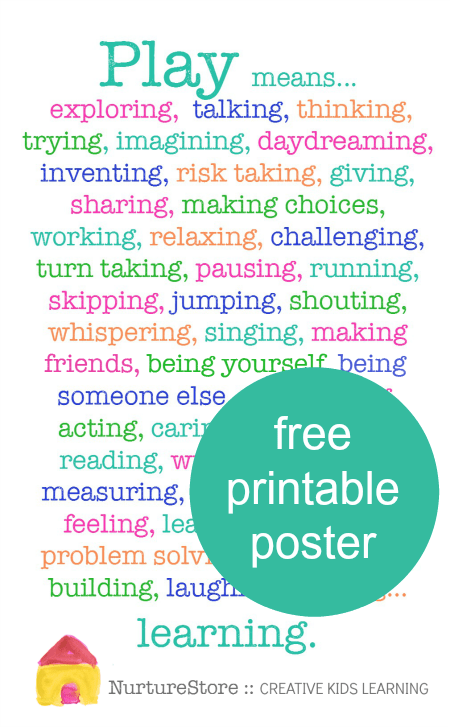 Why is play important?
Play means…
exploring, talking, thinking, trying, imagining, daydreaming,
inventing, risk taking, giving, sharing, making choices, working,
relaxing, challenging, taking turns, pausing, running, skipping,
jumping, shouting, whispering, singing, making friends,
being yourself, being someone else, role playing, acting,
caring, negotiating, reading, writing, counting, measuring,
trying things out, feeling, leading, following, problem solving,
storytelling, building, laughing, smiling…..
learning.
Let's prioritise play and value its central importance to childhood.
How to download the printable
Get ALL my free printables by joining the NurtureStore community and gaining instant access to my free resource library, including this printable.
Pop your email address in the box below, select both options, and you'll get instant access to all my free printables, lesson plans, activity ideas and a whole lot more!
If you only want this one printable you can click here to download it. If you want all the 1000+ free resource ideas and printables – including this one – pop your email address in here.