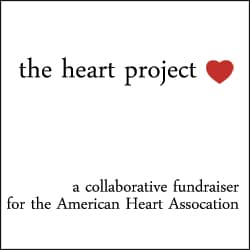 I've been waiting all week to share this with you! I have the most amazing book to tell you about. It is packed full of creative Valentine craft ideas, recipes to try, decorations to make and play activities to enjoy. It is the combined work of over seventy international bloggers, inspired and collated by Jamie from hands on as we grow and it is now ready and waiting for you to get your own copy. The book is only available in February though, so be quick!
With a donation of just $5 US dollars (around £3), with all proceeds going to the American Heart Association, the e-book is yours. The ebook is beautifully illustrated and hyperlinked through to the individual creative projects, so you can click through to find out how you can try out each idea for yourself.
A hard-copy of the book will also be available (in soft cover), through createspace.com for $20 dollars.  Five dollars from every purchase of the hard-copy books will go to the American Heart Association.
You can see from this peak inside the book that it is gorgeous! Click the button below to get your very own copy of this very special book. Go on, go on! For just five dollars you will get a book bursting with creativity and know you are supporting a wonderful cause.
The book is the idea of Jamie at hands on as we grow and she has a very personal reason for supporting this campaign. You'll notice the book is dedicated to Ellie Jo and you can read more about her story here.
Supported by craftprojectideas.com
Craftprojectideas.com is contributing $1 for every ebook sold this month. That means in addition to your $5 donation Craftprojectideas.com will donate another $1 on your behalf (up to $500).
the heart project giveaways
There's even more good news!
From now until Valentine's Day, there will be a giveaway each day to help support the American Heart Association campaign. You are not required to donate in order to enter in any of these giveaways – we just want to help bring awareness to the American Heart Association. These giveaways are from The Heart Project Bloggers who are very generously donating their projects from The Heart Book. There are also some special giveaways from Melissa & Doug, Fudoo Boards and CraftProjectIdeas.com.
You can find
details of all the giveaways
over at hands on as we grow. Be sure to check back each day so you don't miss any of the giveaways.
The heart project is a collaboration of the kid blogger community, featuring these fabulous sites
Download your copy of the heart project
With all these wonderful bloggers involved you know there are going to be lots if ideas in the book that you will love. Click this link, make a donation and get your own copy now.
Thank you for your support of the heart project