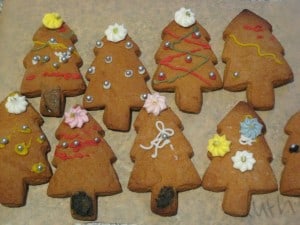 School holidays are here ! I've had a houseful of children busy making Gingerbread Christmas Trees this afternoon – and aren't the cute?  We used my old favourite gingerbread recipe for the dough and stamped out lots of trees – you could either do this with the children or prepare the biscuits in advance and hand over to the children to add the baubles.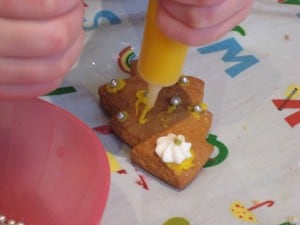 To decorate the trees we used tubes of writing icing, silver balls and sugar flowers. The icing can be used as tinsel or a blob of it makes the 'glue' you need to stick the silver balls and flowers to the tree. Let the children go wild and see what they can create.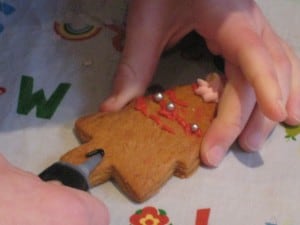 If you make a hole at the top of each tree before baking you could thread a ribbon through and hang on the real tree. Or you could bag them up in cellophane to give as gifts. We just ate ours!