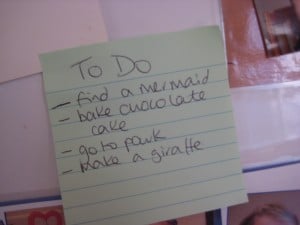 There are 23 days until the school holidays begin.
Believe me those 23 days are going to whizz by in a blur of summer fetes, sports days and school concerts and before you know it you'll have 7 long weeks of holidays stretching out before you, with children to keep entertained.  Are you ready?
How are you going to keep your kids entertained for 7 whole weeks? We have a plan! Grab yourself a big sheet of paper, stick it to the door of your fridge and start brainstorming. Every time one of the children say 'Can we make some ice cream?' or 'I want to go fossil hunting' scribble it down on your wish list. You can include:
– places you want to go
– films you want to watch
– books you want to read
– crafts you want to make
– meals you want to cook
– toys you want to play with
By the time the holidays roll around you should have a list of ideas long enough to last you through, bringing lots of fun to your summer.
Got ideas already? Please leave a comment to share your ideas – so we can get some inspiration from you! And don't forget to keep popping back to NurtureStore as we will be bringing you play ideas right through the summer.  Why not subscribe to our feed or join our Facebook page so you don't miss any of the ideas.