This paper plate moon and stars is a pretty but easy to make Ramadan craft for kids.

Paper plate moon Ramadan craft
> > QUICK RESOURCE > > Download our ready-made Ramadan Unit
To make our Ramadan craft we started by cutting out a crescent moon and star from a paper plate. Younger children may need a bit of help with this part, and then they can take over for the rest of the creating.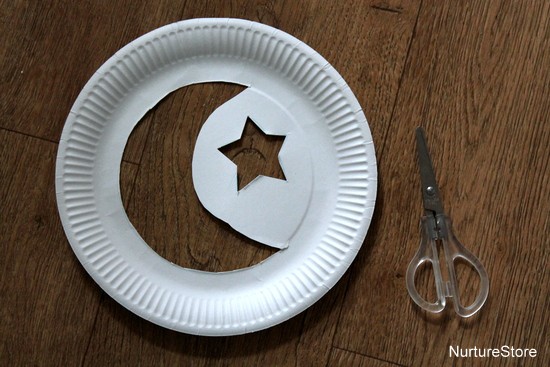 We placed our paper plate on a piece of contact paper / sticky backed plastic, so the sticky surface faced upwards through our moon and star.
Trim around the edges so the contact paper fits the size of the paper plate.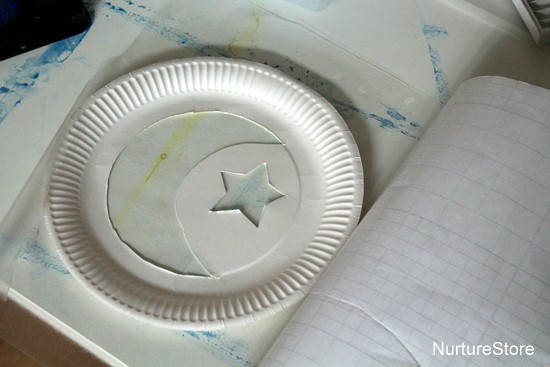 Then you can decorate your design.
We used tissue paper to fill in the shapes of the moon and star.
Tearing tissue paper is a great workout for little fingers.
You can pick whichever colours you like, but we went with a classic blue and yellow.
The tissue paper sticks easily to the contact paper, so you don't need any glue.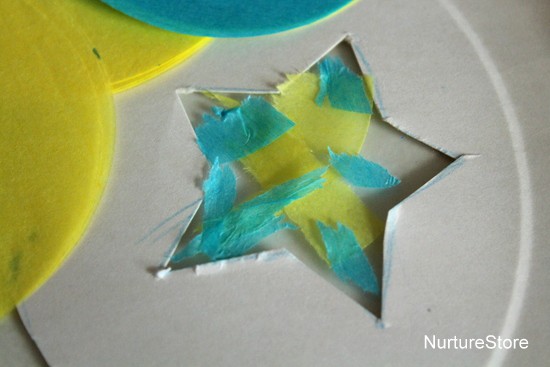 Finally you can decorate the paper plate itself. We used blue watercolour paint…
with some extra gold glitter glue to create some more stars in our sky.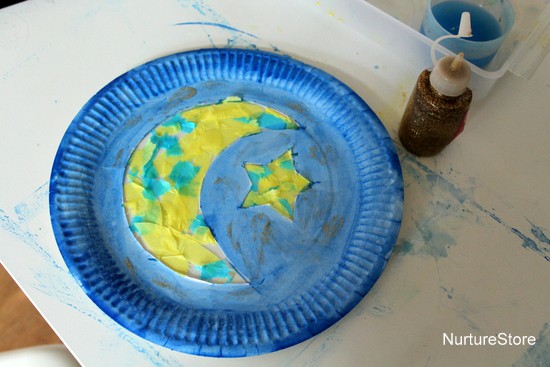 If you hang you moon and stars up in the window you will create a beautiful stained glass effect as the sun shines through the tissue paper.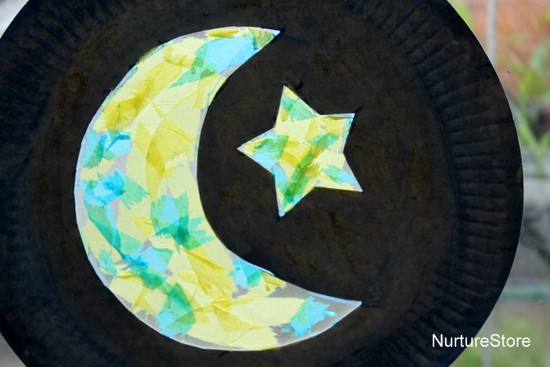 Or hang it on the wall to see all the glittery stars in your sky.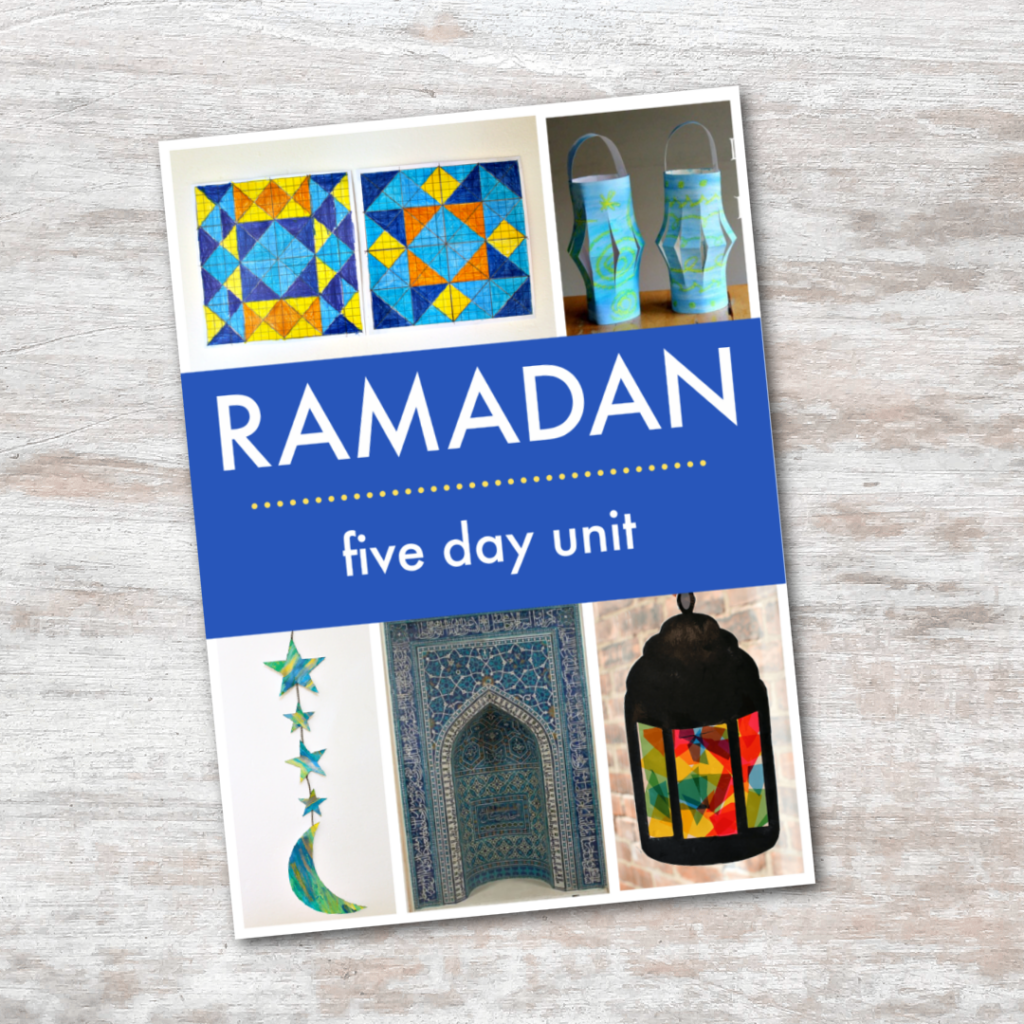 What's in this Ramadan Thematic Unit?
Download the Play Academy's ready-made Ramadan thematic unit and you'll be ready to lead a fun and creative set of lesson plans to teach your children about Ramadan. Our Ramadan Unit is part of the Play Academy's Festivals curriculum pathway and in it your children can:
:: learn about Ramadan: what it is and how it is observed
:: make Arabic-inspired paper lanterns
:: play card games using Ramadan-themed playing cards
:: create geometric Islamic art
:: make a crescent moon and stars craft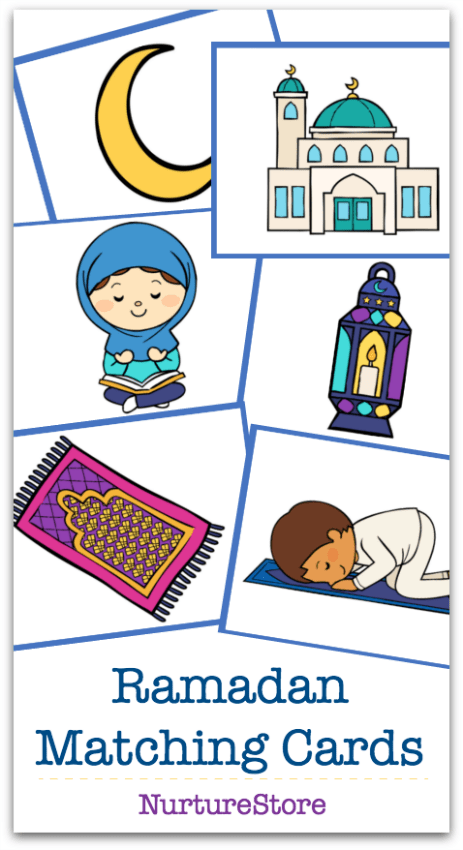 Bonus Ramadan thematic unit printables
The Play Academy's thematic units come with practical printables that make the lessons more engaging for your children and easier for you to teach.
No need to go searching for printables to accompany your lessons, they're all included when you download your chosen unit.
In this Ramadan unit you'll receive these bonus printables:
:: Islamic art grid for the math and art project
:: Lantern template
:: Mobile template
:: Ramadan cards for vocabulary building
:: Ramadan placemat for an iftar meal
How to download this Ramadan thematic unit
You can download this unit along with over 50 more from NurtureStore's Play Academy.
If you are already of the Play Academy, you can download this unit straight away from our Library here.
If you are not yet a member, find out more and choose your first unit here. Your teaching is about to get a whole lot easier!