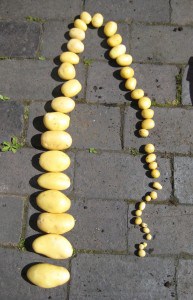 One potato, two potato, three potato, four
Five potato, six potato, seven potato more
It's easy to include some maths in your garden if you've been growing your own fruit and vegetables.
You could…
Count how many potatoes you have. Draw up a chart to record the harvest from your garden and add up the grand total of what you've grown.
Rank your produce by size from biggest to smallest.
Measure your spuds – ours went from 1cm up to 10cm.
Happily shared with…