To help children get to know their local comunity you can make your own street map. I've used this with children who were new to the area to help them feel settled in their new home, and with children starting school, to help them feel confident about the school run.
Start by taking a walk around your local community. You might want to pick a particular route that the children take regularly – to school, to the childminders, to the shops. Help your child to spot local 'landmarks' which they recognise on the way – a post box, a zebra crossing, a park, the house where the barking dog lives. Use a digital camera to take pictures of each landmark.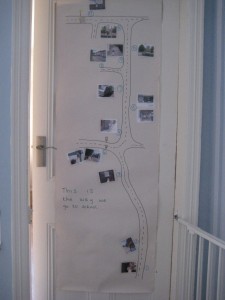 When you get home, print off the photos. Use a roll of paper (or the back of a wallpaper roll) to draw out a basic road map of your journey. It's doesn't have to be exactly to scale of course, and you'll probably need to do this bit for them. Then, together tell the story of your journey – talking about all the things you pass on the way and sticking them in the right places on your map.
When you've finished you can use the map to play with toy cars or dolls' house people to bring it to life.  You could roleplay situations with the child – for example  you could walk a doll to school along the route and have them say goodbye to mummy and line up to go into class. This lets your child try out situations before they occur – giving them chance to prepare themselves and become more confident in the real situation.
Next time you go on the journey keep a look out for all your landmarks and notice if any have changed.