Have you ever used henna to make mehndi patterns? We tried it this week as part of our project on weddings around the world and it was wonderful. Such a lovely group activity and a great hands-on (truly!) way to learn about a culture different to our own. Oh, and surprising good for math games too.  Here are our tips for how to use henna as a beautiful art and math lesson.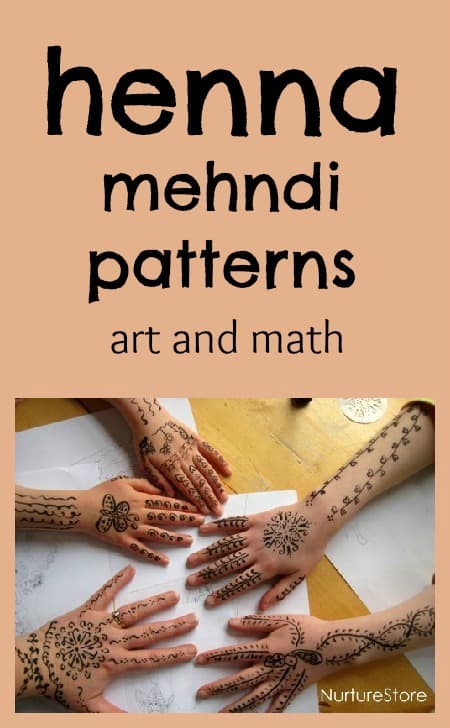 Henna math games :: making mehndi patterns
We've been learning about weddings this month, looking at different traditions in religions and countries around the world. The children especially liked the beautiful henna patterns that are painted onto the hands of a bride in many Hindu and Muslim wedding ceremonies, so we thought we try hosting our own mehndi party.
I thought the traditional henna paste would be just too difficult for the children to use themselves, plus there was no way they'd be able to keep still for hours afterwards to let it set! So we used a mehndi kit (affiliate link) that had a little pot of body ink. This was like a pot of nail varnish, with a brush that the children could use like a felt-tip pen to draw on their designs. It was washable, easily coming off with soap, but lasted a couple of bath-free days on their feet. (Everyone did a skin reaction test two days before we used the kit, just as a precaution.)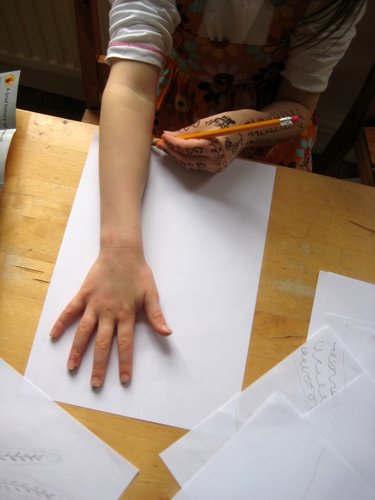 We started off by drawing around our hands on pieces of paper, so we could practise our designs. I knew the children would want to draw and draw, so starting off on paper first gave them plenty of time to enjoy making their designs before deciding on their favourites to go on their real hands.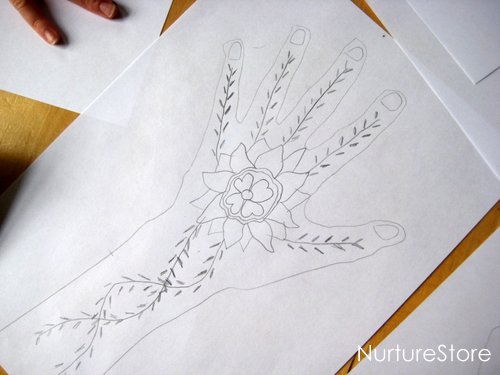 We researched the traditional mehndi patterns that a bride might have painted on her hands. The kit told us the designs originated in Africa thousands of years ago, before spreading through the Arab world. North African mehndi patterns tend to feature natural emblems such as birds and flowers, and Indian patterns tend to be more geometric, so we tried out some of each.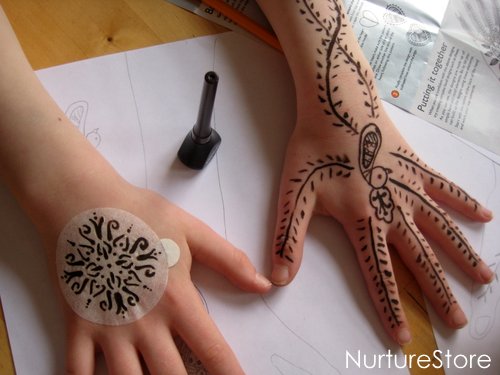 The kit came with a stencil but drawing free hand was really easy  – and fun! It was a wonderful maths lesson – lots of symmetry, counting of marks and repeating patterns were incorporated very naturally in the children's designs.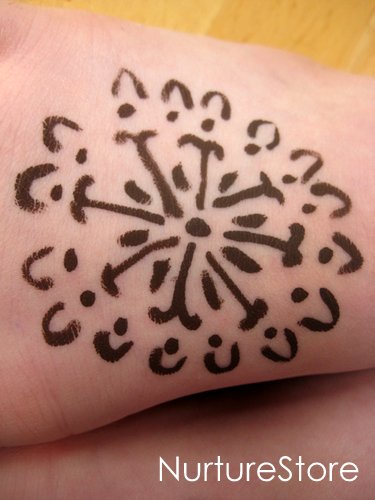 It was also a really lovely event, bringing us all together. We were just sat round the kitchen table, drawing and chatting, but it somehow had a extra special feel to it. A mehndi party as part of a real wedding celebration must be wonderful.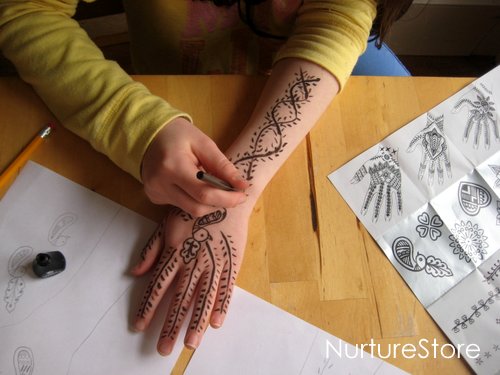 The children were so delighted with their finished designs, and everyone they met over the next day or so (including every Rainbow and Guide in their packs!) were given a show-and-tell of their hands and feet.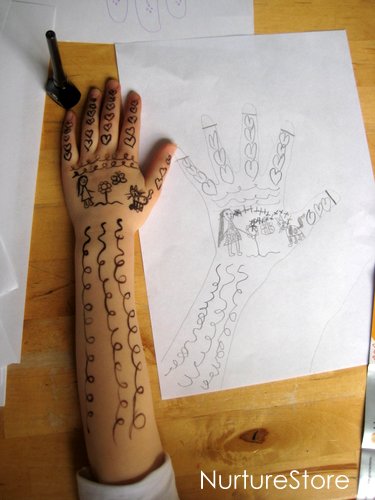 Have you ever used henna, or been to a mehndi party? My girls would love to know!
More creative math activities
If you like combining math and art, and if you're looking for play-based exploration and discovery of math and science concepts, come and take a look at our Fizz, Pop, Bang! Playful Science and Math Activities.
And for more math-meets art resources, join my ART of CIRCLES workshop.