Easy gingerbread houses children can make
There are so many beautiful, detailed gingerbread houses around on the internet but when it comes to gingerbread houses for children I think you want to focus on fun rather than perfection.
Kids want to be hands-on in an activity, and free to add their own creative flourishes, so here's our solution for child-friendly houses: gingerbread cookies.
Easy and quick to make so everyone can have (at least) one each, which means everyone can be making and doing all the time and can make their gingerbread house look exactly how they choose.
The first step is to bake up a batch of gingerbread. We used our favourite gingerbread recipe and cut it out the shapes using a house cookie cutter. 
Once the gingerbread houses are cool the decorating can begin.
We used some small tubes of ready-mixed writing icing, which meant everyone had their own tube, so there was no waiting around. The tubes proved to be really easy for everyone to use by themselves.
You can use the icing to outline windows and roofs, to draw patterns or as glue to stick on your sweets. Playing Christmas music so you can sing along while you decorate is fun.
Each child had a pot with a selection of sweets in, so no squabbling and you can control just how much sugar each child has access to! Some of our decorators decided less was more.
However, sometimes more is more – especially when you realise anything you put on your house is yours to eat.
I think our version of gingerbread houses for children turned out great – a fun Christmas activity and just right as a sweet gift for friends too.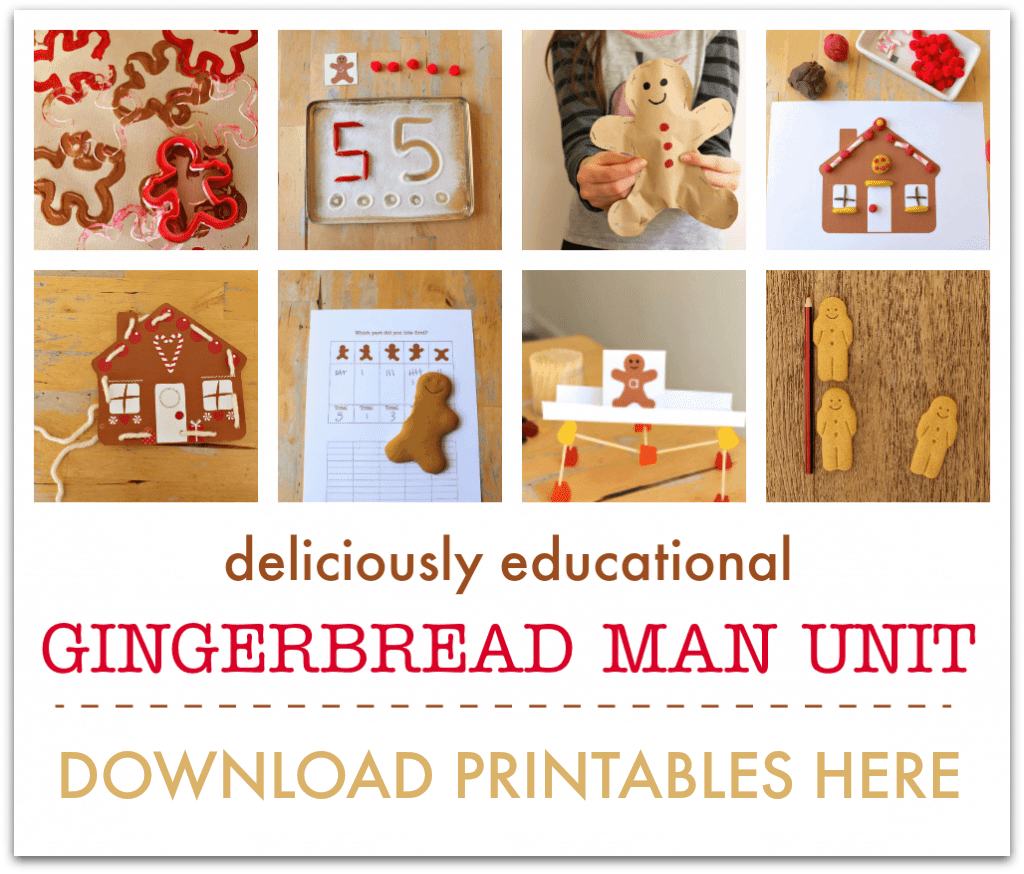 Download the complete Gingerbread Unit
A deliciously educational unit of learning! The Gingerbread Unit gives you everything you need to teach an engaging program of activities all based around The Gingerbread Man.
With ideas for math, literacy, science, play, sensory, arts and crafts your children will love learning through baking, play, and exploration.
:: over 45 pages of lessons, activities, and printables
:: a complete unit of gingerbread-themed math, science, literacy, arts and crafts, sensory, and play
:: materials lists and bonus printables make it so easy!
:: everything planned for you, so you can enjoy it as much as your children do
:: fun and delicious, and packed with engaging learning
Click here to get your complete Gingerbread Unit.