Exciting news to start the month :: you can now download one of the NurtureStore free kids apps, which means you can use all our ideas, straight from your phone, any time you need them!
If you're wondering what to do with the kids tomorrow, you're planning a playdate, you need some ideas to help your kids with their spellings or you're stuck in on a rainy day in need of a rescue idea – NurtureStore is here!
Follow these easy-peasy instructions and you can have a nice little NurtureStore app on your iPhone or iPod Touch, which with one click brings you straight here, to see our latest ideas and to dive into our huge archive of kids activities.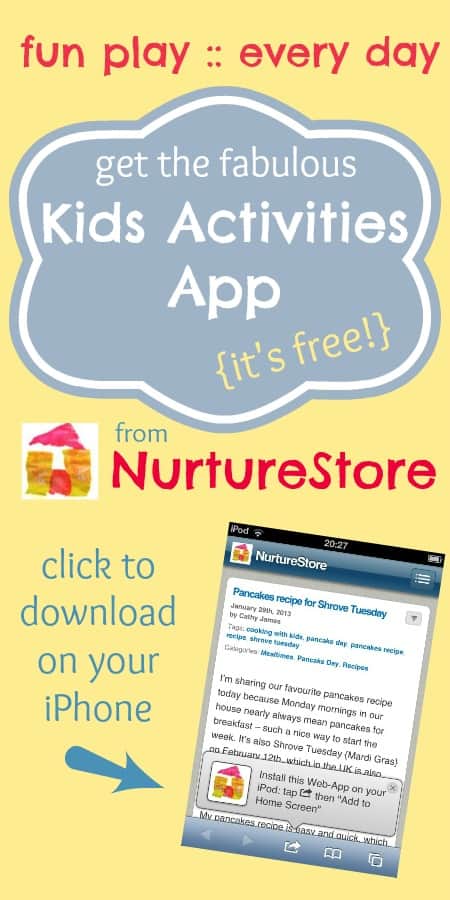 How to get the free kids apps

This bit's easy! We've now set up a mobile view option for everyone reading NurtureStore on a phone, which should make it easier and nicer for you to read the site from your device. Let me know what you think of the new format. You still have the option at the bottom of your screen to view in the old format if you prefer, but I can see from my site stats that lots of you are loving the new format already and using it to check out lots of our ideas each time you visit.
If you're reading on an iPhone or iPod Touch you can download the NurtureStore free kids app in two clicks!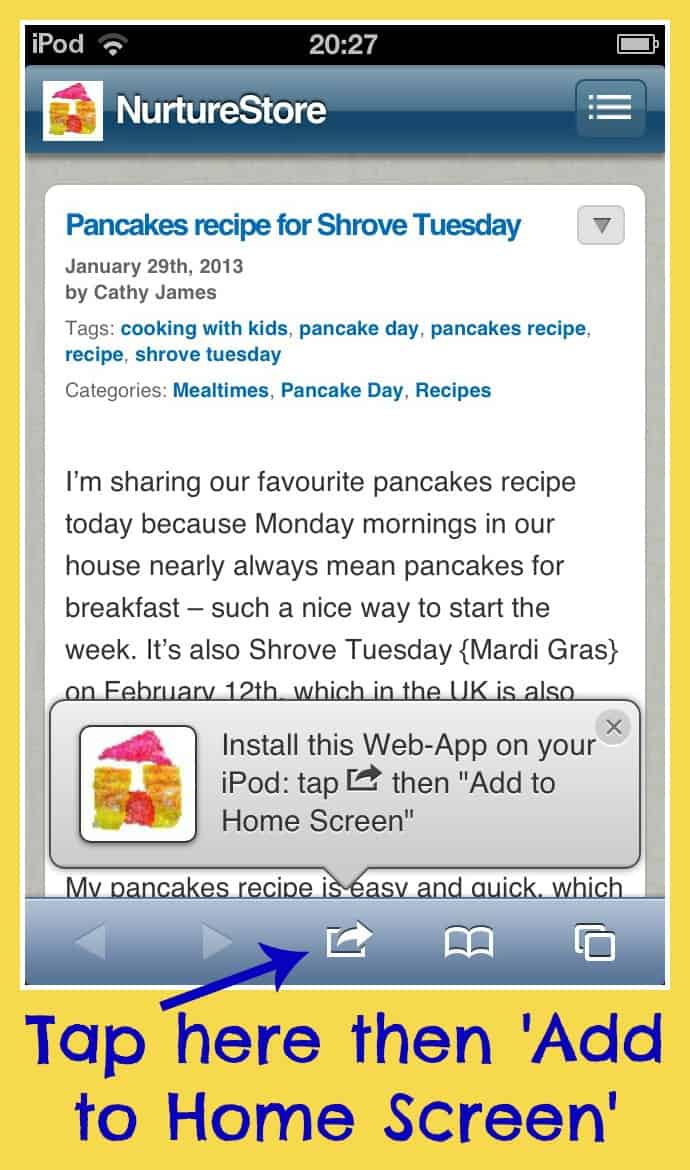 Tap the icon with the arrow, then select 'Add to Home Screen'. That's it!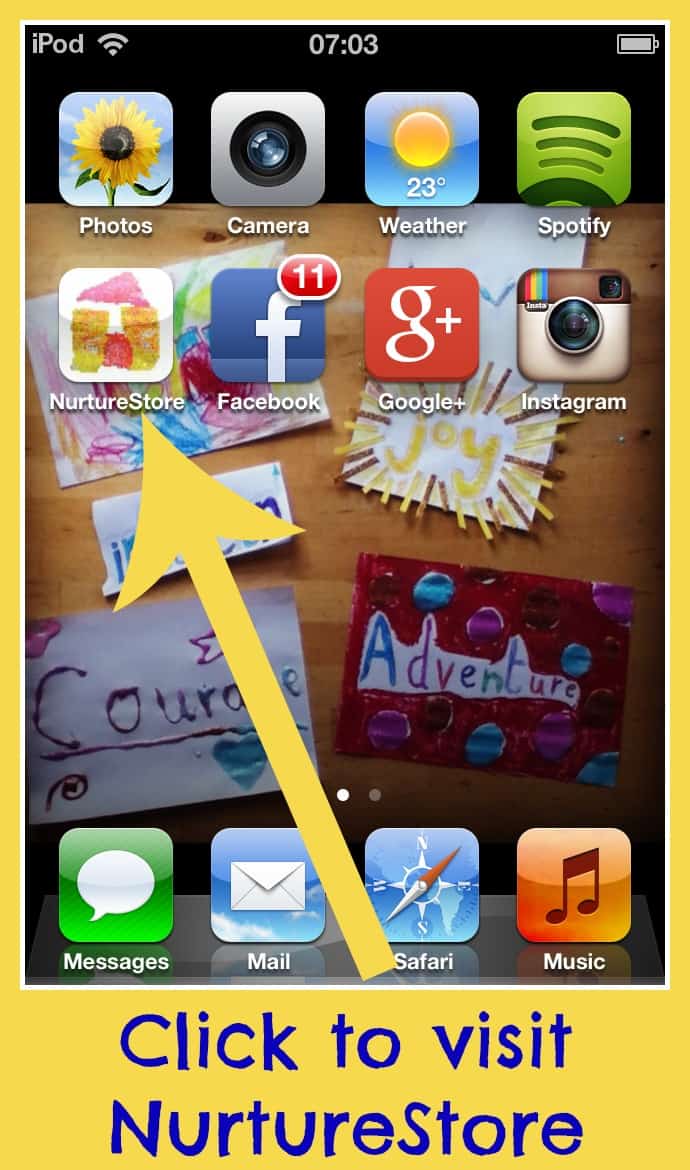 You've now got our little house icon on your screen, ready and waiting for you any time you need a kids activity idea. When you get an 'I'm bored!', or it starts raining and you're stuck indoors, or you're planning your week ahead and looking for some fun ideas for the kids… we're right on your phone, ready and waiting for you!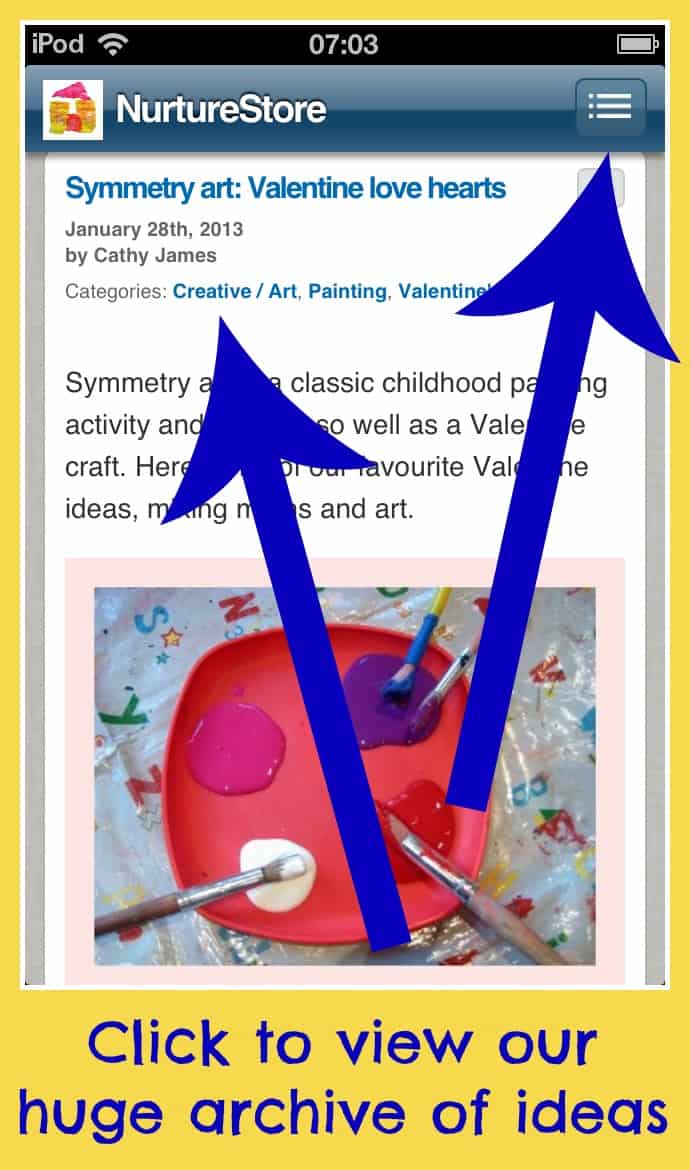 NurtureStore has over 800 kids activities already on the site, so you'll have a fantastic resource of ideas to call on. You can easily use the top menu (which has a search box) or click on the categories to find what you're looking for.
Try it out! Pop one of the NurtureStore free kids apps on your phone and give it a trial. I hope you'll find it a super resource to use – let me know what you think!