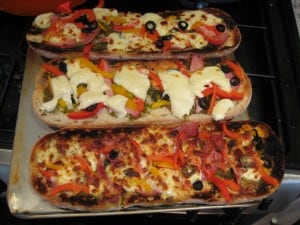 For an afterschool tea, expecially when you have several children to feed, I find you can't go wrong with this recipe for ciabatta pizza. For large families or childminders providing afterschool care it can be difficult to find something everyone will eat. With this recipe you can easily vary the toppings on each ciabatta base so everyone is happy – and even let the kids make their own pizza, choosing the toppings they like best.
Start by switching your grill on and slicing your ciabatta loaf in half lengthways to make your base. Pop the ciabatta under the grill to lightly toast, so you don't end up with a soggy pizza. Then you just need to add 3 layers on top:
Layer one is some kind of sauce: tomato puree, chopped tomatoes (from a tin is fine) or pesto
Layer two is some flavour: sliced ham or bacon, peppers, onions, olives, sweetcorn, oregano,  whatever you have in the fridge
Layer three is some  cheese: mozarella or cheddar works well
Pop under the grill until the cheese melts and is everything is nicely toasted.
Then let the kids tuck in and enjoy.