Hello everyone and welcome to Guest Post Day! Erica over at Littlemummy.com has been organising 'blind dates', linking up pairs of blogs to swap posts today. I am delighted to be paired up with Sandy from Baby Baby and to bring your her post, which even includes a story she has written just for us, which I hope you will enjoy reading with your children. (And please do pop over to Baby Baby to read the post I've written for her.) So, over to Sandy….
Hi, I'm Sandy. I write the blog Baby Baby. Baby Baby is my place to rant, rave, process my thoughts and attempt to entertain. One thing I don't do is write about crafting. My two boys, Presley, 2 and Cash, 1, enjoy colouring at home and occasional sticking, but we tend to leave the messy stuff for Toddler Group.
When I found I was swapping blogs with NurtureStore for the day I felt inadequate. What on earth could I write about? Cathy has written a wonderful post for me called A Reluctant Parent's Guide to Kids' Craft. Yep, that was definitely written for me!
The name of this blog however, NurtureStore, inspired me. Here is my guest post.
Nurturing a Love of Books
It's never too early to encourage a life-long love of books in your children.
One of my earliest memories is being read 'Toby to the Rescue' by my Mum. I was only two. Part way through the story the phone rang. Mum answered it and I carried on 'reading'. I could remember every single word.
Another treasured memory is of my Dad making up stories about a family of hedgehogs at bathtime, then my Mum would read stories and sing to us as she tucked us up in bed.
I've always loved books and I still read every day, even if it's just a couple of pages of a novel before I fall asleep.
Newborn babies will love being read to. They will be comforted by the sound of your voice. As they develop and their eyes begin to focus, babies will enjoy looking at the pictures in board books. Soon they will reach out to touch the images. This is where textured books are brilliant. They may annoy mum and dad, but books with animal sounds will usually raise a smile from your little one.
Encourage your baby to hold books. As they learn to turn the pages of a board book they are developing motor skills. Make books part of their everyday play, don't just save them for bedtime.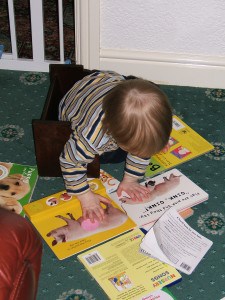 The bedtime story is a wonderful part of childhood. You can start your baby's bedtime routine at any age, the younger the better. To begin with you may think they're not listening, they will grab the book and try to eat it. Do persevere. This is a wonderful opportunity to bond with your child – for both parents.
Soon your little one will be choosing books and you will accidentally on purpose rotate them so that you don't have to read 'The Hungry Caterpillar' by Eric Carle for the thousandth time! Presley loves Julia Donaldson stories, particularly 'Night Monkey, Day Monkey' and, of course, 'The Gruffalo'. Cash's current favourites are 'Elmer' by David McKee and the Panda and Gander stories by Joyce Dunbar and Helen Craig.
Reading can be free, you just need to join a library. Our local library is tiny, but they have hundreds of children's books. You can also ask for books as presents.
Happy reading!
***
One thing I've never done is write a children's story. It's always been something I've thought about, but didn't have the inspiration – until now.
This week I was sat with a toddler on each knee, looking at the garden.  We saw squirrels, birds and bees. I started to tell my boys that bees made honey. They looked at me like I was making it up. So I made this up instead.
Boris
Boris was a young bee.
Boris was a busy buzzy young bee.
He didn't stop buzzing all day.
Boris spent all day flying from flower to flower.
He collected pollen from the flowers in little bags on his legs.
When the bags were full he flew back to his hive.
Boris lived in a hive with loads of other buzzy bees.
The buzzy bees made delicious honey in the hive.
One day Boris was buzzing around some beautiful yellow flowers.
He had collected a lot of pollen and it was nearly time to go back to the hive.
All of a sudden he heard Walter the wasp flying towards him.
Walter was a naughty wasp who liked to cause trouble.
Walter didn't have an important job, like Boris.
Boris was scared of wasps and Walter was a big wasp.
Boris decided to fly home, but Walter chased him.
Walter laughed as he chased Boris, but Boris was too quick for him.
Boris buzzed away from Walter.
When he could no longer hear Walter, Boris stopped buzzing and rested on an orange flower.
Boris looked around. He didn't know where he was. He hadn't seen orange flowers before.
Boris was lost! He didn't know what to do.
He had a little room in his bags so Boris collected some pollen from the orange flower.
It was getting dark, but Boris didn't know the way home.
Then Boris heard buzzing and saw a big bee from his hive flying towards him.
'There you are, Boris!' said Billy, 'I've been looking for you'.
Boris was very happy to see Billy and followed him back to the hive.
All the other buzzy bees were pleased to see Billy and Boris.
Boris turned his pollen into honey and it tasted wonderful.
After that all the buzzy bees from the hive collected pollen from orange flowers.
Boris was a beaming busy buzzy bee who decided he was no longer scared of wasps.
Thank you for having me, Cathy.
Normal service will be resumed next time!