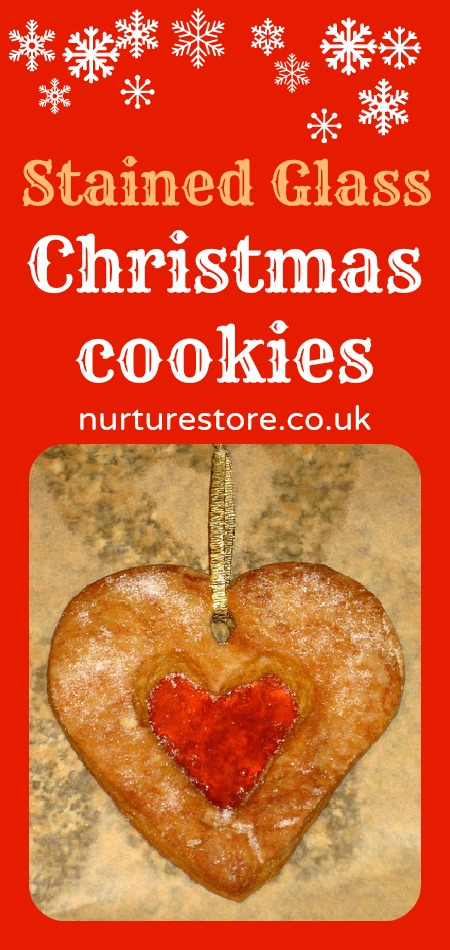 Our house smells like Christmas today! We made some stained glass Christmas cookies, one of our favourite Christmas activities. They are easy to make using my basic gingerbread recipe (see below for a few adaptations) and look amazing.
Ingredient list:
14 oz plain flour
4 teaspoons ground ginger
2 teaspoons mixed spice
6 oz butter
4 tablespoons golden syrup
4 oz sugar
2 teaspoon bicarbonate of soda
2 desert spoon of water
some red boiled sweets (we used one per cookie, but it depends what size you have)
a large and a small heart shaped cookie cutter (the small one needs to fit into the big one with a border of at least 1cm all round)
good non-stick baking paper and some baking trays
1. Preheat the oven to gas mark 5 / 190 C and grease two baking trays with butter. Get your ingredients ready.

2. Sift the flour and spices into a bowl.
3.Heat the butter, sugar and golden syrup in a pan, but don't let them boil.
4. Pour the butter mix into the flour and spices.
5. Dissolve the bicarbonate of soda in the water and add to the mixture. Stir the ingredients together.
6. Knead it into a ball and then roll out on to a floured surface. Cut out a large heart shaped cookie. Then cut out a small heart shape from the centre of the big heart.
7. Place the hearts onto a non-stick baking paper on a baking tray. Pop a boiled sweet into each heart space. DON'T FORGET – to make a small hole in each cookie so you can thread a ribbon through. (I forget this every year and have to fish the cookies out of the oven half way through!)
8. Bake until golden (time will depend on how big your cookies are, but check after 10 minutes). Hey presto the boiled sweet has melted to create your stained glass window.
9. When they come out of the oven check to see that the hole is still there (the cookies will spread a little while cooking) and make the holes a little bigger if you need to. You can sprinkle on some sugar while they're still warm to give a frosty look if you want to. Leave the cookies to cool completely on the baking paper and then gently peel the paper off. Add a ribbon and hang them on the tree or in your window. They make lovely presents too – wrap in cellophane and tie with a ribbon. If you're hanging them on your Christmas tree try and position them so a fairy light shines through the 'glass' – they'll look beautiful and smell wonderful!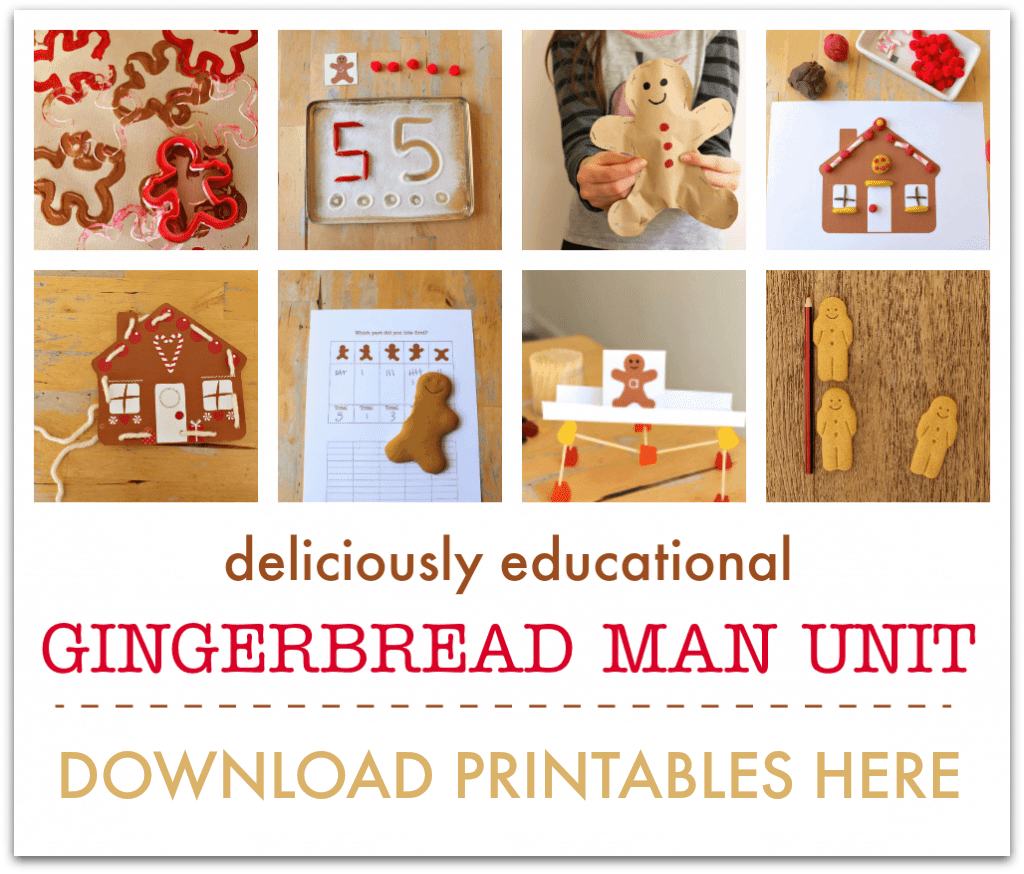 Download the complete Gingerbread Unit
A deliciously educational unit of learning! The Gingerbread Unit gives you everything you need to teach an engaging program of activities all based around The Gingerbread Man.
With ideas for math, literacy, science, play, sensory, arts and crafts your children will love learning through baking, play, and exploration.
:: over 45 pages of lessons, activities, and printables
:: a complete unit of gingerbread-themed math, science, literacy, arts and crafts, sensory, and play
:: materials lists and bonus printables make it so easy!
:: everything planned for you, so you can enjoy it as much as your children do
:: fun and delicious, and packed with engaging learning
Click here to get your complete Gingerbread Unit.