Add one of these easy homemade ice lolly recipes to your summer meal planning!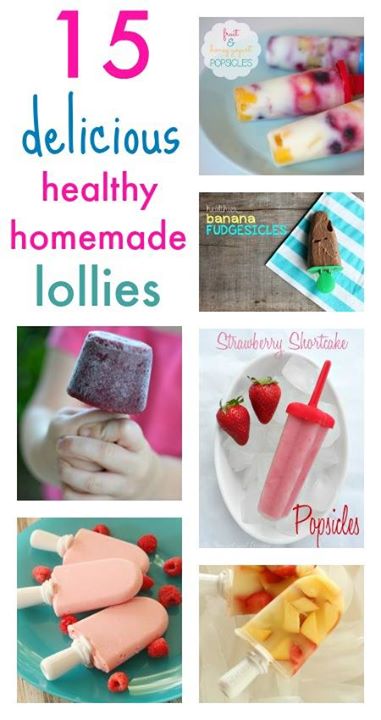 15 delicious homemade ice lolly recipes
How are you keeping your children chilled and hydrated in all this hot weather?
My daughters love ice lollies and I think they're a great way to make sure my girls are getting enough to 'drink'.
I love this collection of homemade ice lolly recipes, firstly because they're healthy and I know exactly what ingredients my kids are eating.
And also because the recipes are so simple and my kids can help to make them. But mainly because they all look so totally delicious!
Which one's your favourite flavour?
Homemade popsicle recipes
:: An all fruit watermelon lolly recipe.
:: Fresh fruit ice lollies – super simple, but with a healthy fruit boost.
:: Strawberry and banana creamsicle recipe.
:: Fruit, honey and yoghurt lollies.
:: Healthier banana fudgesicles.
:: Homemade Greek yoghurt lollies, with lots of recipe variations to try.
:: Kiwi and watermelon lollies – so refreshing!
:: A really easy smoothie lolly.
:: A raspberry and yoghurt lolly is a yummy combination.
:: Frozen strawberry pops – very summery.
:: And for a treat, try this chocolate bar lolly recipe, using your favourite type of choc.
:: And how about this for a ice cream surprise: Can you guess what this frozen dinosaur is made of?
Get free resources for your children!
Did you know you can receive free weekly activity ideas, seasonal resources, free printables and extra bonuses from Nurturestore? You'll have creative learning ides for your children all year round!
Sign up in the box below and we'll send you your freebies!
---
* By subscribing, you consent to our use of your personal data as per our Privacy Policy, which includes agreeing to receiving interest-based email from us.
---