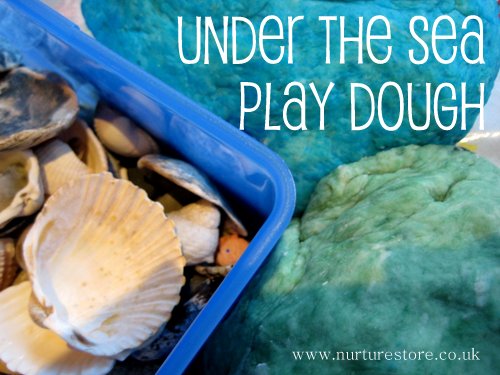 Hello to those of you visiting from Pinterest. You might like to download one of our free Play Idea ebooks while you're here and like our Facebook page to keep updated on all our play ideas.
Under the sea playdough recipe
Play dough is an essential part of the play that happens in our house – so easy to make, so open to possibilities and such a springboard into lots of imaginary play and chat. With B away at Brownie camp L had all the playdough to herself this weekend.
What can you make with our favourite play dough recipe in blue and green and a box of shells? We dived under the waves and made a whole ocean.


First L laid the playdough out in strips and then rolled them all flat to create her ocean bed and sandy shoreline.


She added a kelp forest with a sandy floor.


And a rock pool on the beach.


A coral reef was built from the shells.


A shoal of tin foil fish swam in.


And a ray was spotted on the reef.
Have you ever made an ocean with your playdough?
For more play dough ideas
Try space playdough, cinnamon playdough, chocolate playdough, ice cream playdough
And download your free  copy of our Let's Play Dough ebook, which has a year's worth of suggestions on how you can offer a new playdough idea each week.

happily shared with best of November and link and learn and  tot school and  the sunday showcase and  it's playtime and friday's nature table