Teach better by using Thematic Units that engage children in cross-curricular lessons that build deep knowledge and skills. We've got over 50 ready-made thematic units you can use with your children today.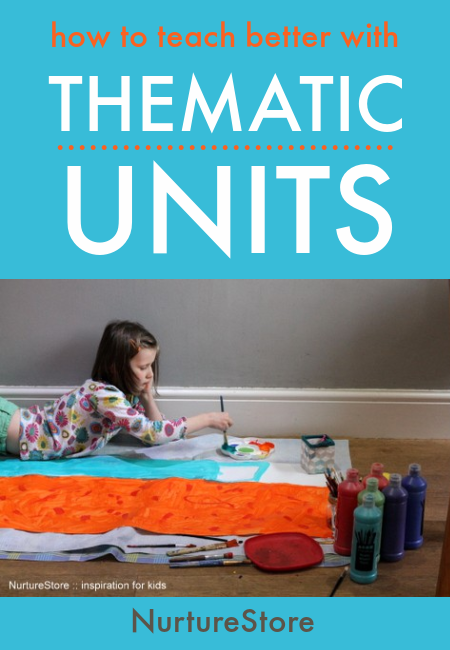 Teaching with thematic units
NurtureStore's Play Academy is based around thematic-learning units. These units are such an effective way for children to learn, guiding them to make vital links across the curriculum and including a wide variety of engaging activities that your children will love.
Our grab-and-go units also make planning easy for you, and keep your curriculum fresh and interesting for your children, all year round. Choose your first ready made thematic unit here.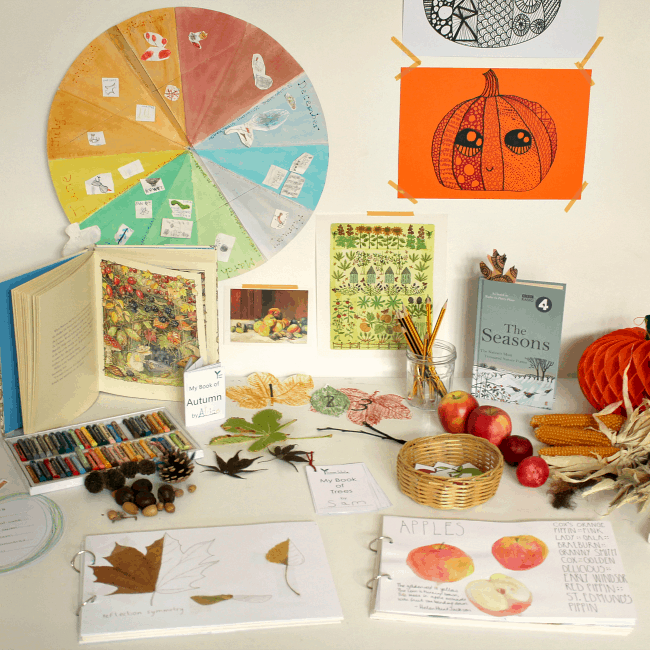 What is a thematic unit?
A thematic unit is a programme of learning that includes a wide range of skills and activities, all linked to one central topic.
The topic of a unit can be whatever you choose, matched to your children's interests, events that are happening in your lives, or the time of year.
A thematic unit might be delivered over five days of the week, across a term, or stretched through a school year. In NurtureStore's Play Academy we use basic building blocks of five-day units, with many of them fitting together over the year to give a wider programme of interlinked themes. On our nature pathway for example you can put together Apples, Leaves & Twigs, Ice & Snow, Daffodils, Sunflowers, and Forest School units to build an extended, year-round programme.
The subject of a teaching unit might be a math or literacy theme such as Shapes or Storytelling. It could be seasonal, such as Halloween, Spring or Christmas. It can be varied and personal to the children you are leading such as Puppets, Dragons, Dinosaurs, Fairies, and All About Me.
The thematic unit is structured to include a wide variety of subjects from the traditional curriculum within the topic: math, literacy, arts and crafts, science, gross and fine motor skills, music, role play, sensory play, science and discovery, small worlds and construction are all weaved together to make a cross-curricular programme that children love and which builds deep learning.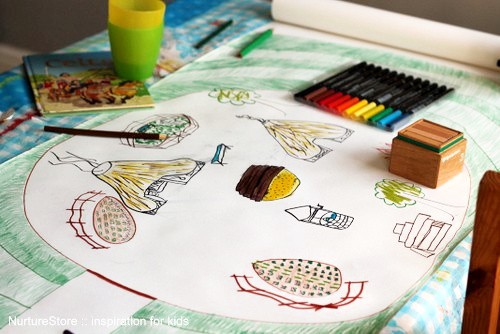 The benefits of teaching thematic units
Thematic units are an excellent way to teach skills and concepts because they match the way we live and work in real life.
In our adult lives, we don't divide our work and hobbies into math, literacy, science, and geography. Everything is integrated. When we offer a curriculum of thematic units that are also integrated we're giving our children an education that is much more relevant, realistic, and suitable for life in the real world.
Thematic units have the benefit of integrating traditional subjects in one whole programme of learning. This lets children see links and make connections.
A thematic unit also lets us offer a wide range of hands-on learning activities, so there are things that appeal to all learners. This keeps lessons engaging and encourages our children to try new things, and develop many skills. It also makes them an excellent way to teach mixed-age/ability children together, which makes planning so much easy for us and also benefits our children, as they are able to work-together, build relationships, and share ideas.
Our children also benefit from the depth and breadth of a thematic unit. They can learn much more about a topic if they consider it from a scientific, artistic, literary, mathematical, geographical and playful point of view. Their learning will be so much more practical and robust.
For example: reading a story about a Chinese dragon might lead to looking at a map to see where China is and how far away it is. This can lead to a conversation about what food is eaten in China, which we might try. We might talk about where our families originate from and what caused them to move to where we live now. How do people get to another country? Who has visited another country and what was it like there? Then we might use craft materials to build junk model dragons, and develop our own stories which we can act out for each other.
Literacy, geography, math, sensory play, practical life skills, social studies, vocabulary development, critical thinking, ancestry, travel and tourism, conversation skills, arts and crafts, fine motor skills, scissor skills, problem solving, creativity, storytelling are all weaving into one thematic unit.
Unit studies have proved to be both a delightful and effective way for children to learn. By choosing NurtureStore's Play Academy for your children you are giving them a rich, interesting and robust education programme, and you make your planning so much easier. Our ready-made thematic units mean you can pick up your chosen kit and you're ready to teach. Re-claim your weekends!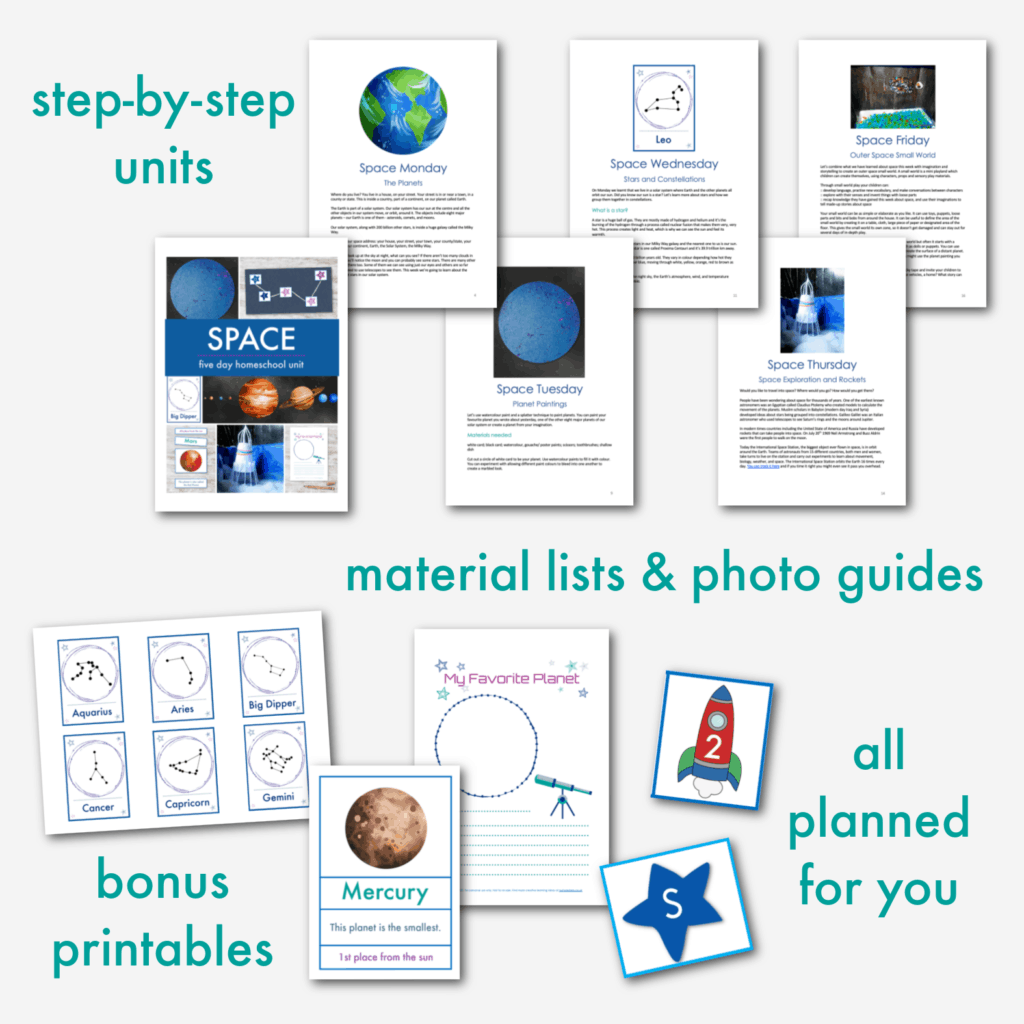 Grab-and-go thematic units
The Play Academy gives you over 50 grab-and-go thematic units which integrate perfectly with your curriculum. They're carefully planned to introduce each topic and give children a range of hands-on lesson plans that really engage them in learning and developing cross-curricular skills and ideas.
Each unit is clearly laid out, showing you how to introduce and lead each lesson, so you can pick up your chosen unit and be ready to teach.
You can use individual units and also group units together to build a year-round pathway of cross-curricular leaning based around extended themes including Festivals, Science and Math, Art, and Nature.
Your teaching is about to get a whole lot better and easier!
Take a tour of the Play Academy and choose your first thematic unit here.