This week the Highlight of my Week is…. Playing by the Book
Playing by the Book is run by Zoe, ably assisted by her two daughters. The blog is dedicated to books (did you guess?) and how they are such a wonderful springboard for all sorts of crafts, activities and musical fun. Whether your children love dens, dinosaurs or dressing up Playing by the Book has ideas to fit the bill.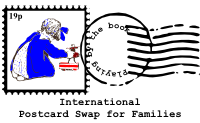 Even more exciting Zoe has just launched an International Postcard Swap for Families where children all over the globe can get writing and receiving cards to find out about other countries. We're excited to be taking part and if you'd like to join in then pop over to Playing by the Book before Friday April 30th 2010 to sign up.