We used our favourite easy salt dough recipe this week to make… hoomagwatas. You've heard of hoomagwatas, right? Carnivorous creatures that live in the Central African rain forest. Very dangerous animals that will eat you up in a minute – or so my children tell me. (I googled the name but sadly there's no trace of any real hoomagwatas – that would have delighted the kids)
Salt dough modelling gives you lots of play and learning – and we spread this project over three days so we could take our time and enjoy each stage. If you'd like to make some creatures with your children you can find the salt dough recipe in our Let's Play Dough ebook (which you can down load for free – just follow the link).
First there's some maths as the children measure out the ingredients, and some science as they watch the liquids and solids combine to form the dough. Kneading and shaping the dough is great for exercising imaginations and fine motor skills.

After the models were baked and cooled, the children painted their creatures, and added glitter of course. We added a layer of varnish over the top, which isn't strictly necessary but I'd recommend it if you've gone with the glitter option.

Don't you just love this hoomagwata's eyelashes?
After all this making and creating we're left with even more play value, as the models are now ready to move in to our dinosaur land for lots more fun over the next few weeks.
I wonder what your children could make? Download the easy salt dough recipe and have a go – and if you do make something, we'd love to see a picture.
Get the book!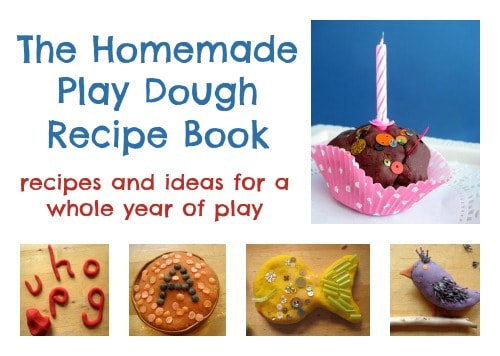 Love play dough? Take a look at
The Homemade Play Dough Recipe Book
:: recipes and ideas for a whole year of play!