Need some ideas for things to do in the school holidays?
Welcome to the Summer Play Planner: fun play every day
Here's the sixth week of our Summer Play Planner, with a fun play idea for every day of the week. Click on the links to find out more about each idea – what (simple) materials you'll need and what your child will be learning as they play.
I'll be bringing you a new Summer Play Planner every Sunday right through the holidays, with extra ideas added on the blog as we go along. Follow us on Facebook  or subscribe to get an e-mail update and you'll have a regular supply of things to do in the school holidays all summer long.
Monday's child is…
using maths to make fruit cocktails

Tuesday's child…
getting active in a home dance studio


Wednesday's child is…
discovering bubbles make great art
Thursday's child is…
publishing zig zag comic books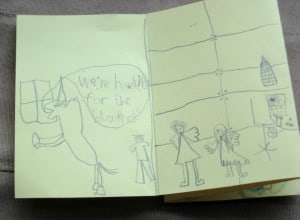 whipping up some mini meringues for a garden party treat


Saturday's child is…


Sunday's child is…
going big with large scale art