Need some ideas for things to do in the school holidays?
Welcome to the Summer Play Planner: fun play every day
Here's the seventh week of our Summer Play Planner, with a fun play idea for every day of the week. Click on the links to find out more about each idea – what (simple) materials you'll need and what your child will be learning as they play.
I'll be bringing you a new Summer Play Planner every Sunday right through the holidays, with extra ideas added on the blog as we go along. Follow us on Facebook  or subscribe to get an e-mail update and you'll have a regular supply of things to do in the school holidays all summer long.
Monday's child is…


Tuesday's child…


Wednesday's child is…
experimenting with reverse printing techniques


Thursday's child is…
bringing pre-history to life in a dinosaur garden

Friday's child is…
developing literary talents in a story box tent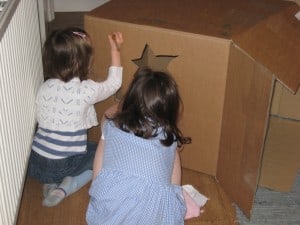 Saturday's child is…


Sunday's child is…
making 3-D frames to display their art

.