Whether you are celebrating Halloween, harvest or the coming of autumn, now is the time to do some pumpkin decorating with your children. We didn't want to make anything too scary but we did want lots of hands-on, creative fun. We bought some small pumpkins, so everyone could have one each, and set up a decorating station with lots of interesting materials the kids could use to customise their pumpkins.
Decorating pumpkins with children: fun and funky ideas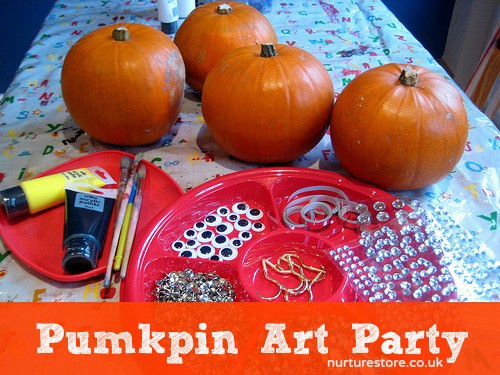 Our pumpkin decorating station included: acrylic paint, glitter, stick on gemstones, drawing pins and cup hooks

We covered up the children and the table and then let them go for it. I love this picture of L in action: go, glitter, go!

Sparkles, drawing pins and cup hooks create a fun, rather than scary, pumpkin face.

Who says less is more? Sometimes more is more.
Decorating pumpkins: more ideas to try
For more ideas on pumpkin decorating with children come over to Ready for Ten where I'm sharing ideas on adding some extra sparkle and bling to your pumpkins, with lots more links including satsuma and pepper Jack-o'-lanterns, a delicious pumpkin muffin recipe and a great way to turn your left-over pumpkin into a science experiment.
And check out the whole family of mummy pumpkins over at hands on as we grow and the gorgeous drip art pumpkins at The Imagination Tree.