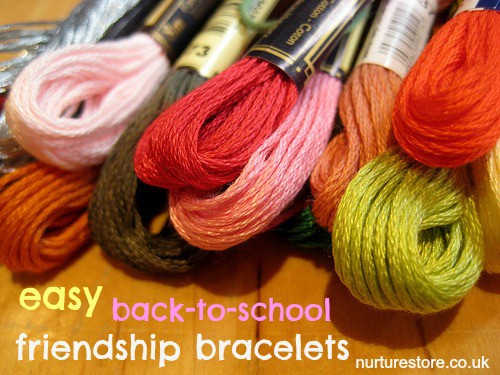 We're making the most of the very last day of the summer holiday today, so I'm just popping in with a very quick idea: how to make easy friendship bracelets. I remember there being a friendship bracelet craze when I was a teenager and spending lots of time knotting and knotting and knotting to make some. The traditional way to make a friendship bracelet is too fiddly and time consuming for most under-tens, so here are three easy techniques for younger children to make a bracelet to share with friends.
How to make a friendship bracelet from drinking straws
First up is an idea (from B) to make a friendship bracelet from drinking straws. This design is great even for preschoolers – perfect for fine motor practise. Start by making your Bead Station:  B customised an old tissue box, creating small compartments for each type of bead.


The beads themselves are made from cutting up drinking straws with scissors – easy peasy, and great fun for kids who love snipping. Use an assortment of colours and sizes, including some stripy ones, to make lots of different beads. Then all you need to do is take a 30cm-ish piece of thread,  tie a knot around the first bead  and start threading.


The kids can follow a repeating pattern if they want to (sneaking in some maths skills) or create whatever design they like. Once you're finished, tie a knot in the other end to finish off your bracelet. You can then tie it around your wrist with a bow, making it easy to take them on or off when you want to.

How to make a friendship bracelet from thread
The technique is B's easy version of a classic friendship bracelet.  I started to show her how I used to make the 8-threaded knotted version and her eyes began to glaze over! Her version is just as pretty but much faster to make.

Take eight lengths of embroidery thread in your favourite colours (around 30cm) and knot them all together.  Split into two sections, with four threads in each and tie them in a knot. Keep tying knot after knot and your bracelet will appear.


Once it's the right length gather all eight threads together and tie a final knot using them all. Done!
How to make a friendship bracelet from salt dough beads
Finally, if you hop over to Make and Takes you can find my post with details of how to make a friendship bracelet with salt dough beads.
 Happily shared with teach preschool's fine motor ideas and for the kids friday and it's playtime and  kids get crafty and ABC and 123