A rainbow sensory tub is such a delight for the eyes and hands! Here's how to dye pasta to make a lovely rainbow base for your play, along with some ideas you can use to explore the tub.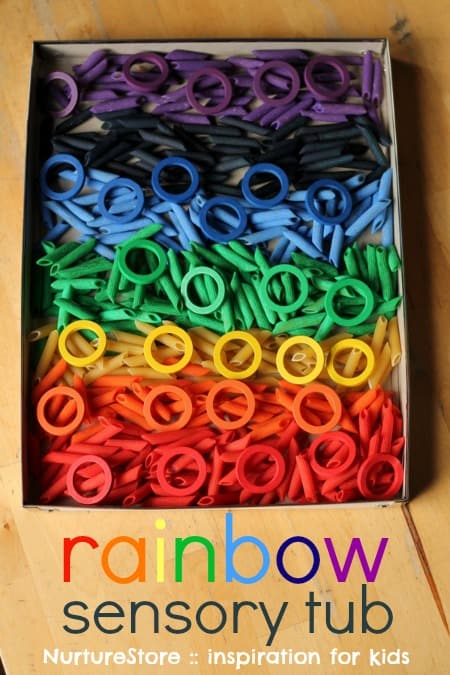 How to dye pasta for a rainbow sensory tub
We're using pasta for the base of this sensory tub, but the colouring method works equally well if you want to use rice, salt or sand – and it's really easy to do.
Place some uncooked pasta in a plastic bag.
Add a dash of colour.
Shake it all up until all the pasta is covered.
I used a water-based poster/tempera paint, with a dash of white glue for added 'stick'.
(You can also use food colouring, but depending on which brand and how much you use you might find the pasta still has an oily coating which comes off on your hands.)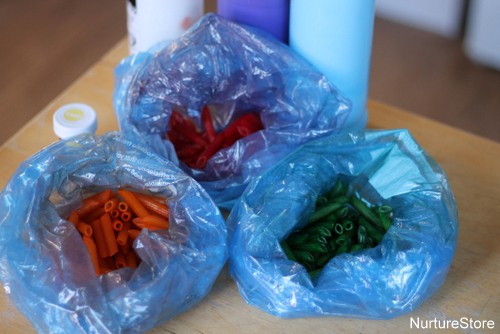 Then lay your pasta out on a baking sheet or some baking paper until it is dry. On a sunny day this might only take a few hours, but I usually leave mine overnight.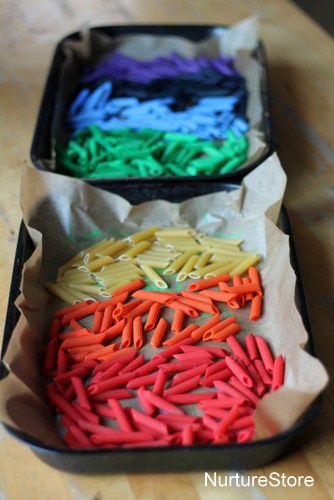 And that's it – gorgeous. colourful pasta ready for play or art.
I have a few suggestions for different ways to use your pasta coming on the blog in the next few days, but first up, here are some ideas for how to use your pasta in a rainbow sensory tub.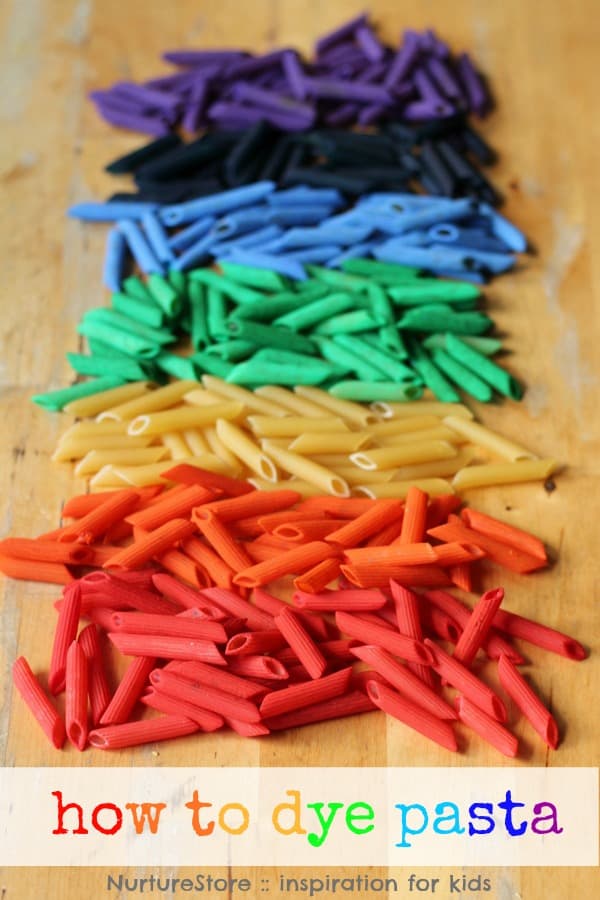 The idea behind a sensory tub is to offer you children some interesting shapes, colours, and textures to explore.
They can be used in a variety of ways, for play and learning, and with children of a range of different ages.
All you need to set one up is a container, and some interesting fillings.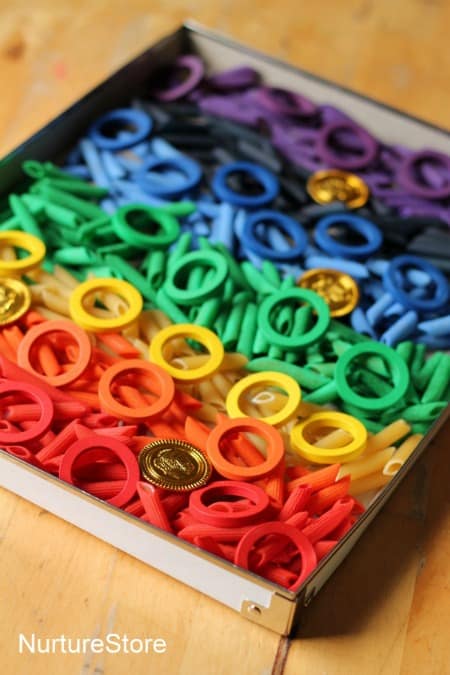 How to play with a sensory tub
Children at different ages and stages are likely to explore a sensory tub in different ways – but it's such an open-ended resource, you can easily adapt it to suit your child.
Younger children often delight in simply exploring the senory elements of the contents of the tub:
::touching
::feeling
:: passing
:: shaking
:: moving the goodies inside their tub.
With children a little older, you might like to introduce some pots, bowl or cups, along with some spoons or tongs, so they can scoop, fill, empty and play.
You might like to hide some extra treasures inside the tub, for them to hunt out. Leprechaun's gold coins are a fun match to go with a rainbow sensory tub! Counting the number of coins you find is a nice way to include some numbers in your play.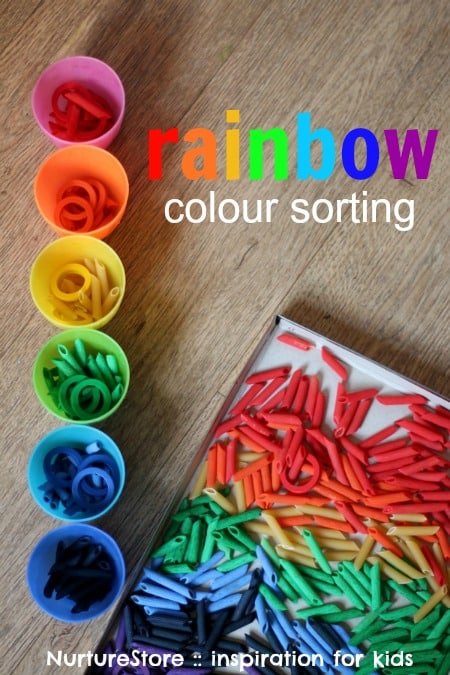 A rainbow sensory tub is also perfect for some colour sorting play: line up a set of colourful cups and see if you can match up the contents of your tub.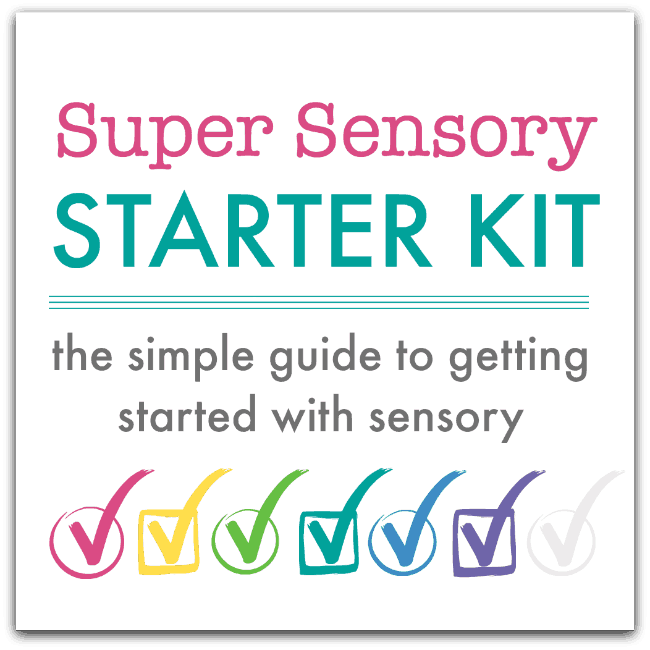 Get my Super Sensory Starter Kit for free
Every child deserves to be have their needs met so they can thrive. That's why I've made you my free Super Sensory Starter Kit.
Do you feel like your child is measured too early against unrealistic standards and you know they need more sensory input, more fun, and more hands-on activities?
Maybe you're a parent who wants to get your child away from a screen and into active play. Or you have a special sensory child who needs their own sensory diet.
Maybe you're a childminder or a nanny who needs to balance activities for a range of ages, with a tiny budget for materials.
Perhaps you're a teacher who truly wants to have a play-based classroom, but you're already stressed by the demands of observations and administration. Or perhaps you're a therapist or specialist who needs ideas that colleagues and parents can use.
My free Super Sensory Starter Kit will give you the tools you need to successfully tune-in to your child and help them be happier, calmer, and more successful at learning and life.
So I can send you the best resources, please tell me which of the following categories best describes you:
---
* By subscribing, you consent to our use of your personal data as per our Privacy Policy, which includes agreeing to receiving interest-based email from us.
---