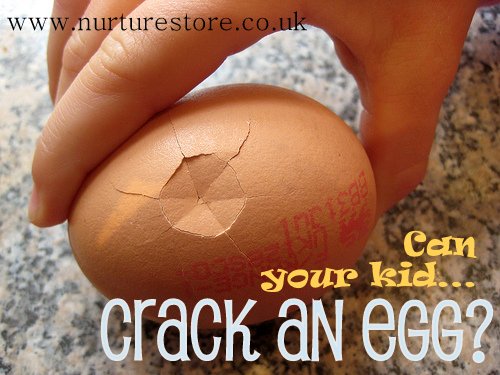 Does your child know how to crack an egg?
The summer break while school's out gives us some extra time to work on life skills and one thing we're enjoying is having the children get more involved in preparing our meals. And as you really can't make an omelette without cracking a few eggs, today's home school/home economics lesson was in how to crack an egg.
The kids found it quite a thrill to get their hands on real eggs, with all that potential mess inside. There's an art to cracking an egg and not ending up with it all over the floor or with a bowl full of shell. With a few instructions and some hands on practise it's a skill very young children can master. It's great for building their confidence and developing their fine motor skills. They're learning how to follow instructions, work step-by-step, practise restraint and take a risk.
How to crack an egg: child-friendly tips
A gentle tap to make a small crack.
Push your thumbs into the hole.
Hold your egg low down over your dish.
Use your thumbs to pull the egg apart.
And…ta-da!
Not a piece of shell in sight and proud smiles all round. (And if there are any stray pieces of shell you'll find them much easier to scoop out with another piece of shell than with a spoon – like attracting like.)
Once you've mastered the art of how to crack an egg you could make some pretty mini meringues or a fruity tea loaf  or even bake a cake.