This Cutouts art project for children, based on the work of Henri Matisse, is a great kids art activity linked to famous art. Matisse's expert use of bold colour and simple materials make him a perfect great artist for children to learn about, and they can try out his ground-breaking style of 'painting with scissors'.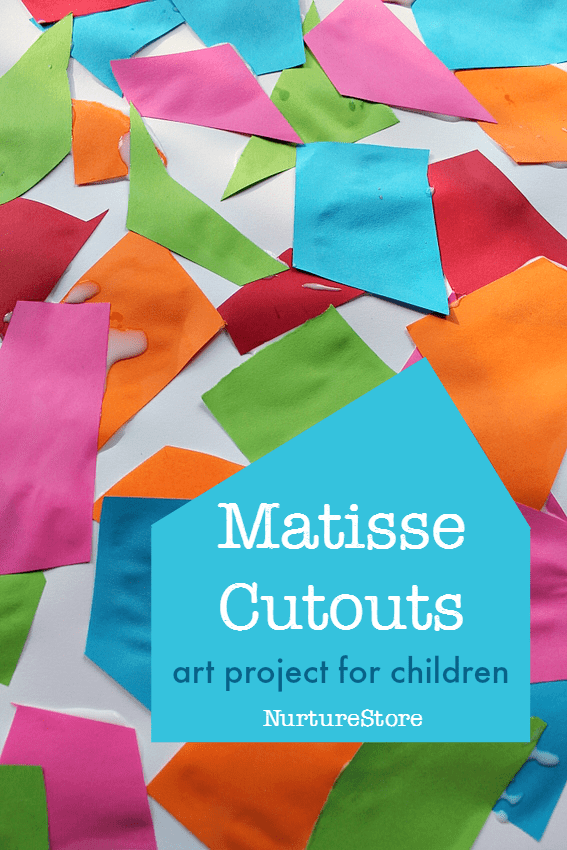 Henri Matisse The Snail Cutouts art project for children
Meet Henri Matisse
Henri Matisse was a French artist. His works include printing and sculpture but he best know as a painter. He is famous for the way he used colours in his art.
He is a wonderful role model for young artists. He worked creatively for over 50 years and was still producing new, original and exciting works in his old age. He wasn't afraid to try new things or make mistakes, and he kept experimenting with new ideas. He was a model of creativity!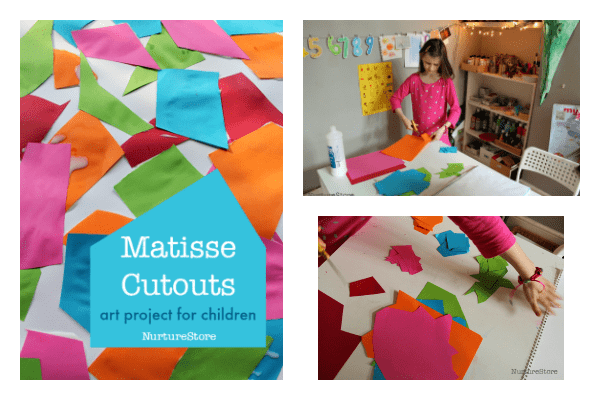 Matisse's Cutouts
The style of art that we are looking at here is inspired by Matisse's famous Cutouts. Late in his life, when bed-ridden following illness, Matisse invented this new style of 'cut out' art. He described it as 'painting with scissors'.
His assistants painted big sheets of paper in the colours Matisse chose. Matisse then used a really big pair of scissors to cut shapes out of the paper, which his assistants then pinned up. Matisse, from his bed, directed his assistants, designing murals across the walls of his studio.
You can see photographs of Matisse working in his studio here.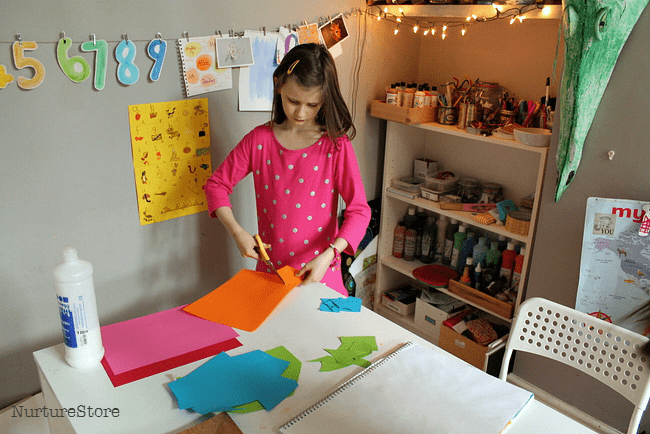 Take a look at Matisse's Cutouts
To see the colours and shapes that Matisse used in his Cutouts, take a look at:
The Snail – which is the picture we're using as our main inspiration for this project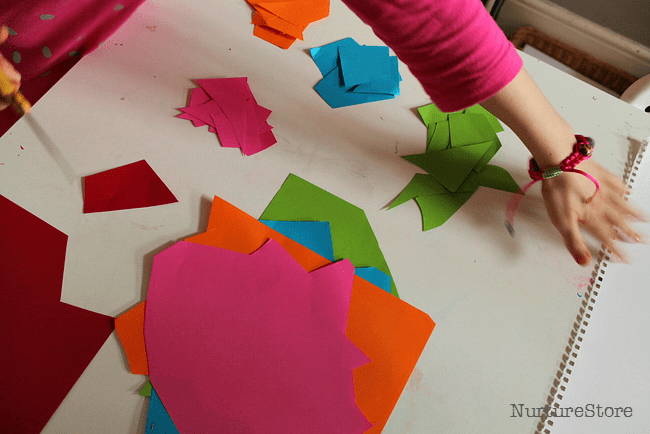 Art project inspired by The Snail
My daughter started out by selected some pieces of card in colours that matched ones Matisse used for The Snail. You can use coloured card or you might like to mix up your own colours and use them to paint on thick paper, which is what Matisse did.
Use a pair of scissors to cut shapes out from your card/paper. Inspired by the shapes Matisse used to create his snail, my daughter cut out shapes with straight lines.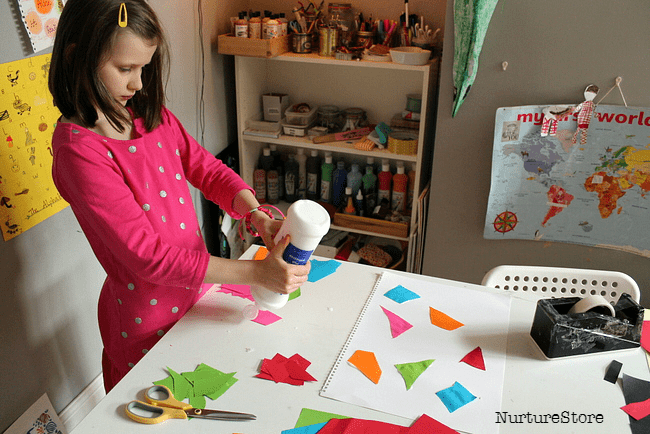 Matisse's assistants used pins to fix his cutouts onto the wall of his studio. He directed them, telling them where to place each piece, and if you look closely at some of his art you can see where the papers were moved and re-pinned many times. Do not be afraid to try something and change things around.
You could follow Matisse's way of working and pin your card up onto a wall or pinboard, or loosely place your shapes onto to a piece of card. Experiment with where you place each piece: turn your cutouts around, try different colours next to each other.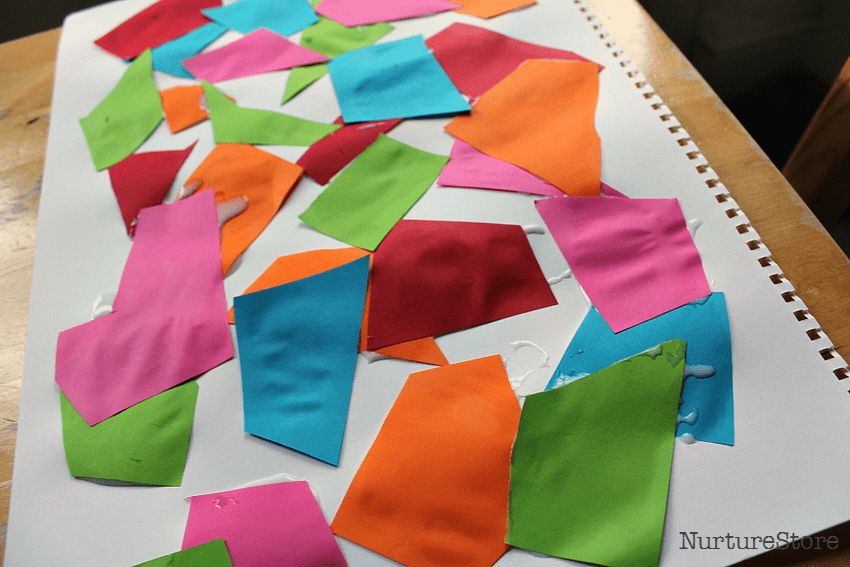 Then you can use glue to stick your shapes in their final design.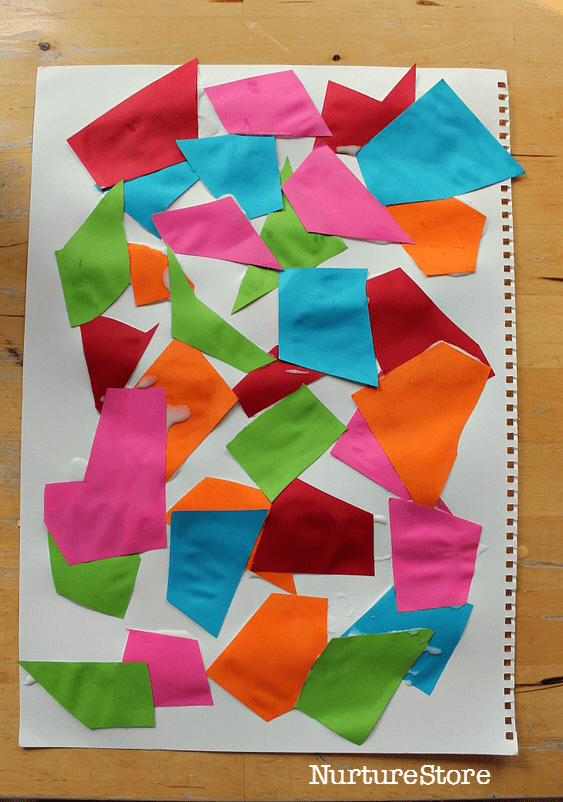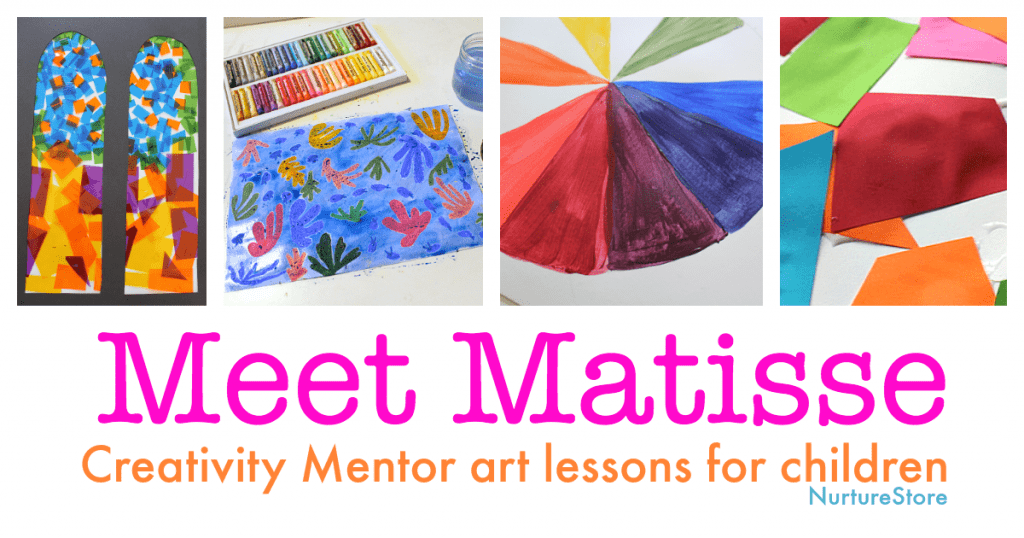 Creativity Mentors :: Meet Matisse art lessons for children
Colourful, creative, inspiring, innovative, brilliant and bold! Come and Meet Matisse and try out four art projects inspired by his work in my online workshop.
This Creativity Mentor workshop gives you great Matisse art lessons for children that you can use at home or in school. Click here for more details and to access all the resources