This is a very simple idea to include even the youngest child in the Valentine fun.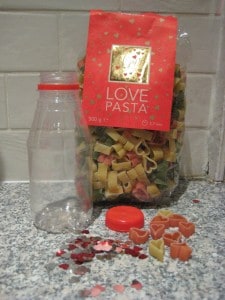 When I saw this heart shaped 'Love Pasta' I knew I had to have some! (Guess what we're having for dinner on 14th?) And I'd also been thinking about how to include a baby I know in the Valentine celebrations as she's too young for any chocolate treats or to get involved in the other crafts we're doing. One thing she is fantastic at however is making noise! She's really enjoying finding her own voice and also trying out what sounds she can make by banging toys around, which gave me the idea of making her a musical shaker with a sprinkle of hearts inside.
It's pretty much the easiest thing to make:
Take a clean, empty drinks bottle.
Fill with something to make noise when baby shakes it. I used the Love Pasta, but you could use dry kidney or borlotti beans (which keeps with the colour scheme) or rice or whatever else you might have in your storecupboard.
Add something to catch baby's eye. I used some heart shaped foil confetti and some swirls of red shiny ribbon.
Fix the lid on tightly. I applied superglue around the rim of the bottle and them screwed the lid on top. I added a ribbon around the neck of the bottle, but if you're concerned about baby chewing this you can leave it off.
Hand the bottle over to baby and let them shake away to their hearts content.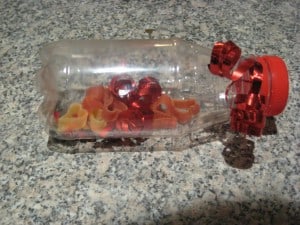 This post is happily shared with the Virtual Valentine's Day Party