Why is play important for children's development? So many reasons! You can use this free printable poster as a reminder of all the benefits of play.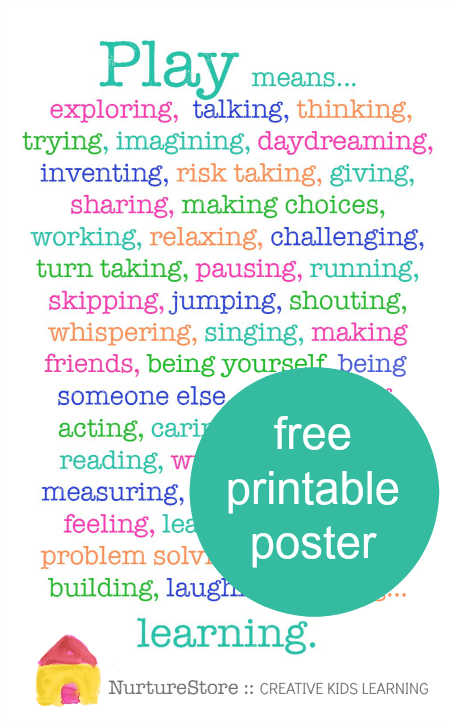 Why is play important?
Play means…
exploring, talking, thinking, trying, imagining, daydreaming,
inventing, risk taking, giving, sharing, making choices, working,
relaxing, challenging, taking turns, pausing, running, skipping,
jumping, shouting, whispering, singing, making friends,
being yourself, being someone else, role playing, acting,
caring, negotiating, reading, writing, counting, measuring,
trying things out, feeling, leading, following, problem solving,
storytelling, building, laughing, smiling…..
learning.
Let's prioritise play and value its central importance to childhood.
If you'd like a free printable poster of this image you can find it, along with many resources for play-based learning, here in my shop.
Bonus #1 – free Play Planner
Would you like more play-based resources? Each weekend I send out an email containing seasonal, play-based activity ideas for the week ahead. This newsletter is really popular with parents, grandparents, teachers, and child-carers. Pop your email address in the box below I'll send you your own copy.
Bonus #2 Free Creative Kids Learning Guide
Get your free Creative Kids Leanring Guide here.