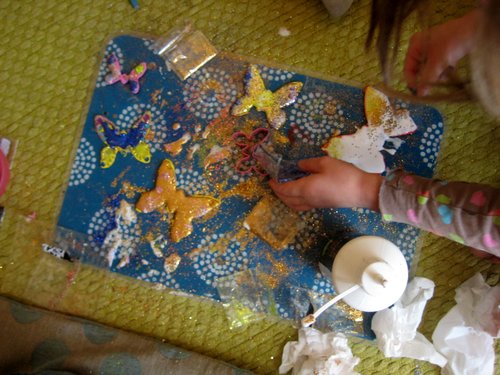 Have you got a stress trigger with your kids?
I see some mums physically relax when the school bell rings in the morning and they know that crazy daily campaign to successfully organise and deliver their children to school on time, with all necessary lunch boxes, school bags and permission slips has been completed for another day.
For others the sight of all the glue and glitter on the carpet in this photo is just too much to bear. But breathe, the kids did at least pause before bursting open all those bags of glitter and think to put a mat down first.
For me, it's that delicate shift in balance when every room in the house is looking just a little step over the line from creative, messy play space and into more of a chaotic, can't move for tripping play explosion. Arrgghh. Time to pause, regroup and relax.
Everyone has stress in their lives but with young children in the mix it can be especially challenging ~ and they're also a very good reason to deal with our stress, rather than have it impact on our patience and our relationships with them. It's great if you have a network of other parents to get support from but also good to have the opportunity to get advice from a expert in the field ~ and be able to ask any question you'd like some help with.
Join the AXA PPP healthcare live stress clinic chat
AXA PPP healthcare are hosting an online stress and anxiety clinic on Thursday 28th June where you can chat with mental health expert Dr Mark Winwood. You can join the live chat between 1pm and 3.30pm and ask any questions you have, which Dr Winwood will answer live.
If you can't make the chat you can get in touch through AXA PPP's Facebook and Twitter pages and they will get back to you with a response from Dr Winwood. You can also find more resources to help with stress and relaxation on the AXA PPP website.
So if you have a particular stress point with your kids, why not take the opportunity and join the chat to get some advice.
#sponsored post