What are your top tips to encourage your children to eat and enjoy their five-a-day fruits and vegetables?
I love using this blog as a way for us all to swap our best ideas and thanks to Green Giant I have a chance for you to win a hamper of goodies if you'll give me a great tip to get our kids eating their veggies.
I'm really keen to make sure my family are eating healthily and I like to get the kids  involved in what they eat, both in the garden and the kitchen. We've had fun growing our own food and trying out child-friendly recipes such as our Chop Chop Salad. I definitely notice that if they are part of the food making process my girls are much more likely to tuck in to healthy food and also try things they've turned their noses up at before.
Will you swap a top tip with me?
If you leave a comment on this post sharing your favourite idea or clever way to encourage kids to eat their veggies you could win a hamper of goodies. I'm going to pick the comment I think is the best tip and the person who left that comment will win a delicious Abel & Cole vegetable box together with some Green Giant goodies, so they can put all the ideas into action. You need to leave your comment before 14th November 2011 and be in the UK or ROI.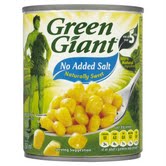 Green Giant are keen to get families enjoying their five-a-day, everyday, and you can  find and share lots more healthy eating ideas on their Facebook page.
So, over to you: what's your top tip to get your kids to enjoy their five-a-day vegetables?
Leave a comment and you might win the hamper of goodies!
Terms & Conditions: For your chance to win an Abel & Cole vegetable box , write your best tips/hints/advice in the blogger comment box before the  14/11/2011. Entrants must be over 18 and residents of the UK or ROI – Prize is one Abel & Cole vegetable box (no cash alternative) -There will be 1 winner. The winning post will be decided based on the following criteria: uniqueness/creativity/originality. By entering the competition, you agree that your hint/tip may be shared on Green Giant's Facebook page and used by Green Giant in any other media.  
Sponsored post