I am taking no credit whatsoever for this idea as it was entirely inspired by Valerie and a post she wrote on her Frugal Family Fun Blog. Ever since I saw her story stones idea I have been dying to try it out as I knew B & L would love them. So making the most of our trip to the beach the girls and I collected a few smallish, flat pebbles to make our own set of story stones when we got home.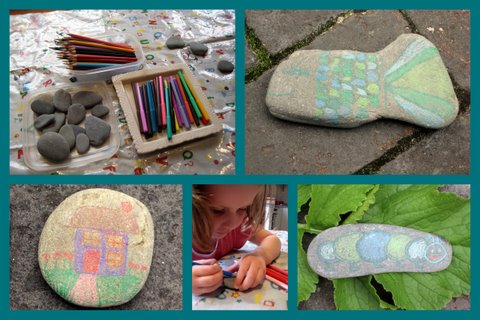 We used pencil crayons and felt pens to decorate our stones and used the shape of the stones to suggest some characters.
The illustrated stones have now moved into our fairy garden and the girls have spent a happy afternoon playing out stories with them. Make sure to pop over to the Frugal Family Fun Blog to see how Valerie added some extra play-factor to her set.
I Can Teach My Child To Read resources
Download your copy of our practical and wonderful resource I Can Teach My Child To Read. It contains a 10-step program, that will give you the knowledge and confidence to teach your child to read, along with practical tips and fun activities to use together. See more here.