A new season calls for a new play dough recipe! This spring play dough combined with flower petals is a lovely invitation to sensory play.

Spring play dough with flower petals
I used this easy play dough recipe and made three lots of the dough: one pink, one green and one yellow. I use Wilton icing gels (Amazon affiliate link) to make the colours, and added some peppermint essence to the green dough, and some freshly squeezed lemon to the yellow.
To go with the dough we added some striped and polka dot cupcake cases (these are from Lakeland and are made from card, making them sturdier for playing with than paper ones) and some green drinking straws and lollipop sticks (left over from our homemade chocolate lollipops).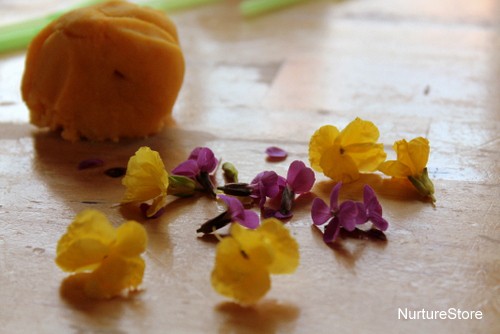 The children had a hunt round the garden to find some early spring flowers to go with their creations. Using flower petals is a lovely way to add another natural material and include colour and scent with your sensory play.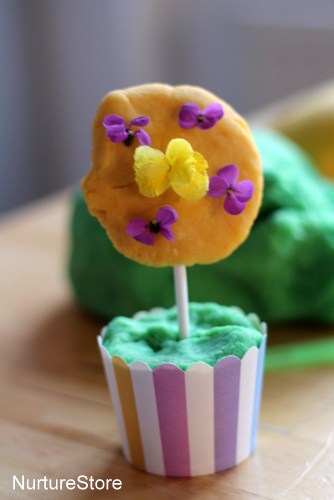 And then the invitation to play is set, and the children can use the dough any way they like. They might make a flower in a plant pot…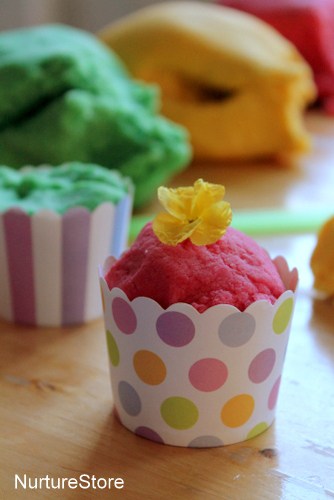 a sweet little cupcake, or a big birthday cake with lots of candles, or something completely different. Play dough is such a versatile material, and great when you have children of different ages playing together, as everyone can bring their own ideas and imagination to the play.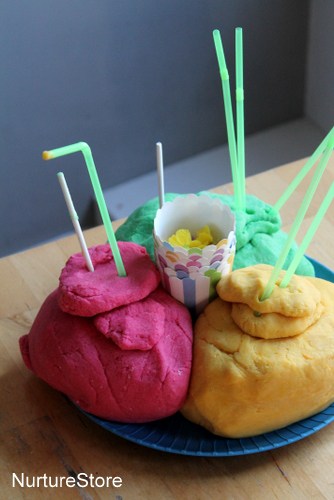 Super Sensory Invitations to Play

Ready for a whole year of exploring through the senses? Super Sensory Invitations to Play is a delightful resource that encourages your children to explore the five senses through the year, using a wide variety of sensory materials. It includes 52 invitations to play, linked to the festivals and seasons of the year, and including water, ice, dough, rice, paints, sand, sensory tubs, and more.
They are easy, simple, and fun ideas that you can use right now to give a multi-sensory boost to your play and learning. It comes with a printable recipe book featuring all our favourite recipes for play. Come and see more here.