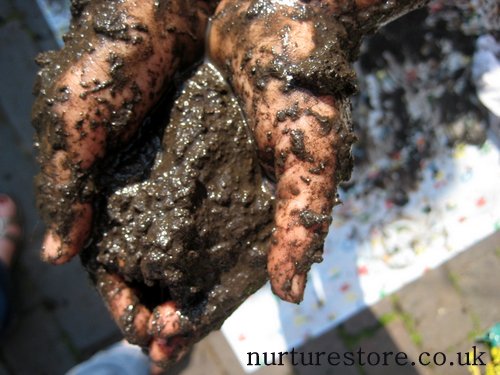 My children see magic in mud. Do yours?
We're not the only ones who enjoy the simple things in life. Check out these simple – yet oh so clever – play and learning ideas from last week's Kids Co-op:
One Perfect Day shows us how you can learn to read and write with water.
Delivering Grace shows there's so much variety in the every day when it come to learning to count.
And Growing a Jeweled Rose shows how far a dollar can go.
What have been you been doing with your kids this week? Share and idea with us.
Join the Kids Co-op
What have you been playing this week?
You can join the Kids Co-op in three ways:
Add a link to your play-based post here. Your link will show up on each of the blogs in the community, so it's like linking up to multiple parties at once! We currently have 30+ bloggers participating. Please share a link to this post on your blog, facebook or twitter and invite your readers to join in with the idea swap. Each week we will try to choose favorite posts to feature and share on the Kids Co-op Facebook page and Pinterest board. By linking up you are giving us permission to use an image and link back to you (if featured).
Become a Kid's Co-op host yourself. We would like to grow the link-up as a collaboration of child-focused bloggers. If you'd like to run the Kids Co-op link up along with us and feature it on your blog each week, get in touch and join the gang.
Use the ideas with your own children.Visit other posts that catch your eye. Keep these other bloggers inspired by commenting on posts that you find interesting or creative. Like the Kids Co-op facebook page for a selection of ideas right through the week.