Fill your winter with colour!
I'll guide you through four weeks of beautiful and fun art projects that you can enjoy with your children. At home or at school, these process art projects will give you an interesting framework of activities that you can weave into your weeks, so your children are engaged, creating and enjoying themselves all through art. See more details of Art Spark here.
---
While I follow my children's lead when we're planning their learning projects, we also closely follow the rhythm of the year with our days, and I know many of you are the same in your homes and classrooms. So I thought I would gather together ideas from the NurtureStore archive that fit just right with the months of the year. Some of the activities match what's happening in the natural world, some are linked to festivals we're celebrating, and some just seem to fit the mood of the month.
I'm starting my seasonal activity plans for winter with a collection of things to do in January.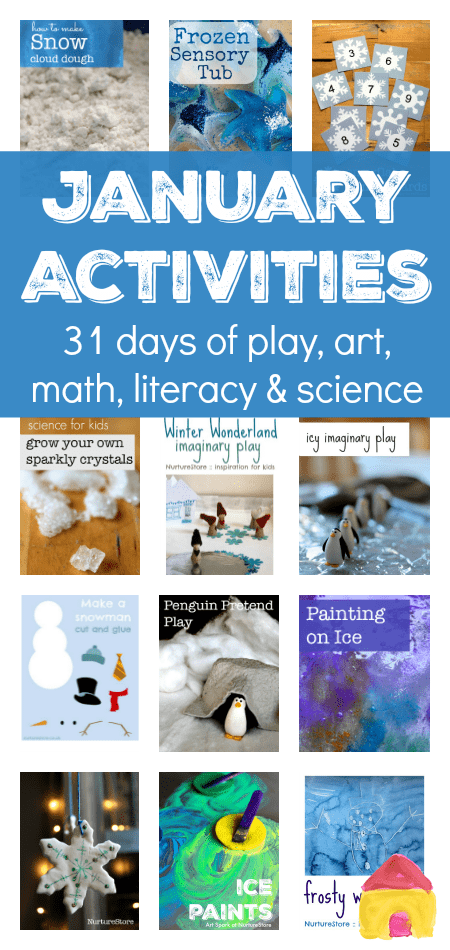 Seasonal activities for January
You can use the image buttons or the text links below to browse through my archive of winter-themed activities and find some ideas that suit your children. You'll find:
:: winter arts and craft ideas
:: winter themed sensory play
:: snow themed imaginary play
:: winter math, science and literacy ideas, including free printables
:: and thinking ahead, some ideas for Chinese New Year crafts and lesson plans
Whether you need a quick idea for a stuck-indoors snow day or you want to plan your whole month's activities, please help yourself to all these free resources.
Join my free Play Planner service
Shall I send you updates of our seasonal activities as we go through the year? Pop you email address in the box above and you can join the thousands of other families who receive an email from me each weekend with a carefully chosen selection of my favourite creative, play-based learning ideas. You'll also receive updates on our free printables and details of seasonal discounts in our book shop.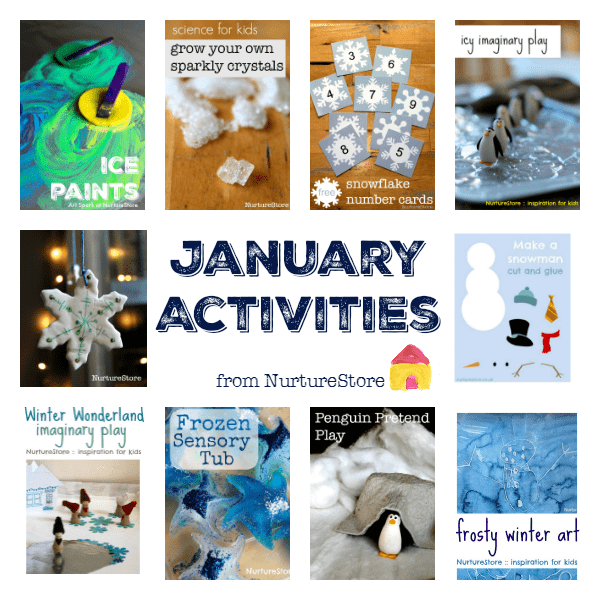 31 ideas for January activities for kids
1 Use my New Year Review printables to set goals for the year
2 Start a seasonal nature calendar to connect with nature all year long
3 Turn your words of the year into art
4 Mind Map your learning plans for the year
5 Give your year a sensory boost with our sensory tub ideas for each month of the year
6 Try ice painting with frozen paint
7 Explore a frozen sensory tub
8 Play with homemade snow cloud dough
9 Make a snowflake mobile using homemade clay
10 Take a winter nature walk
11 Paint on ice
12 Use these snowflake printables for math and letters
13 Make a winter wonderland for imaginary play
14 Create frosty wax crayon pictures
15 Build a snowman with my homemade snow play dough recipe
16 Play with penguins in an icy small world
17 Build ice art sculptures
18 Make tasty snowman treats
19 Make a bird feeder for your garden
20 Play outdoors with these snow day activities
21 Use my snowman printables for drawing, doodles and scissor skills
22 Try a flavour from our A to Z of homemade play dough recipes
23 Grow your own crystals with this sparkly science
24 Have fun with this penguin pretend play
25 Start getting ready for Chinese New Year with these paper lanterns
26 Try mark making in a Chinese-inspired sensory tray
28 Explore Chinese-themed sensory painting
29 Play in an imaginary dragon land
31 Write fortune cookie messages