Sponsored post
You don't often hear me recommending more screen time for children but we've been having fun this week with the Champion of the Playground site from Robinsons Fruit Shoot.
Fruit Shoot.com lets you get active by playing a variety of skills based games and watching skills based videos, picking up tips so you can become the Champion of the Playground. Instead of just being played with the keyboard the games can be linked up to the webcam on your computer so the children have to trampoline and play dodgeball along with the game – great for indoor exercise on a rainy day.
There are masterclass videos too, featuring cool kids who are sharing tips on how to skateboard,  juggle and bodypop. Check out the girl with the hulahoop – my girls were amazed!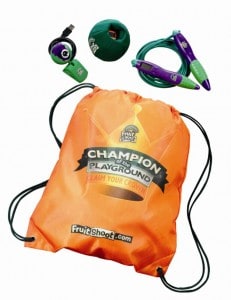 Robinson Fruit Shoot are also giving away 100 skills kits everyday between now and the end of the summer holidays. The kits contain a digital hacky sack and skipping rope which the kids can use to rack up points to match up with their customised avatar at Fruitshoot.com. B especially likes the digital skipping rope which counts the number of skips she does. It's adjustable too so she can use it by herself or with a group of friends in the playground, with a few of them skipping together.
I think the site's a clever combination of online and physical fun and the skills videos are inspiring to watch, encouraging kids to keep practising physical skills to improve their technique.
Visit Fruitshoot.com to try it out the games. Maybe your kids will be the Champion of the Playground?